What Melissa McCarthy Just Revealed About Prince Harry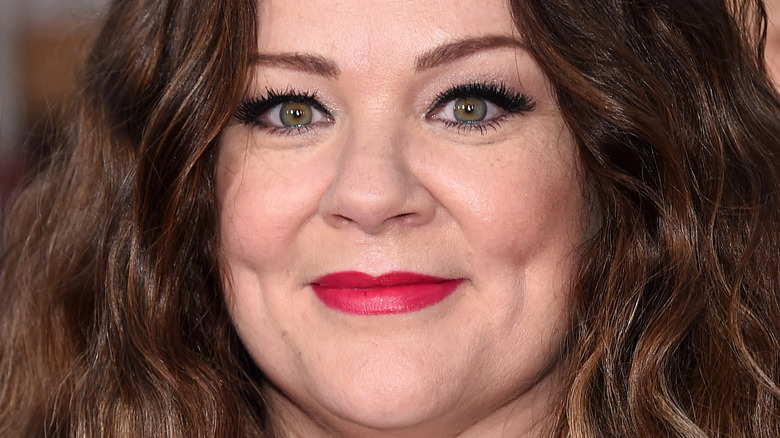 Shutterstock
Melissa McCarthy teamed up with Meghan Markle for the Duchess of Sussex's 40x40 initiative, which was launched on Meghan's 40th birthday. The two women made a fun video to share Meghan's new idea to help women rejoin the workforce after losing their jobs due to the coronavirus pandemic. The video was posted on the Archewell website — and features a surprise appearance by Meghan's husband, Prince Harry.
After Meghan and Melissa wrapped their fun banter during which the initiative was announced, Meghan decided to add on a sort of bloopers reel, which was highly entertaining. In it, Melissa suggests that Meghan host an afternoon tea with her pet chickens in honor of her birthday. Meghan doesn't love the idea, but her reasoning was interrupted by Melissa's laughter. The "Bridesmaids" actor had spotted Harry outside of a window juggling. Meghan then turns around to see her husband being silly, and also starts laughing. Spoiler alert: Harry isn't a great juggler!
In an interview with Access Hollywood, Melissa opened up about working with Meghan — and about Harry's juggling. "I just love that she is like, 'Oh, what can I do to put some good and help some people out?' Well that is awfully nice," Melissa said. She went on to share a conversation she had with Harry before they filmed the video. Keep reading to find out what she revealed about the Duke of Sussex.
Prince Harry thought that juggling might be 'weird,' according to Melissa McCarthy
In her interview with Access Hollywood, Melissa McCarthy revealed that Prince Harry wasn't sure if the juggling thing would work — but he evidently wanted to be part of the video. Harry seemed unsure about whether or not juggling was the way to go, and wondered if it would be "weird." "In comes Harry and he's like, 'I can juggle,'" Melissa said. "Then he's like, 'Is it going to be weird if I stand outside and juggle?' I was like, 'Weird in a way that will make me watch it 5 million times,'" Melissa explained.
Melissa also told Access Hollywood that Meghan and Harry were "so sweet and funny." Further supporting the Duke and Duchess of Sussex, Melissa said, "They're carving out their own lives. They're carving out their lives for their kids, and the way she wants to celebrate her 40th is by helping and empowering other women, like, how do you not get behind that? They don't take themselves too seriously, she's like, let's do it in a fun way and see if we can drum up more people helping more women kind of get back into the workforce... I was, like, yes, what a great idea. I was so pleased to be a part of it," she said.
Melissa also gave credit where credit was due, letting everyone know that the comedy wasn't all her doing. The bit about the "Suits" reunion, wasn't her idea — it was Meghan's!