How Mila Kunis Completely Transformed Herself For This Film Role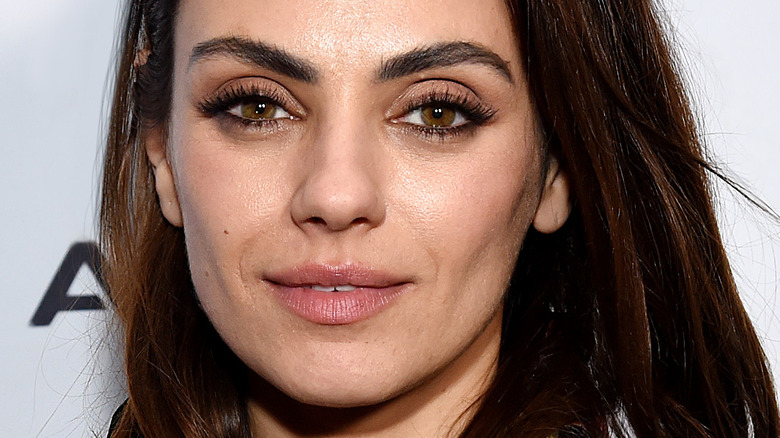 Michael Kovac/Getty Images
While premieres present the glamour of Hollywood life, the production process can sometimes be gruelling. Depending on the role, celebs may be required to gain muscle by working their butt off in the gym and eating nutritionist-approved meals, like Chris Hemsworth in "Thor" or Gal Gadot in "Wonder Woman." But sometimes actors' dedication to their craft can go down a more unhealthy route through extreme dieting. Christian Bale consumed a diet of doughnuts and cheeseburgers to gain 43 pounds for "American Hustle," whereas Matthew McConaughey ate nothing but vegetables, egg whites, fish, and tapioca pudding to lose 50 pounds for "Dallas Buyers Club." McConaughey ended up winning a Best Actor Oscar for his role as an HIV/AIDs sufferer, so for some celebs the physical and emotional transformation may be worth it. However, for some actors, like Mila Kunis, who unfortunately did not win any awards for her laborious effort, it was apparently not.
Kunis may predominantly be known for her comedy career in television and film, but she's no stranger to the physical challenges of taking on more serious roles. The "Bad Moms" star spent months of rigorous dieting and exercise to transform herself into a ballerina for the critically-acclaimed thriller, "Black Swan." Despite the role catapulting her to superstardom, Kunis suggested to Howard Stern that the "awful" experience damaged her body. But it did not stop her from taking on yet another "skin and bones" character when she played a heroin addict in her latest film, "Four Good Days," per TODAY.
Mila Kunis said she was as thin for 'Four Good Days' as she was for 'Black Swan'
Anyone who has seen the trailer for "Four Good Days" would agree that Mila Kunis looks unrecognizable. Kunis plays Molly, a 31-year-old heroin addict about to lose her kids before her mom (Glenn Close) steps in, per the New York Post. The mother-of-two told Yahoo it was "hands-down the most challenging" role she's taken on due to the nature of the character, but also because of its physical demands. "I don't know [how much weight I lost] because I don't have a weight scale but I can tell you, based on my clothing, I was as thin as I was for 'Black Swan," Kunis told The Wrap.
While the actor said she was "healthy" in the way she went out about it — she apparently watched "a ton of YouTube videos" — she still called it "rough." "You have to unfortunately look a certain way to look like a heroin addict so I think I did it over four months. I exercised and dieted. I felt very strong... but I was thin." 
Kunis also bleached her hair for the film, which apparently "ruin[ed]" it, covered her body in prosthetic scars, and even wore "beautiful meth teeth." The fake chompers were apparently a highlight as they were "fun to play with," per Deadline. Despite some "appealing" aspects, Kunis said she was glad when they finished shooting. "You know, sometimes you're like, 'Oh, I wish this went on longer.' I was very happy when it ended. I was like, 'I'm good. This is enough.'"
Mila Kunis wouldn't recommend her 'Black Swan' diet to anyone
Mila Kunis was already thin when she signed onto the 2010 film "Black Swan," but still went through "excruciating" training to look like an emaciated ballerina. Kunis told the Independent she worked out four hours per day, seven days a week and only took one day off — her birthday. When it came to her diet, the 37-year-old told Howard Stern on his Sirius XM show that she got "crazy thin" by consuming just 1,200 calories a day and smoking a ton of cigarettes. "I never watched what I ate [before]. It was one of those things, for the first time in my life, I got a food delivery service. And I'll tell you this — I'm not promoting this at all — but I used to be a smoker, and so I smoked a lot of cigarettes and I ate a limited amount of calories."
In just five months, Kunis lost 25 pounds and weighed only 95 pounds, something she does not recommend. "I don't advocate this at all. It was awful." So awful, that when she eventually put it back on — it went to the wrong places. "All the weight that left my chest went to my side hip, my stomach," Kunis told Harper's Bazaar (via TODAY). Despite some differing body fat redistribution, the actor called her first bowl of mac and cheese post-production "magical." "It took me five months to lose 20 pounds, and it took me hours to gain it back," Kunis told SheKnows in 2010. "It was magical, how quickly it all happened."