The Truth About Alfred Molina's Marriage To Jennifer Lee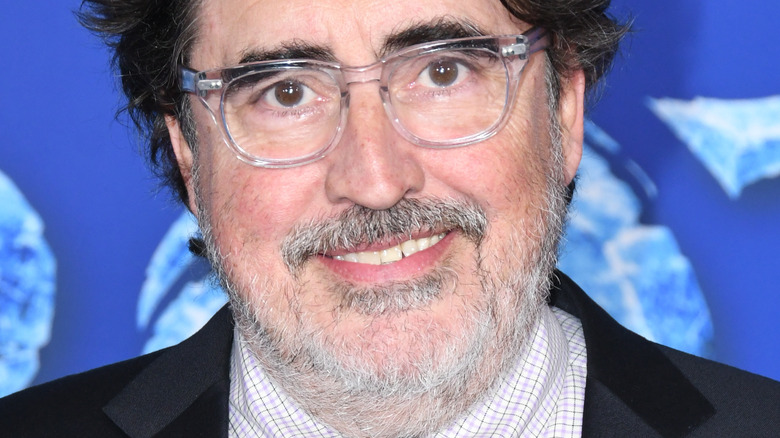 Shutterstock
British actor Alfred Molina, known for playing Doc Ock in the "Spider-Man" movies, has gotten married for a second time. He tied the knot with Jennifer Lee, director of the hit movie "Frozen" and Chief Creative Officer at Walt Disney Animation Studios, according to the Daily Mail. The wedding came 16 months after the death of Molina's first wife, fellow British actor Jill Gascoine, who died of Alzheimer's at age 83. Per the Daily Mail, the couple had previously separated, though it is unclear when, and Molina began dating Lee in 2019.
Actor Jonathan Groff, the voice of Kristoff in "Frozen" officiated the wedding. In an Instagram post, Lee attached a photo of the two of them, writing, "This beautiful, generous soul is the reason Fred and I met. We owe him the world." Per the Daily Mail, Groff and Molina had previously worked together on a production of John Logan's play "Red" in 2012. Both actors lent their voices to 2019's "Frozen II," with Molina playing Agnarr, the father of Elsa and Anna.
Read on for more details about the wedding.
Alfred Molina married Jennifer Lee in a beautiful outdoor garden
On August 9, Jennifer Lee shared photos from her wedding on Instagram, writing, "We did. We do." The wedding took place in an outdoor garden filled with roses, with the bride in what the Daily Mail noted was a sequined tulle dress with an A-line skirt, while Alfred Molina wore a light grey suit with a pink shirt. In one of the photos, Molina is gasping with his hands to his face, holding back tears, presumably upon seeing his bride walk down the aisle. Two other photos showed the couple together, one of them smiling while exchanging vows, and another of them happily kissing in the garden.
In the comments, several celebrities congratulated the newlyweds — particularly those with "Frozen" connections. Josh Gad, who voiced Olaf in the franchise, couldn't help but gush, "Oh my God!!!! Yes!!!! Congrats!!!!!! Love you both so much!"
Both Jennifer Lee and Alfred Molina were previously married to other people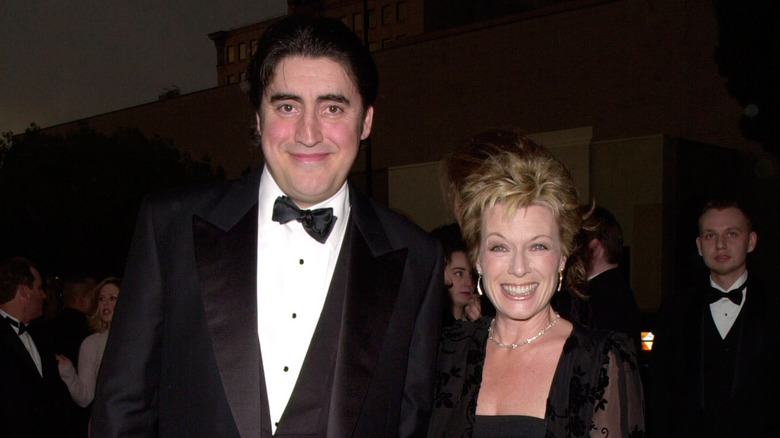 Shutterstock
This is the second marriage for both Alfred Molina and Jennifer Lee. Per the Daily Mail, Lee was married to Robert Joseph Monn, the father of her 18-year-old daughter Agatha, who actually voiced young Anna in "Frozen." The outlet also noted that Molina was married to Jill Gascoine, who caught her break as an actor in the British '80s series "The Gentle Touch" where she played Detective Inspector Maggie Forbes. The two wed in 1986. Gascoine had two sons from her previous marriage, and Molina had a daughter from a prior relationship.
Gascoine publicly revealed her Alzheimer's diagnosis in 2013, and Molina spoke about their relationship in a 2015 interview with The Guardian. "I looked after Jill at home for four years. It got to a point where I was doing more harm than good," he said. "The house became a minefield. So in the past year, she has gone to a care home." He continued to describe the debilitating effects of the disease and the toll it took on their relationship. "She doesn't always recognize me." He continued, "You see flashes of the old person. That's the heartbreaking part. You see those moments. You long for them. But they come less and less." Gascoine and Molina remained legally married until her death in 2020.