Why Brian Williams Can't Stand Matt Lauer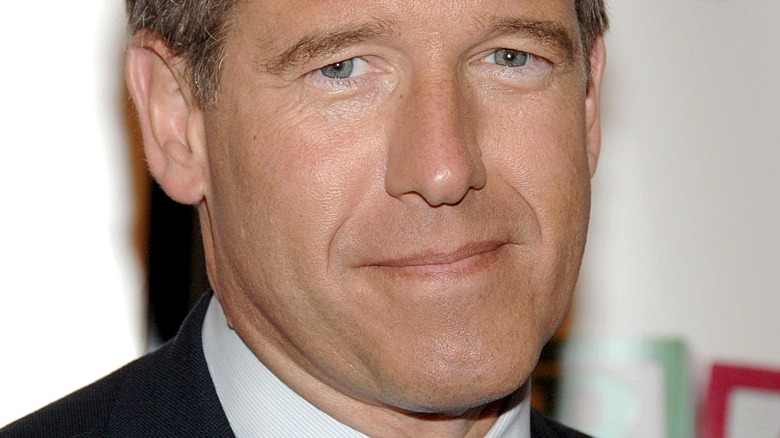 Shutterstock
Brian Williams and Matt Lauer both created scandals while at NBC News. Williams was suspended and subsequently replaced from his post as the anchor of the "NBC Nightly News" in 2015 after news broke that he embellished a personal story about him being shot at while in a helicopter reporting in Iraq. But according to Page Six, Williams has since found enormous success at NBC's sister network, MSNBC, on his show "11th Hour With Brian Williams." The outlet reported the show beat CNN and Fox News in ratings beginning in 2019. A network source told the outlet, "Brian's done an amazing job of keeping his head down and working. He hasn't tried to take any victory laps at MSNBC."
Lauer's career at NBC's "Today" ended in 2017. Vox reported that Lauer was fired by NBC after sexual misconduct complaint against him emerged, including one allegation by a woman who said Lauer "sexually assaulted her in his office." Darker details about Lauer came out in 2019 via former NBC News employee Brooke Nevils, with disturbing allegations coming out regarding the NBC News team and the 2014 Olympics (via Page Six).
These two figures have both been bigwigs in news, and perhaps unsurprisingly, Williams can't stand Lauer. To find out why, you'll have to keep reading!
Brian Williams and Matt Lauer were fiercely competitive at NBC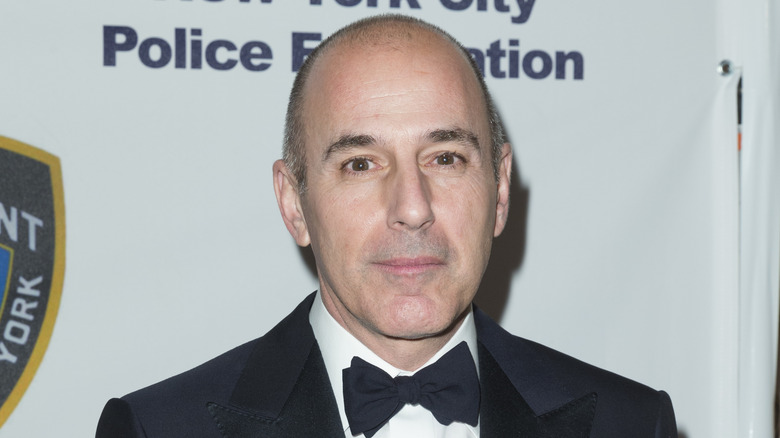 Shutterstock
Page Six reported in 2014 that when Brian Williams was the anchor for "NBC Nightly News" and Matt Lauer was still hosting "Today," the two stars were fiercely competitive. The outlet reported that the two NBC anchors were "rivals for big exclusive interviews, and for the attention of their bosses."
At the time, the feud between Williams and Lauer was denied by NBC, but the Page Six story revealed a pretty big problem between the two news stars. They basically didn't want to be near each other. Or at least Williams felt that way. The outlet reported when "Today" aired excerpts of Williams' interview with Edward Snowden from his nightly show, Williams refused to introduce the morning show segments. An NBC insider revealed, "It was a great promotional opportunity, but Williams wouldn't go on 'Today' even for his own interview. He wants nothing to do with 'Today.'"
Another NBC network source told Page Six that Williams's feelings were hurt because NBC News boss Deborah Turness gave "all of her attention to helping Lauer and the 'Today' show regain supremacy in the ratings," as the outlet detailed. "Brian feels like an orphan," that insider told them. Oof. 
Brian Williams isn't the only one who didn't like Matt Lauer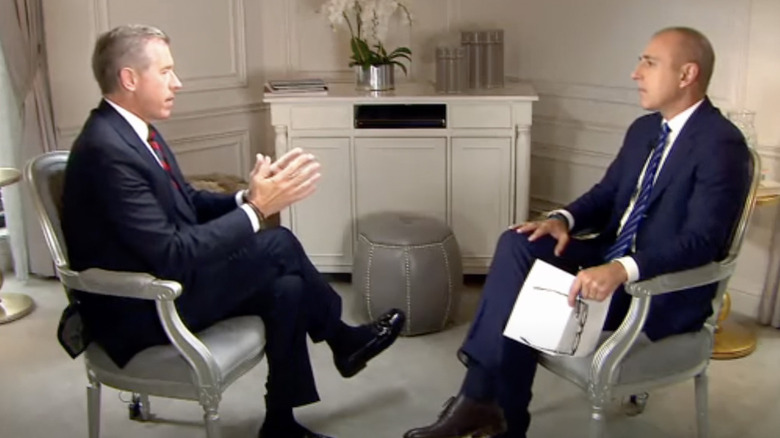 NBC News
Brian Williams may have other reasons for his ill will toward Matt Lauer. And Williams is perhaps not the only one who feels as much. When Williams fell from grace and was let go as the anchor of "NBC Nightly News," Lauer interviewed him on "Today." Yet, he's not the only one who tried to keep their distance.
Lauer allegedly forced out his former "Today" co-host, Ann Curry. In 2013, New York Magazine reported that on Curry's final day on the morning show, she was "openly weeping" on camera. The outlet reported that when Lauer tried to comfort Curry, and she turned away "from his attempted kiss," it became "a kind of monument to the real Matt Lauer, forensic evidence of his guilt."
Keep in mind; many celebrities and coworkers didn't like Lauer even before the sexual misconduct allegations about the former "Today" star same out. But after Lauer was fired from NBC for sexual misconduct, some of his interviews and interactions with women were looked at through a different lens. Elle reported on Lauer's comments to Sandra Bullock during their 2009 interview when he said he had "seen her naked," referring to a scene in her movie "The Proposal." The outlet said that Katie Couric said Lauer had "pinched her a** a lot" while they worked together. 
Williams' track record isn't perfect, but it's no wonder he had beef with Lauer.