Why Chrissy Teigen Had More Than One Wedding Dress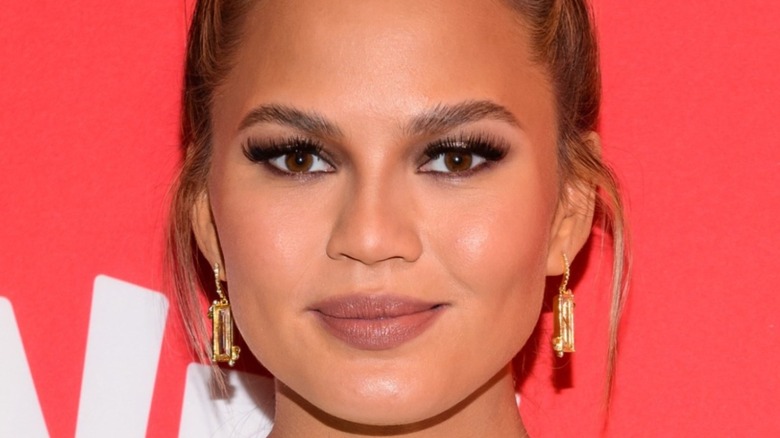 Shutterstock
It's safe to say couples with the means to do so go all out when it comes to wedding planning, opting for an extravaganza instead of something small, a sentiment that is even more common for celebrities. Everything needs to be just perfect for the big day, right? No one else knows this better than the internet's beloved duo, cookbook author Chrissy Teigen and singer-songwriter John Legend, who tied the knot back in September of 2013. And besides the gorgeous views of their reception at Villa Pizzo in Italy, all of their 125 guests probably had their eyes on Teigen, who looked happier than ever while donning on three separate wedding dresses throughout the day, per People. Yes, you're ready that correctly — three!
But why did she choose to have more than one wedding dress? And what was the backstory behind her decisions? Keep on scrolling to find out more about her outfit debacle.
Chrissy Teigen couldn't stop buying dresses
Indecision plagues many of us from time to time, but it sounded like Chrissy Teigen suffered an extreme case of it during her wedding dress fittings at Vera Wang, aka the queen of wedding fashion! The ivory Vera Wang number she decided on for her ceremony actually caught her eye at the fitting for her first dress, according to Martha Stewart. Dress numero uno became her dinner gown, as the star couldn't resist the elegant ball gown with layers of tulle for her trip down the aisle. And it complemented her simple up-do so well!
The dinner dress — aka her first choice — was an ivory gown with a mermaid silhouette. She posted a picture of herself in this particular outfit alongside John Legend to her millions of followers. "my cherie amour," Teigen wrote in the caption. The last dress Teigen chose for the special occasion was a strapless ruby gown. According to Martha Stewart, Teigen discovered this dress at the last fitting for her ceremony dress, immediately fell in love, and purchased it right away for her reception.
Teigen tried to explain her inability to make a decision during a 2013 interview with E! News at New York Fashion Week. "Every time I went in [to Vera Wang] for a fitting, I couldn't stop getting one," She joked. "It's just too pretty."
Chrissy Teigen's pal joked about her dress drama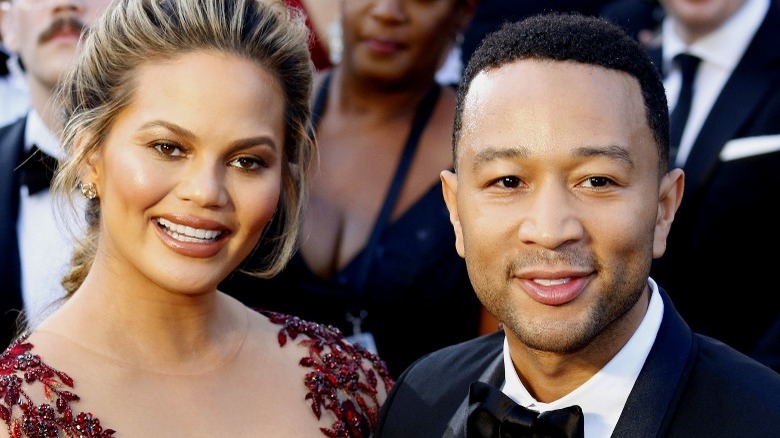 Shutterstock
Back in 2020, Chrissy Teigen's shopping addiction was brought up again when a fan tweeted at her about an incident where the superstar bought a Celine purse at Barneys so she'd feel better when asking for the restroom, per Page Six. One of Teigen's closest bestie sent a screenshot of the fan's tweet alongside a teasing Instagram direct message: "Sort of like that time you bought like 5 wedding dresses you knew you would never actually wear because you felt guilty about 'just trying on dresses' which is precisely the point of TRYING ON wedding dresses I love you." In response to the friend's good-natured dig, the superstar mom fired back, "THOSE WENT TO GREAT HOMES." Teigen didn't forget to capture and share their hilarious conversation with the world on her Instagram Story.
If you're wondering about hubby Legend's opinion, he appeared more bemused than concerned about Teigen's wedding dress decisions. "I'm wearing seven [suits]. No, I'm wearing one," he joked in the same E! News interview when teasing about their then-upcoming wedding.
Hey, if Teigen can afford it, then why not?