The Real Reason Emily Wickersham Was Nervous To Join NCIS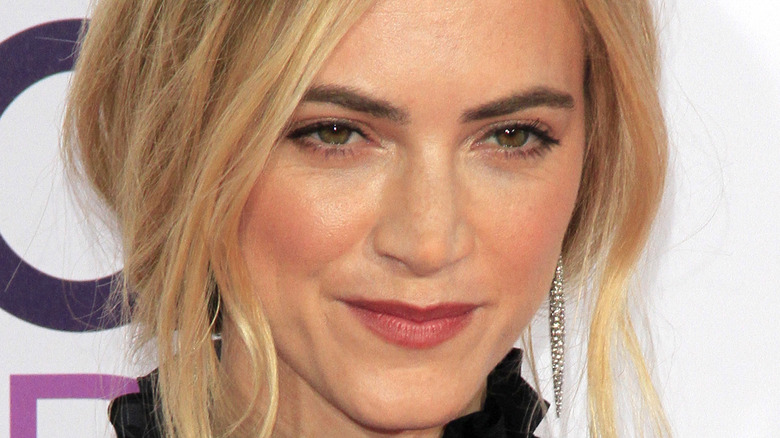 Shutterstock
For "NCIS" fans out there, it's hard not to get attached to the stellar lineup in highly-rated series. Since the Emmy-nominated crime drama hit the air in 2003, viewers have become obsessed with the main characters portrayed by Mark Harmon, Pauley Perrette, Sean Murray, David McCallum, and Michael Weatherly, among others. The cast also included Emily Wickersham, who played the role of Special Agent Eleanor "Ellie" Bishop for eight seasons, per IMDb.
We say "portrayed" in the past tense because several of the show's main stars — like Perrette — left the series. Wickersham herself announced her departure from "NCIS" in May 2021. The actor confirmed her exit after her character was sent on a "secret mission" during the Season 18 finale (via CNN), sharing a series of throwback photos of herself on set. "Hangin this hat and jacket up. What a great ride it's been," she gushed via Instagram, praising the "top-notch" cast and crew.
"I can't say enough kind words about this group that I've had the pleasure of working with for close to eight years now and 172 episodes later," Wickersham continued, reflecting on her journey since joining the cast in 2013. But though the Hollywood star credited "NCIS" for being a "rarity" in showbiz and a "moment in time [she] surely won't forget," Wickersham once revealed the beginning of her journey on the investigative series was actually "scary" at one point. For the scoop on why the actor used to be nervous about joining "NCIS," keep scrolling!
Emily Wickersham was apprehensive about 'coming into' into a tight-knit cast, but it didn't take long for her to settle in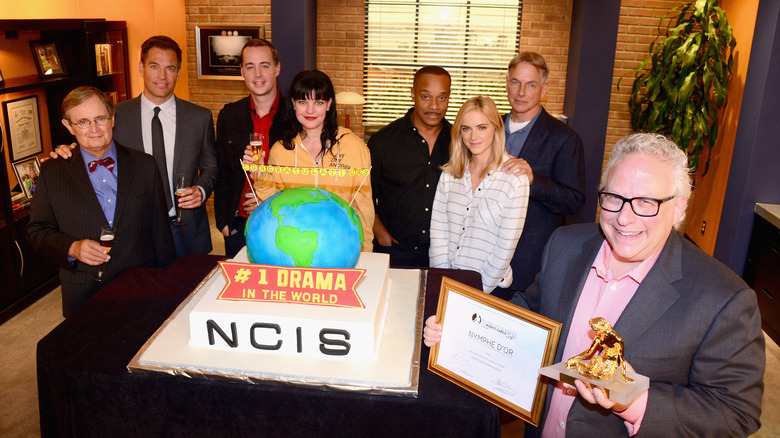 Frazer Harrison/Getty Images
Emily Wickersham may have rocked her portrayal of Special Agent Eleanor "Ellie" Bishop on "NCIS," which follows the lives of a team of elite agents as they "solve criminal cases involving Marine and Navy personnel and their families" in Washington, D.C, per IMDb, but it wasn't smooth sailing when she first joined the cast. The actor recalled the "scary" feeling she experienced when she spent her first few days on the set of the long-running series.
"It was really scary coming into a show ... a whole cast of people who have worked together for so long," Wickersham candidly shared during an interview at MCM Comic Con London in 2015. Unsurprisingly, however, it didn't take much time at all for Wickersham to feel at home. "This cast is the sweetest, most welcoming bunch of people," the Kansas native gushed. "They were so, so sweet ... my nerves, I mean I'm always kind of nervous, but my nerves definitely diffused after hanging out with them for a bit." Little did she know what a memorable eight years she would have on the show!
And now, she's gearing up for the role of a lifetime...
Emily Wickersham has exciting adventures to look forward to beyond 'NCIS'
Emily Wickersham may have said goodbye to "NCIS" in May 2021, but her departure after eight seasons won't be the last chapter in her journey. Though the actor has yet to reveal any new professional work, she gave an exciting life update when she revealed she is expecting her first child. Wickersham announced her pregnancy in late July, sharing a post of her baby bump via Instagram. "My mom taking a photo of a future mom with a baby boy on the way!" the "Sopranos" alum marveled in the caption. 
The mom-to-be tagged actor James Badge Dale on her adorable belly. Despite having yet to reveal nearly any details about their relationship or when she started dating the "Empty Man" star, Wickersham shared a sweet selfie of the two a week-and-a-half before her pregnancy announcement. Dale also flaunted their relationship on a one-time occasion, posting a pic of Wickersham with some cute pups. "#Influencer," he simply penned. While it seems these lovebirds may just be starting their journey together, there's no doubt they have one thrilling adventure ahead!