Here's What Kelly Clarkson Looks Like Without Makeup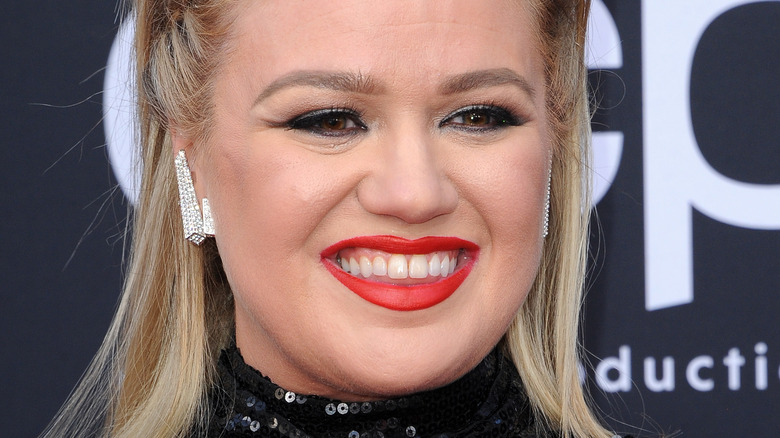 Shutterstock
Kelly Clarkson's hair and makeup might always look flawless on "The Voice," but the show's goal is to shift the focus away from an entertainer's appearance so that they're judged solely on their talent — or at least this is how it works until the coaches finish turning those red chairs around.
The show is the perfect fit for Clarkson, who has always been outspoken when it comes to how she feels about Hollywood's high beauty standards. During a 2018 interview with People that was conducted after one of her performances, she pointed to her fully made-up face and used one of Donald Trump's favorite phrases to describe it: "Fake news." "I think that sometimes Hollywood can be very 'Oh, we don't want people to see what we really look like. That'll be the death of you or something,'" she said. However, she's proved that skipping the cosmetics is not a career killer by showing her fans what she looks like "underneath it all," to borrow a lyric from her "Voice" co-coach Gwen Stefani.
"My beauty mantra is, 'Y'all, I just don't really care!'" Clarkson told People of her philosophy on makeup in 2018. She even skipped the bold eyeshadow and lip color that she often rocks on "The Voice" when she filmed episodes of the show from her ranch in Montana in 2020 (via Good Housekeeping), and she taught us a valuable lesson: When you don't have access to a makeup artist, minimal is the way to go.
Does Kelly Clarkson like wearing makeup at all?
Due to the COVID-19 pandemic, producing Season 18 of "The Voice" was a real challenge. The live shows were filmed remotely as a safety precaution, meaning that Kelly Clarkson and the other coaches had to make some major adjustments. "We're all asked to do things that we've never done before, like, I don't know, hair and makeup," Clarkson told host Carson Daly.
She also shot episodes of "The Kelly Clarkson Show" at her remote ranch in Montana, where she was quarantining with her now-ex-husband Brandon Blackstock and their children. Clarkson fittingly embraced the au naturel look while being out in nature. "My favorite part of ranch life is the no hair and makeup," she remarked in an April 2020 digital exclusive on her show's YouTube channel. Clarkson had a big grin on her face while showing her fans what she looks like with a totally bare face, and she revealed that she prefers not to wear makeup.
During a 2017 interview with 102.7's Karen Carson and Jeffrey Jameson, she said that it makes her feel like she's "in costume all the time" or "going into war." But she's not completely against a little temporary cosmetic enhancement when her career calls for it. "I mean, I like playing dress up for work. It's fun," she admitted in that aforementioned YouTube digital exclusive. She also praised her glam squad for making it look like "Harry Potter has gotten a hold of me."
There's another reason Kelly Clarkson doesn't like makeup
Kelly Clarkson told Karen Carson and Jeffrey Jameson from Fresh 102.7 that she actually wasn't wearing makeup when she first met Brandon Blackstock, and her ex isn't the only person who likes the way she looks without it. She sported a toned-down beauty look in a June 2020 Instagram video, and her followers were totally here for it. "I love you without makeup. It makes you look like you're in your early twenties," wrote one admirer. "Absolutely LOVE you without makeup. We can really see your beautiful eyes. Love your sweet spirit, too," another response read.
Clarkson doesn't just avoid wearing "war paint" whenever possible because she looks great without it and dislikes the way it makes her feel — she's actually allergic to some eye makeup products. "It's hell every night for me," she said of the discomfort she endures to make her peepers pop. In addition to going barefaced, Clarkson has said that she plans on embracing a natural look by forgoing Botox, and she vowed that her fans will see her age in front of the camera if her show stays on the air. "I'm gonna look like a total Shar-Pei, like a dog," she told Mayim Bialik on her "Bialik Breakdown" podcast. "I'm gonna have every wrinkle in the world on my face."