How Alexandra Daddario Really Felt About Kissing Lady Gaga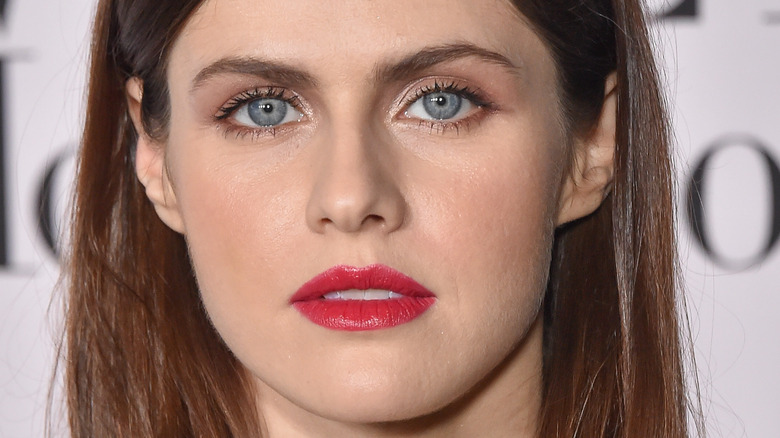 Shutterstock
Alexandra Daddario's star wasn't exactly swift to rise, but her years of hard work in the industry have more than paid off by now. The actor — whose work ethic was praised by her "True Detective" costar Woody Harrelson — started working as a teenager, but wasn't sure if she would ever make it big. That uncertainty led her to pursue higher education, though she was often penalized for skipping classes to attend auditions. "I'd do an episode of 'Law & Order' and miss class and get points deducted, or would miss class for auditions, so I was wearing myself too thin," Daddario told the Daily Beast in 2014. "I thought 'I have to devote myself to this fully, or I'll regret it for the rest of my life.'"
Thankfully, she stuck by her acting dream, and has since blessed us with starring roles in films like 2017's "Baywatch" and 2020's "One Night in San Diego," as well as TV shows such as "The White Lotus" and "American Horror Story," per IMDb. Throughout her career, Daddario experienced her fair share of on-screen lip locks, including the time her character's romance with Zac Efron's Matt Brody might have translated into a real-life fling. 
In July, Daddario re-lived many of her famous big-screen moments on Cosmo's Breakdown Breakdown. There's one kiss in particular that might surprise you — keep reading for the details.
Was Lady Gaga Alexandra Daddario's best on-stage kiss?
Upon watching Cosmo's Breakdown Breakdown, Alexandra Daddario hilariously remarked that she'd "genuinely forgot [she] made out with this many people." Sure, all those kisses may have blurred together, but there's at least one that stands out. Breakdown Breakdown opens with a clip from "American Horror Story," featuring Lady Gaga in costume as Elizabeth the Countess. Gaga's dramatic arrival on the scene caused Daddario to remark, "I love her." As soon as the camera panned to Daddario's character smooching Gaga, Daddario shrieked out loud.
After watching the scene, Daddario told Cosmo, "How lucky am I that I got to work with Lady Gaga ... What an amazing woman. She may have been my best on-screen kiss." That's quite the ringing endorsement! Even so, the "Percy Jackson" actor was quick to clarify that she doesn't think about her onscreen kisses in terms of a ranking system. "I don't think about it like that, because you're acting," Daddario revealed on Breakdown Breakdown. "I don't practice with anyone before the scene, with kissing," she added.
She also spilled the beans on a few actor secrets, like the unspoken rule to not eat garlic before a smooch, and how, "most of the time, the two of you just go have some peppermint oil or a listerine strip" and start kissing. What a job!
Was Alexandra Daddario nervous to kiss Lady Gaga?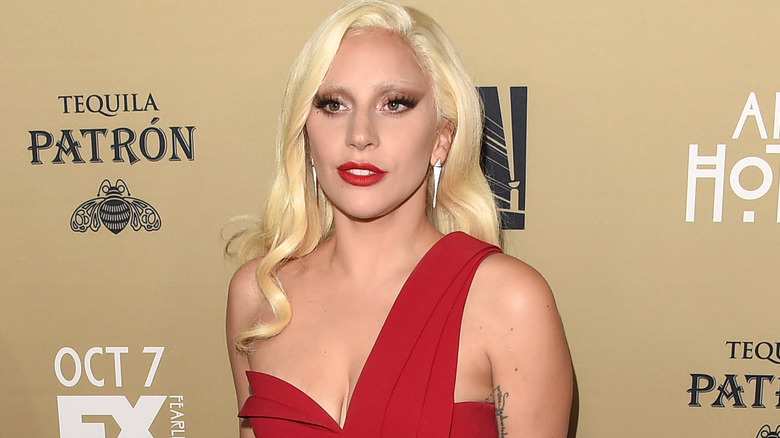 Jason Merritt/term/Getty Images
Alexandra Daddario has kissed some of Hollywood's most famous lips, but she was still prone to nerves when it came time to make out with Lady Gaga. Can we blame her? Gaga is a giant in the music industry — and she brought this same indomitable energy to her season of "American Horror Story," stealing every scene with her over-the-top wardrobe, perfectly sculpted eyebrows, and bloodthirsty urges. 
In a 2015 interview with MTV, Daddario called her sex scenes with Gaga "awkward," though she praised the pop star for making her feel comfortable. "I think it felt different, just in that I have a crazy deal of admiration for her and what she's achieved, and who she is," Daddario added, referencing her lip lock with Gaga. "She's incredibly impressive, so it was very exciting to meet her and work with her in any capacity."
The admiration Daddario feels for the "Bad Romance" singer transcended their time working together on "AHS." In 2020, the actor opened up to StyleCaster about how Gaga's confidence inspired her pop star character of Dana Lee in the film, "Lost Transmissions." She noted, "It was a combination of things [that inspired Dana Lee]. I could say Lady Gaga ... [She's] so empathetic and kind and lovely and supportive. But there are elements of the confidence that she has." It seems like Daddario's feelings for Gaga are rooted in much more than just one kiss!