What Meghan Markle's Relationship With Kate Middleton Looks Like Today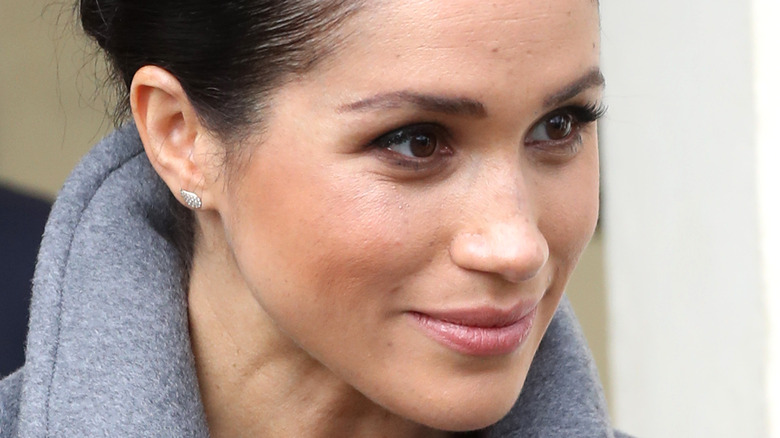 Chris Jackson/Getty Images
Kate Middleton and Meghan Markle might not be the best of friends, but they certainly aren't the worst of enemies, either. The Duchess of Cambridge seemingly made an effort to welcome her American sister-in-law, with the two attending royal engagements and public appearances together, per Page Six. Or at least, that's what it seemed like until Prince Harry and Duchess Meghan suddenly pulled the plug on their working relationship with the royal family and left London to start a new life for themselves in California.
If that weren't enough, Meghan arguably threw Kate under the bus when she told Oprah Winfrey — and an audience of over 50 million — that Prince William's wife apparently made her cry a few days before her royal wedding to Prince Harry in 2018. When asked about the tabloid claims that she was the one who drove Kate to tears, Meghan responded, according to BuzzFeed, "The reserve happened. And I don't say that to be disparaging to anyone, because it was a really hard week of the wedding. And she was upset about something, but she owned it, and she apologized. And she brought me flowers and a note, apologizing. And she did what I would do if I knew that I hurt someone, right, to just take accountability for it."
With that said, a lot of royal fans can't help but wonder how Meghan's relationship with Kate looks like today. The answer might surprise you.
The event that changed things for Meghan and Kate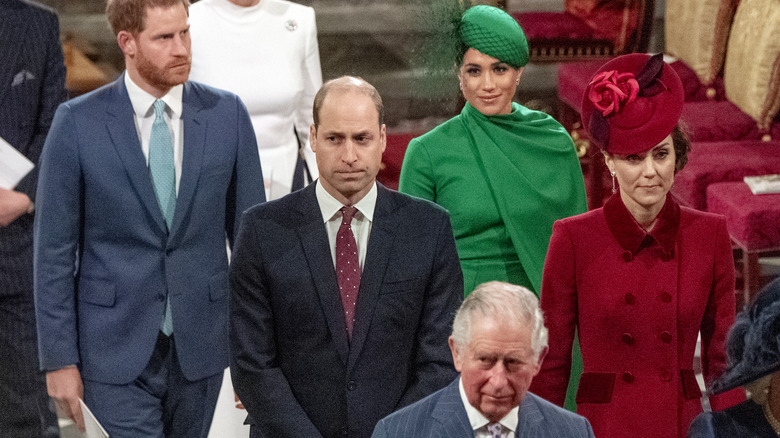 Wpa Pool/Getty Images
Although Kate Middleton has never made any public comments about her relationship with Meghan Markle, her body language leaves a lot to be said, as expert Blanca Cobb noted to Cosmopolitan. During the Duke and Duchess of Sussex's final engagement as full-time working royals at the Commonwealth Day service in 2020, Kate seemingly refused to even look in their direction. Many critics noticed that although the Duke and Duchess of Cambridge made an effort to speak to Prince Edward and his wife Sophie Wessex nearby, they didn't even acknowledge the Sussexes, according to Vanity Fair. If it was in fact a royal snub, it's safe to say it was felt all around the world.
But according to Us Weekly, things have reportedly taken a surprising turn for the better after Harry and Meghan welcomed their second child, a daughter named Lilibet Diana, in June. "Kate has been reaching out to Meghan a lot more since [Lilibet] was born, she's sending [notes and] gifts and trying to build up a relationship," a source told the outlet. "The firm has been instructing staffers to reach out more to Harry and Meghan to get them to soften a bit."
Despite the alleged feud between their husbands, Kate and Meghan are reportedly working to bring their family together, and not further apart. Here's why.
Meghan and Kate are reportedly united on this goal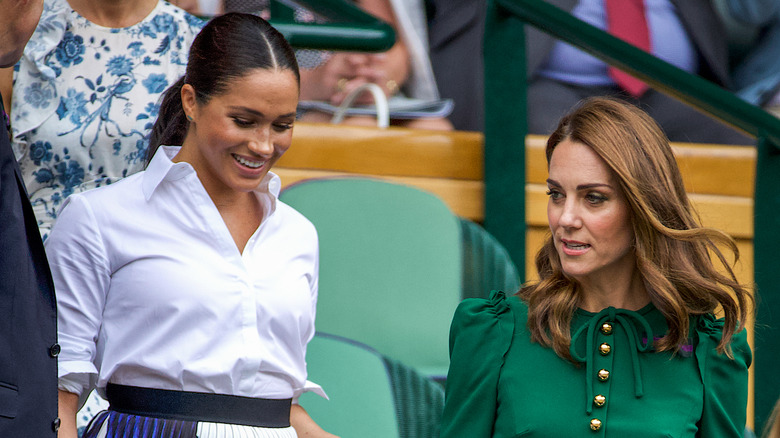 David Gray/Getty Images
After Kate Middleton reportedly sent Prince Harry and Meghan Markle baby gifts and a handwritten note to celebrate the birth of their daughter, the two duchesses have supposedly been on better terms. "Meghan and Kate are actually getting along really well and have been in touch more often," an insider told  Us Weekly. As for the reason prompting the mended fences? "Meghan and Kate's relationship was never that close," the source claimed. "And now they're closer than ever and working on their relationship for the sake of the family."
And while things might never be the same way before Harry and Meghan left London, at least it's comforting for fans to know that the royal family is just like any other family, especially when it comes to trying to keep it all together.
So, will Kate and Meghan succeed on their supposed goal of maintaining peace "for the sake of the family"? Stay tuned.