90 Day Fiance: Are Louis & Aya Still Together And Do They Have Children?
For "90 Day Fiancé" fans, it can be incredibly difficult to keep up with your favorite couples. What happened to the couples that starred in the first season — the season that created an entire "90 Day Fiancé" franchise and generated multiple successful spin-offs, for example?
"90 Day Fiancé" started airing on TLC in 2014, and is essentially an international version of "The Bachelor." The show details multiple couples' experiences going through the process of the K-1 visa — a process that may be unfamiliar to many American viewers. The K-1 visa allows non-American citizens engaged to U.S. citizens access into America — but only for 90 days. After the 90 days are up, and if the couple is not married, the K-1 visa will expire and the non-U.S. citizen will either have to return home or face possible deportation.
There are obvious hurdles that come with getting married within 90 days, and the show displays them all during the season. In fact, that is one of the selling points, as TLC President Howard Lee told Vulture, "...The audience didn't know whether or not both sides of a couple had the best interests of the other person in mind. These couples just want to really believe that love is true and love is forever..." And although every couple wants to believe their love is forever, that's not always the case. So let's rewind back to Season 1 to find out whether Louis and Aya's love went the distance.
Louis and Aya are a success for '90 Day Fiancé'
To refresh everyone's memories, Louis and Aya starred in the first season of "90 Day Fiancé" — not knowing the future success of the show. The two met on an online dating site, and after proposing, Aya left her home in the Philippines to join Louis and his two sons in the United States. The two had a strong relationship, despite what others had to say. In one clip from the season, Louis defends his love with Aya by telling his ex-wife that anyone who thinks Aya is only going through the K-1 process to get a visa is "ignorant."
At the season finale, the two were still married, and as of this writing, they remain strong. But the pair tends to stay quiet online. Although many couples continue on in the "90 Day Fiancé" world after their initial debut, joining the spin-off that follows the couples after their marriage "Happily Ever After," Louis and Aya have stayed to themselves. Louis does continue to post on his public Instagram, sharing photos of him, his kids, and Aya. However, Aya has chosen to go private on her social media.
Louis and Aya grew their family, too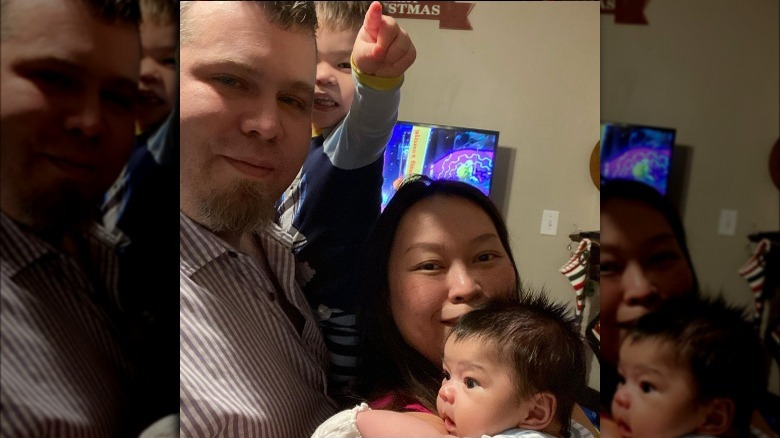 Instagram
While the couple stays private, Louis did let his "90 Day" fans know that since their time on the show ended the couple has grown their family. In 2018, per In Touch Weekly, the pair announced they were expecting their first child together. Two years later in November 2020, Louis posted the birth announcement of his fourth baby named Stefano on Instagram, hashtagging it, "#afatherslove."
Not only that, Louis announced that he had tested positive for COVID-19. Although he did not share whether Aya or any of his boys had been sick, it seems Louis bounced back, as in January, he snapped photos of him and Aya saying, "Love goes out to everyone. Make this year yours, I know I am."
Although the two are quiet compared to other "90 Day" castmates, it seems to be working for them. The two have grown their family, and seem to be living "Happily Ever After" — even if they aren't on the spin-off of the same name.