The Music Video That Miley Cyrus Regrets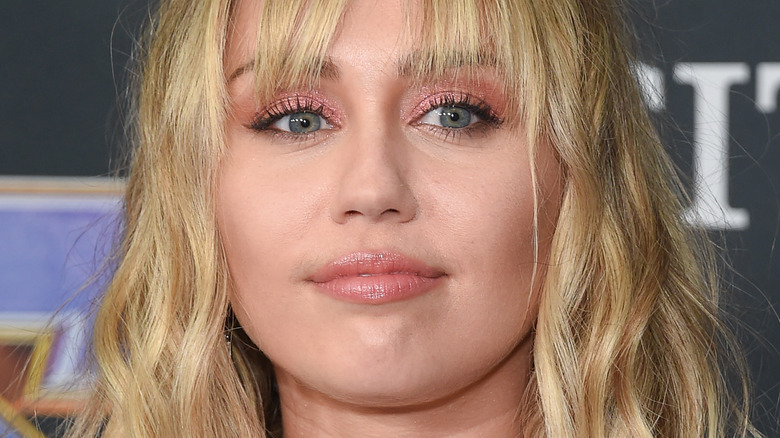 Shutterstock
Like many successful pop stars, Miley Cyrus has reinvented her image sound several times over the years. Since being introduced to the public as Disney Channel's Hannah Montana, she has morphed into one of music's most talked about pop culture figures. As of this writing, Cyrus has achieved five No. 1 albums on the US Billboard 200 and 10 top 10 hits on the US Hot 100. However, so far, her iconic single "Wrecking Ball" is the only one to reach the top spot.
The music video for her 2020 single with Dua Lipa, "Prisoner," made headlines after fans noticed she made a dig at her exes at the end of the video because it featured text that read: "In loving memory of all my exes, eat s**t." In an interview with The Project, Cyrus explained why she chose to put them on blast. "I think life can be very painful sometimes so poking fun at it and laughing along with it," Cyrus said, per news.com.au, adding, "Like, I always feel like it's [life] laughing at me, you know, pulling strings, just creating whatever chaos it wants to and it doesn't take it easy on us, and I think that [message] was a way that I was able to fight back at that and poke a little fun at it."
With that being said, Cyrus has been open about the one music video she regrets making. Keep reading to find out which one it is.
Miley Cyrus regrets making the music video for this No. 1 hit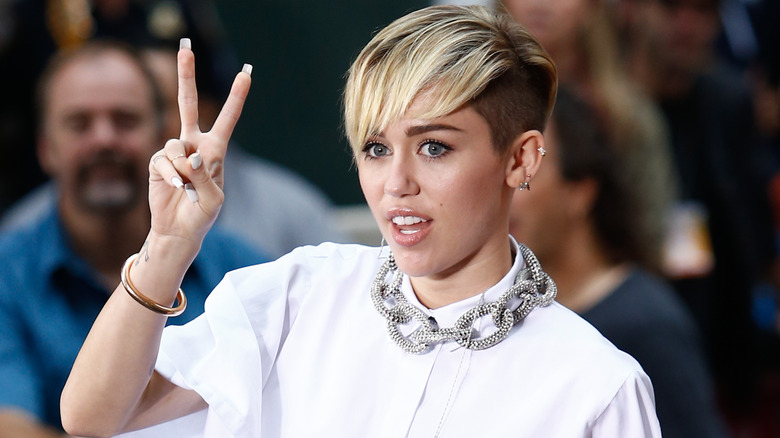 Shutterstock
Despite its huge success and it being one of the most famous songs from the past decade, Miley Cyrus is not a fan of her music video for "Wrecking Ball."
In a 2017 radio interview with Long Island's "Cooper Lawrence" morning show, the "We Can't Stop" hitmaker stated "It's kinda crazy that I'll always be known for licking a sledgehammer," per Entertainment Tonight. However, on WKTU's Cubby and Carolina Bermudez radio show that same year, she also revealed she was not into singing it live, either. "'Wrecking Ball' — I'll do it, but I don't love it," she stated, adding, "It's when you're so stoked about something and then you have to sing a song that bums you out. And I'll never live down when I licked a sledgehammer."
In a game of Marry, Eff, Kill on "The Zach Zang Show," Cyrus said she would kill off "Wrecking Ball" and admitted that her worst nightmare is always being remembered for swinging on a wrecking ball naked and licking a sledgehammer. If there is good one thing that came out of the song, though, it's that it took Cyrus' career to the next level.
'Wrecking Ball' helped Miley Cyrus earn MTV's coveted Moonman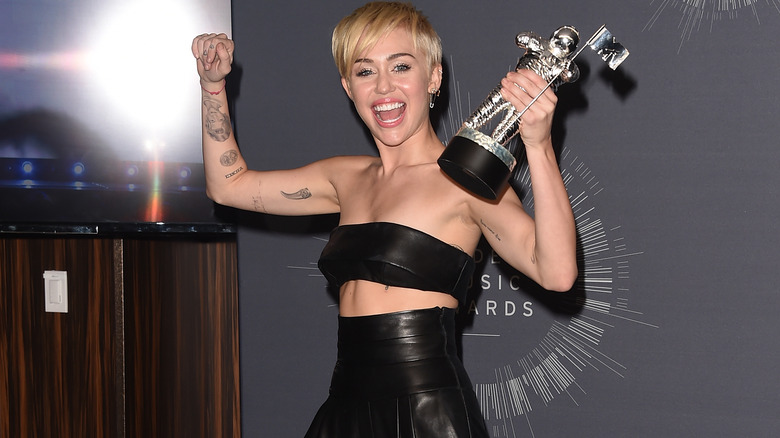 Jason Merritt/term/Getty Images
Even though Miley Cyrus might want to forget about "Wrecking Ball," it's safe to say fans fell in love with the song when it was released. As of this writing, the explosive music video has been viewed more than 1.1 billion times on Cyrus' official YouTube channel since September 2013. On the UK singles chart, "Wrecking Ball" became her second chart-topping single while being her first in the US.
The following year at the MTV Video Music Awards in 2014, Cyrus took home her first-ever Moonman for Video of the Year, beating out competitors, like Sia, Beyoncé and Jay-Z, Iggy Azalea and Charli XCX, and Pharrell Williams. On the night, Cyrus used her large platform and allowed a formerly homeless man, Jesse, to accept her award to raise awareness, per MTV.
"My name is Jesse and I am accepting this award on behalf of the 1.6 million runaways and homeless youth in the United States who are starving, lost and scared for their lives right now. I know this because I am one of these people," he said, adding, "Los Angeles, entertainment capital, has the largest population of homeless youth in America. The music industry will make over $7 million this year and outside these doors are 54,000 human beings who have no place to call home."