The True Meaning Behind 'Billie Bossa Nova' By Billie Eilish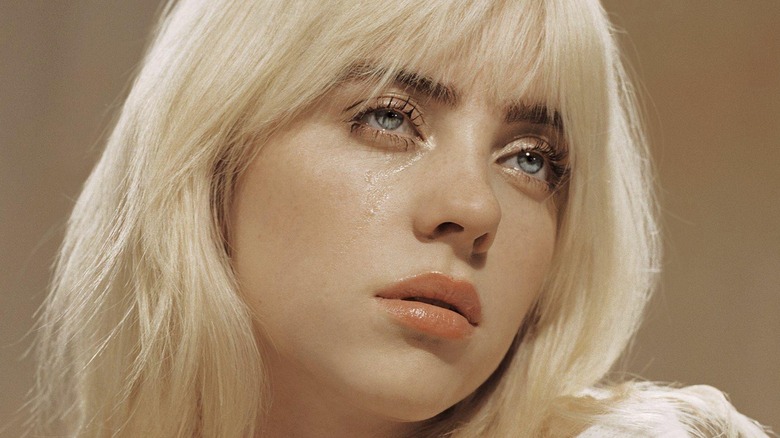 Darkroom/Interscope Records
Following the success of her 2019 debut album, "When We All Fall Asleep, Where Do We Go," pop superstar Billie Eilish released her sophomore record "Happier Than Ever" in July 2021. In the lead-up to the album's release, Eilish traded in the signature, globally recognized green hair for blonde and leaned into an old Hollywood aesthetic, complete with a grand reveal in a cover photo shoot with British Vogue.
Sonically, "Happier Than Ever" also differed from Eilish's previous album, as she and producer-brother Finneas, explored a range of different musical genres — from the rock influence on title song "Happier Than Ever" to industrial electronics on "Oxytocin." It allowed both Eilish and Finneas to truly showcase their collaborative range. On that note, one of the most interesting tracks on the album, "Billie Bossa Nova," finds Eilish imagining a secret love affair away from the grips of fame. Here is a breakdown of the true meaning and inspiration behind the standout song.
Billie Eilish was inspired by Brazil's bossa nova scene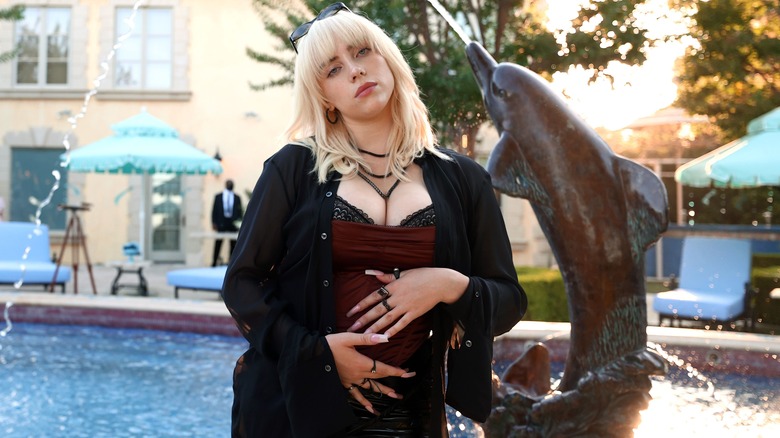 Matt Winkelmeyer/Getty Images
Although alt-pop chart topper Billie Eilish had never physically been to Brazil, which she shared with NPR in August 2021, the country's musical influence played a role in her and brother Finneas creating "Billie Bossa Nova" from her new album. "It's like the main place that I should go. The first fan account I ever had was Billie Eilish Brazil. For real," Eilish explained. "I have a very special place in my heart for Brazil. I wanted to pay respect to bossa nova and Brazil and just the entire culture around it cause I love it so much. I don't know, I just love a little feel-good, you know, move around feeling, sexy little song."
It wasn't just the country of Brazil that inspired Eilish, but the work of specific musicians. "It is inspired by the bossa-nova of Antonio Carlos Jobim, by this musical world which existed before me and which left us a marvelous heritage," Eilish told French magazine Madame Figaro. "I wanted to pay tribute to Brazilian music, to jazz musicians who are not talked about enough, on the pretext that my generation would not listen to them. This is not true!" Eilish went on to explain, "Pop is a huge receptacle for all music, it is a subtle form of popularization of the major arts."
Billie Eilish based "Billie Bossa Nova" lyrics off a secret fantasy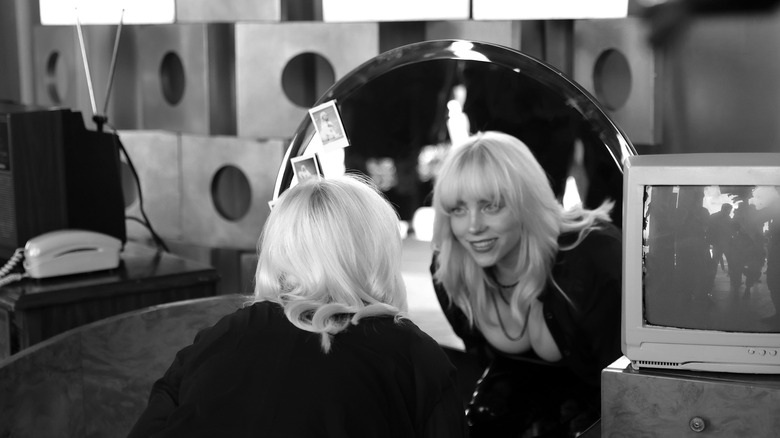 Matt Winkelmeyer/Getty Images
In anticipation for Billie Eilish's second album "Happier Than Ever," which was released in July 2021, Eilish appeared on the July-August cover of Rolling Stone. The 19-year-old musician has received speculation about the lyrical content of "Billie Bossa Nova," which details two lovers moving around in secret — and "using different names at hotel check-ins," implying the pressures of fame.
Her brother, fellow musician Finneas, revealed how the pair started their songwriting process for the track. "We have to do a lot of goofy bullshit when we go on tour, where we enter through freight elevators in hotels and stuff, so that paparazzi doesn't follow us to our room," he told the outlet. "And so we acted as if there was also a secret love affair going on in there of Billie being like, 'Nobody saw me in the lobby/Nobody saw me in your arms,' as if there was a mystery person in her life during all of that." All in all, the track is inspired by real life but adds a bit of imagination.