Is Whitney Way Thore From My Big Fat Fabulous Life Dating Anyone?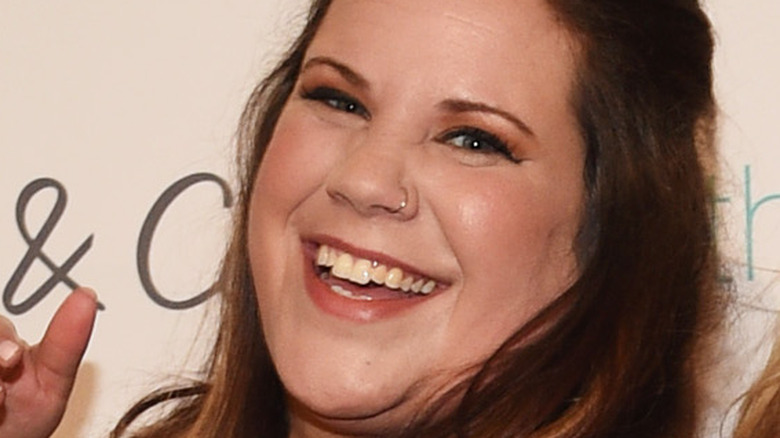 Bryan Bedder/Getty Images
"My Big Fat Fabulous Life" star Whitney Way Thore hasn't had the easiest time of the dating game. The reality star has been pretty open with fans about pretty much every aspect of her life through the TV screen and on social media, including getting candid about her relationship with her ex-fiance, Chase Severino.
Whitney and Chase announced their engagement in 2019 but revealed they'd gone their separate ways in May 2020, at which time it was revealed that Chase had fathered a child with another woman (via People). Whitney confirmed the news in a lengthy post on Instagram, sharing what happened in a post accompanied by a black box.
Calling the news "weird and uncomfortable," Whitney told her followers that she and Chase were "no longer engaged." She shared that they had experienced "a lot of ups and downs" in their relationship and were living apart when "Chase reconnected with a woman with whom he has had a long history." She then confirmed that the two had conceived a child together and asked for "privacy" for all three of them. Chase went on to confirm the birth of his child on his Instagram account in September 2020.
But what about Whitney? Is she dating again after calling it quits with Chase? Read on for what we know.
Whitney Way Thore has a new mystery boyfriend
In exciting news for fans of "My Big Fat Fabulous Life" star Whitney Way Thore, she seems happier than ever with a brand new boyfriend. Whitney appears to have very much moved on from Chase and is seemingly getting serious with a new man — so serious that she's already hopped across the Atlantic to be with him!
On July 21, Whitney shared a series of photos on Instagram showing her cuddling up to her new love as they took in the romantic sights of Paris, France, together. "I've always had a sorta love/mostly hate relationship with social media, but after the last year, it's grown even more complicated," she explained in the caption.
Whitney's photos didn't reveal her boyfriend's identity, as she covered his head with a large circle in each snap. Why? Well, she further explained in the caption, "When your French man says he values his privacy but you still wanna share him, this is what social media gets" alongside a crying laughing emoji.
The TLC star didn't give any more away about her mystery man, but she did spend a lot of time in Europe with him over the summer. On August 12, she confirmed in another Instagram update that she'd been in Paris for a whole six weeks, which makes us think things could potentially be getting pretty serious.
Will Whitney Way Thore's new boyfriend be on My Big Fat Fabulous Life?
Whitney Way Thore hinted about the possibility of her new boyfriend featuring on "My Big Fat Fabulous Life" Season 9 on Instagram, as she urged fans to tune in to the new season in her July 21 post where she (kind of) introduced him to the world. Alongside her teasy caption, she added, "See y'all for a new season of #MyBigFatFabLife August 17 at 9/8c on TLC," with a red heart emoji — could that be a hint she'll be revealing his identity?
Well, it looks like Mystery Man will definitely play a part in the new season in some capacity. In a Season 9 sneak peek obtained by People, it's revealed that the new beau in Whitney's life is actually her tutor who she met online while studying French. Amid worries she could be being catfished, Whitney can be heard in the teaser trailer revealing her big plans to hop on a plane to go and see for herself. "The Frenchman could be anybody. Could he be hiding something really awful? Yes. But I have someone who I'm interested in who's interested in me, so if that means that I go to France to meet him, then that's what I'll do," she said. 
Well, if her Instagram post is anything to go by, it seems like things went well — but we can't wait to see how this one plays out on the show!