The Job Scooter Braun Had Before He Was Famous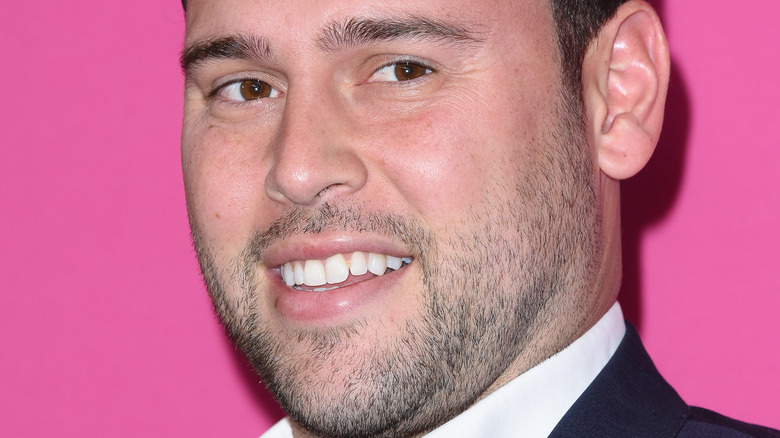 Shutterstock
Scooter Braun, owner of Scooter Braun Projects, is a music tycoon who manages some of the world's most iconic artists. Although the millionaire is known for representing big-name clients, including Justin Bieber, Ariana Grande, David Guetta, and Dan + Shay, in recent years, he has also made headlines for his connection to Taylor Swift. When Braun bought Swift's former record label, Big Machine Label Group, including the master recordings of her first six albums, the "You Belong to Me" singer took to Tumblr to pen an explosive post about how "sad and grossed out" she was over the deal, according to Rolling Stone. 
The problem stems from how Swift perceived Braun as a "manipulative bully" and felt betrayed by her prior record label for selling her master recordings to Braun, especially after she begged to be granted the rights to her own music, as reported by Vox. "Never in my worst nightmares did I imagine the buyer would be Scooter," Swift wrote. She went on to claim that Big Machine founder Scott Borchetta knew that she didn't trust Braun and that both he and Braun were attempting to "[control] a woman who didn't want to be associated with them." Swift's post incited plenty of controversy and many of Braun's clients came forward to defend him. 
Despite the negative press from Swift, Braun is still going strong as a mega-manager and clearly isn't leaving the industry anytime soon. But what did he do before he became a music mogul? Keep scrolling to find out!
Scooter Braun was in the party-planning business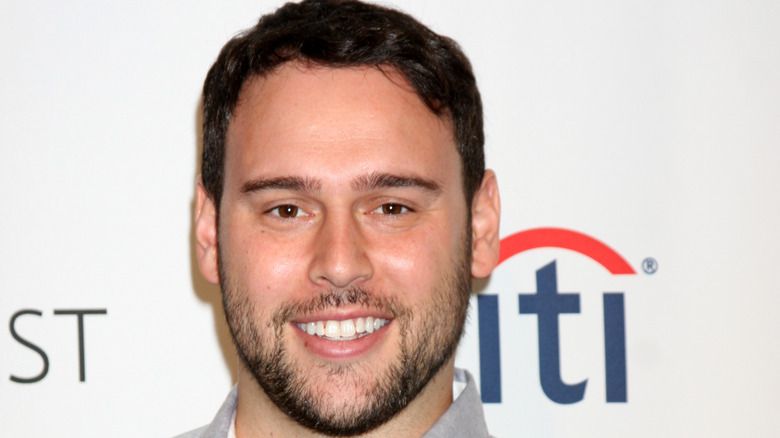 Shutterstock
Before Scooter Braun started his own music label and was named one of the world's most influential people, the New York native planned after-parties while living in Atlanta and attending Emory University. Braun once discussed how he got into the business by initially wanting to party. "I didn't have enough money to really party. And I walked by a nightclub. It was called Chaos in Buckhead. And I stopped and I said, you know, if I can get some people here next week, would you give me, you know, any money," he told Creative Loafing. "...and the guy said, sure, how many people can you get? I said I don't know, 800. He looked at me like I was crazy." Braun went on to recount how he went to Kinkos to print flyers and then hung them at the university to get people to attend the party. Before he knew it, 800 people showed up and his career as a party promoter was born — simple as that.
Later, when Braun was still just on the cusp of adulthood at age 19, his work as a club and party promoter landed him a job with music producer Jermaine Dupri's So So Def Records, as per The New Yorker. Apparently, Dupri himself approached Braun at an event and offered him a job to head the marketing department of the record company. Braun decided to drop out of college to pursue his new career in the music industry. 
The artist that truly launched Scooter Braun's career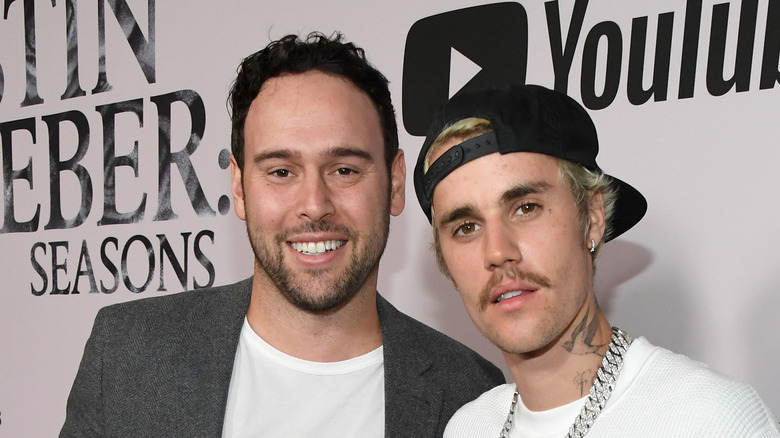 Kevin Mazur/Getty Images
Scooter Braun worked with So So Def Records until he was fired a few years later over a disagreement regarding the direction the label was going in. As a college dropout without much money to his name, Braun decided to set up his own management company and search for lesser-known artists looking to land deals. This is when he came across a young, fairly unknown YouTuber named Justin Bieber, who became one of his greatest success stories. 
When Braun heard the then 12-year-old singer, he reportedly thought to himself, "This is the kid I've been looking for." He told The New Yorker what happened next: "I flew him and his mom down, got them a town house, bought all the furniture for their place, and started paying their bills." Braun's ensuing hard work landed Bieber a deal with Island Def Jam and kick-started his career as a pop icon.
The two formed such a tight bond that when Taylor Swift released her Tumblr statement accusing Braun of being a bully, Bieber was the first to come to his mentor's defense. In an Instagram post that Bieber directed towards Swift, the "Love Yourself" artist wrote, "Scooter has had your back...So for you to take it to social media and get people to hate on scooter isn't fair. What were you trying to accomplish... ? seems to me like it was to get sympathy."