What Is Monica Lewinsky's Greatest Regret In Life?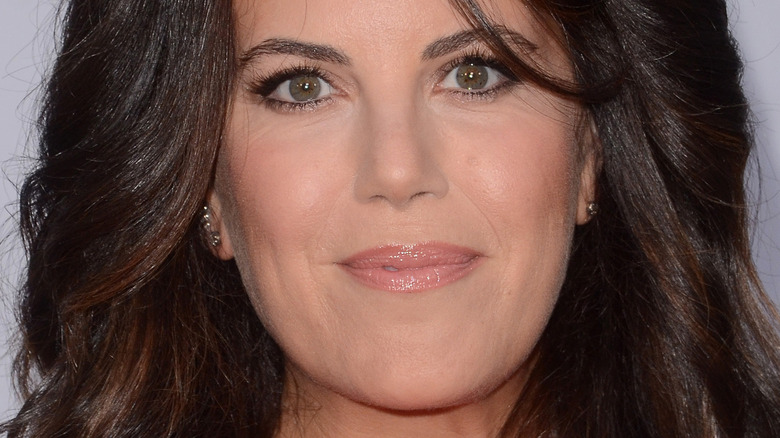 Shutterstock
Monica Lewinsky's name will forever be tied to that of the 42nd president of the United States. However, unlike Marilyn Monroe — whose alleged affair with President John F. Kennedy is, for the most part, mythologized — Lewinsky and Bill Clinton's relationship still remains tabloid fodder and has followed her throughout her life.
The former White House intern turned anti-bullying activist celebrated her birthday in July. She took to Twitter and shared a personal revelation about what life has been like in the spotlight. "[I]t's my 48th birthday today and it marks that i've now been a public person for half of my life," she wrote.  Lewinsky was in her early 20s when her former friend, Linda Tripp, told the world about her affair with Clinton. Tripp secretly recorded their conversations and handed them to authorities. Lewinsky had confided to her that her navy dress was stained with Clinton's bodily fluids after oral sex. After discouraging Lewinsky from having it dry-cleaned, she handed the information over to authorities who tested the semen sample, per Famous Trials. "[S]uch a strange, strange thought," she added about her life in the spotlight thus far. Lewinsky continued, "[A]nyway, grateful to all of you who are part of my community here!"
Lewinsky and Clinton's story is making headlines again with the premiere of "Impeachment: American Crime Story," per People. Lewinsky is one of the producers of the documentary and is getting real about the impact the illicit relationship may have had on others, and herself.
Monica Lewinsky regrets hurting others
Getty Images/Getty Images
Monica Lewinsky is determined to change the narrative about her life. As a young woman in her early  20s, she was shamed for what President Bill Clinton deemed an "inappropriate intimate contact." Lewinsky is attempting to flip the script and is one of the producers for the hotly anticipated "Impeachment: American Crime Story." In an interview with Vanity Fair, she took the Proust Questionnaire that, per The New Yorker, has become the gold standard personality quiz.
Lewinsky was asked about her greatest regret and revealed a keen insight. "That some of my choices have caused others suffering," she replied (via People). Lewinsky seemed to be echoing the regret she expressed in a 2018 Vanity Fair op-ed where she wrote, "My first public words after the scandal ... were an apology directly to Chelsea and Mrs. Clinton. And if I were to see Hillary Clinton in person today, I know that I would summon up whatever force I needed to again acknowledge to her — sincerely — how very sorry I am." It seems as if she regrets her past actions and has publically apologized for her part in the Oval Office sex scandal that shocked the world.
On a lighter note, when asked about her greatest fear, Lewinsky unabashedly revealed "It's a toss-up between a tarantula crawling on me and dying alone." Her ordinary, forthright answers provide some insight into the woman who was at one stage blamed for the Clinton affair.
Monica Lewinsky spent a decade 'raw and frightened'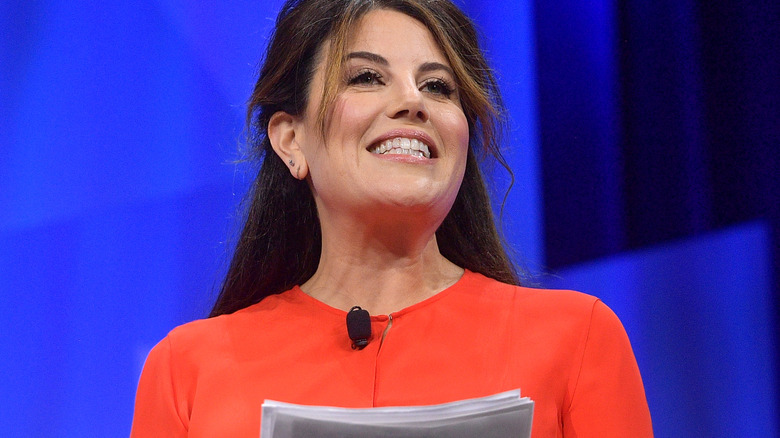 Matt Winkelmeyer/Getty Images
Monica Lewinsky's affair with Bill Clinton had a lasting impact on her life. Over the years, the 42nd president has made some cringe-worthy remarks about his former aide, all while she was trying to redeem herself after being publically humiliated.
In 2019, Lewinsky told an Irish audience that she regards herself as one of the first victims of cyberbullying, per Ireland's Independent. Rumors of their escapades were first published on an online gossip site called Drudge Report, which ran with the headline, "A White House intern carried on a sexual affair with the President of the United States!" She said, "I couldn't imagine showing my face again, when I read the Starr Report online, the mantra that continually went through my head was, 'I wanna die, I wanna die!'"
Lewinsky detailed her shame in a TED talk in 2015, saying, "I felt like every layer of my skin and my identity were ripped off of me in '98 and '99." She added, "You feel incredibly raw and frightened. But I also feel like the shame sticks to you like tar." Lewinsky confessed that she "came very close" to attempting suicide. She also revealed that she struggled with her career for a decade. When she offered to volunteer her services to a charity, "they told me my working there 'wasn't a good idea,'" via The Guardian.
Now Lewinsky has owned her story and is taking back her worth.
If you or someone you know is having suicidal thoughts, please call the National Suicide Prevention Lifeline at 1-800-273-TALK (8255) or text HOME to the Crisis Text Line at 741741.