Khloe Kardashian Shows Off Her Natural Hair Texture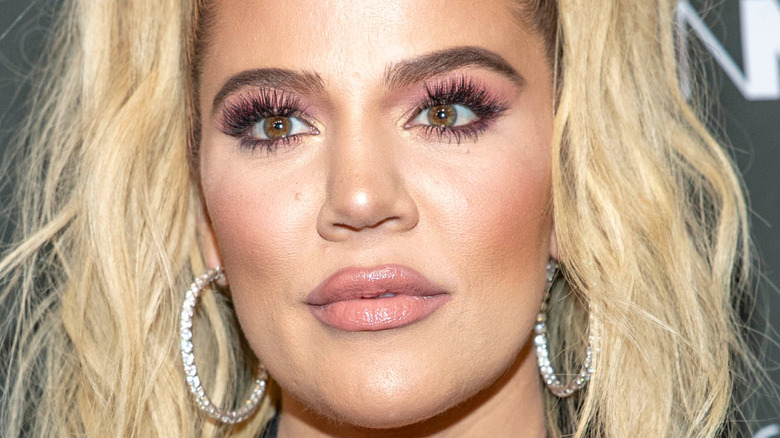 Shutterstock
Khloé Kardashian is known for making a statement when it comes to her fashion choices, but she is not afraid to change up her hair. And her latest 'do is making us do a double take.
Khloé revealed that she actually changed her hair color to "blend in" with her siblings when they started filming "Keeping Up With the Kardashians." "I am naturally dirty blond," she told NewBeauty in 2016 (via POPSUGAR), "and I always was light and then went dark before we started filming." She added that she "was kind of identified with always being dark like my sisters were." But she also told the magazine that she starting changing up her hair when she began to lose weight. "When I started losing weight and started feeling better about myself, I was more willing to try different things, and I was ready to make a change and stand out more," she added (via Huffington Post).
As time went on, she realized that blending in with her sisters wasn't necessarily a good thing. "I feel like before, I was very much trying to fit this cookie cutter mold, and now I don't. I had to stand up for myself and say it doesn't matter if I look like them or not, this is me," she said. From dyeing it platinum blond to wearing it stick straight to styling it with waves, Khloé's done it all with her hair. And why is everyone buzzing over Khloé's locks now? Keep reading for more details.
Khloé Kardashian embraces her natural hair texture
Khloé Kardashian is definitely not lacking in the hair department, and her new (old?) style just might break the internet!
She showed off her curly, more brunette locks on Instagram on August 13 and wrote, "I rarely wear my natural hair texture. Felt kinda cute with it (please don't ruin the feeling)." Luckily for Khloé, the positive comments rolled in quickly. One fan wrote, "LOVE ITTTT!!!" and sister Kendall Jenner added, "I love your natural hair." Even her ex-boyfriend Tristan Thompson slipped into the comments as he added two heart eyed emoji and two red hearts. (No word if Khloé liked his comment as of this writing, but it's a nice sentiment, anyway.)
Khloé also shared a message on Twitter as she penned, "I've been getting Straightening treatments on my hair for years. I've been getting Brazilian blowouts and other treatments since I've been a teenager. I stopped because of Covid. I actually kind a like my curls." We hope this new look sticks around for a minute!