How Did Ewan McGregor And Mary Elizabeth Winstead Really Meet?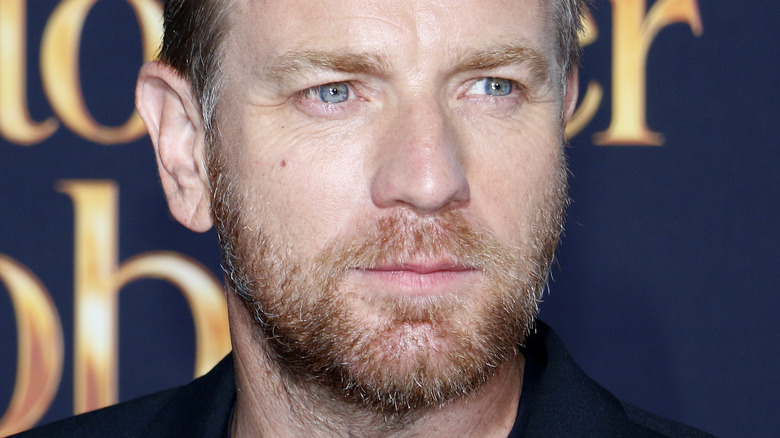 Shutterstock
Ewan McGregor and girlfriend Mary Elizabeth Winstead seem happily stable in 2021, having welcomed their first son in June, McGregor's daughter Clara McGregor announced on Instagram. The two actors, who co-starred on FX's "Fargo" and in 2019's "Birds of Prey," have spoken about finding each other amidst two seemingly less-than-happy relationships at the time — McGregor with ex-wife Eve Mavrakis and Winstead with ex-husband Riley Stearns. The duo each left their respective partners in 2017 for one another, and when McGregor was asked about Mavrakis by Men's Journal in 2019, he replied that he felt decisively "lighter."  "I am happier. I think that's true," the Scottish actor said. 
In a 2020 Glamour UK interview, Winstead admitted that divorcing when she "had been with the same person since I was 18 years old" was a "scary, crazy thing." She, too however, was relieved to find that change (aka McGregor) "is a good thing and that it's OK not to know where that change is going to take you." 
Not all were so taken with McStead, however, especially — allegedly — Stearns. The Daily Mail claimed in 2017 that the filmmaker had written a since-deleted Instagram post that wished McGregor and Winstead were "f**king dead" and seethed at McGregor for "f**king the girl of his dreams." (Stearns denies he ever wrote such words.) 
So, how did such a blissful couple arise from such drama? Keep reading for the circumstances surrounding McGregor and Winstead meeting (and, consequently, falling in love).
Ewan McGregor and Mary Elizabeth Winstead fell in love while married to other people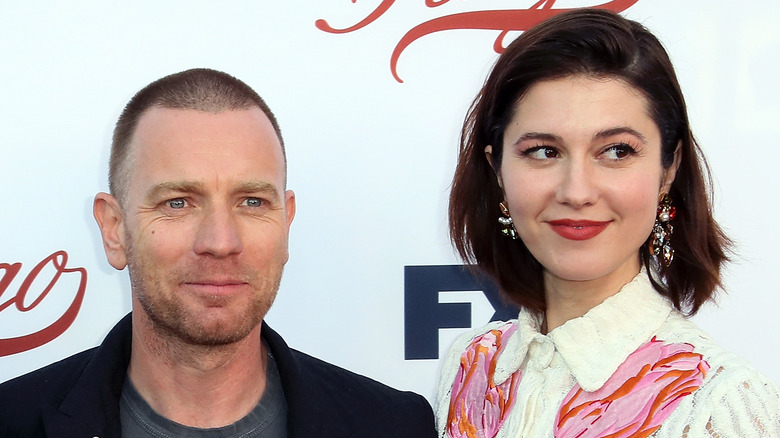 David Livingston/Getty Images
Ewan McGregor and Mary Elizabeth Winstead, having met while filming the third season of FX's "Fargo" in late 2016, via Newsweek, reportedly became an item on that very set. Playing onscreen love interests, the two were outed to the world in October 2017 after The Sun published photos of them canoodling at a London café. The awkward part? McGregor's ex-wife Eve Mavrakis allegedly saw the PDA-happy snaps the same day as their daughter Esther's birthday, via Mirror UK, and perhaps related, would announce their separation that day, as well.
Per The Sun, while Mavrakis knew of McGregor's affections for Winstead by his November 2017 divorce filing, the actor also told her he had never acted upon said feelings. As a source told the outlet, "Eve is sure Ewan and Mary were together before he confessed his feelings for her. It is hard for her to believe him." 
After all, the timing of Winstead's own divorce announcement that year seems a tad too coincidental. Breaking the news in a since-deleted Instagram post in May 2017, Winstead reassured followers (via People), "We are still ride or die, just in a different way now." Riley Stearns, for his part, appeared to favor the latter by McGregor's November 2017 divorce filing, per the Daily Mail. In June that year, per The Sun, Stearns even deleted his Twitter account, writing, "Keep almost tweeting stuff I shouldn't so I am saying bye for a while."
Clara McGregor once called Mary Elizabeth Winstead 'trash'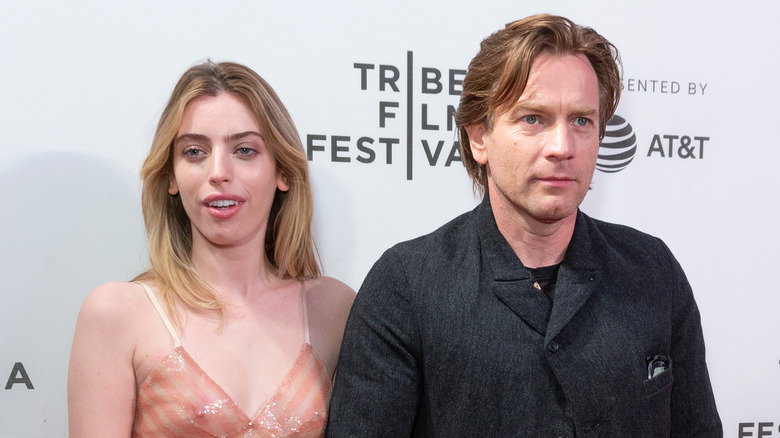 Shutterstock
Although Ewan McGregor's daughter, Clara McGregor, gushed about her father's newborn son with Mary Elizabeth Winstead (her half-brother) in a June Instagram post, she was once vehemently anti-Winstead. On a Winstead Instagram fan account's post propping up the "Birds of Prey" actor as "beautiful," Clara snidely commented in July 2018, "Most beautiful and talented woman on earth? Oh man y'all are delusional. The girl is a piece of trash x." Oof.
With Clara agreed this was "not my finest moment" to the U.K.'s The Times one month later, she explained part of her outburst was seeing Winstead fans incessantly tagging her in the photo, in addition to disparaging remarks about her mother, Eve Mavrakis, whom Ewan left for Winstead. "There had been a lot building up to it and a lot to deal with, not to make excuses or anything," Clara told The Times. However, she candidly offered, "I said how I felt and I didn't want to apologize for it. It wasn't the right way to go about things, but it's a hard thing to wrap your head around when you feel you had this idea of what the family unit is and then to have that shift."
As Clara pointed out then, "The relationship's not going to end because of this," and her tune certainly changed by 2021, with her announcement post of her baby brother reading, "Congratulations to my Dad & Mary – this is the greatest gift."