Love Island USA: Inside Cinco And Cashay's Relationship Today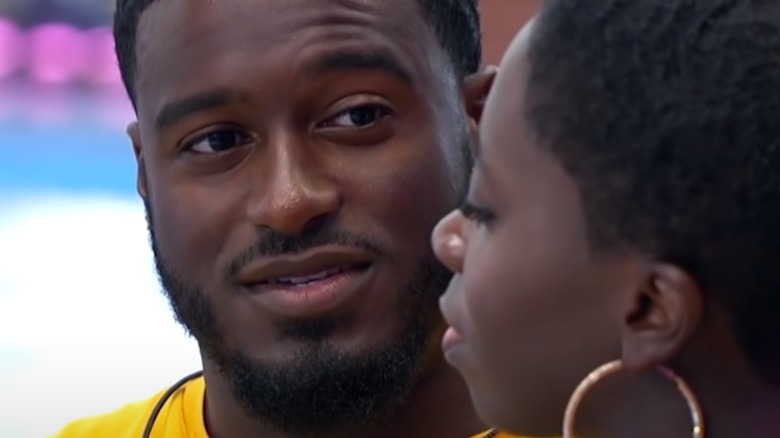 CBS/YouTube
"Love Island USA" may have lit the sparks for Cashay Proudfoot and Melvin "Cinco" Holland Jr., but was the passion enough to stoke the fires of a red-hot romance? For those who don't follow the show, "Love Island USA" aims to set up hot singles in a glamorous setting where they wear skimpy outfits while participating in challenges that leave very little to the imagination. Of course, all this makes for some very entertaining television.
The third season of  "Love Island" has proven no different, partially thanks to the antics of a love triangle that was wrought with tears, lust, and good ol' fashioned jealousy. Cinco, Cashay, and Trina Njoroge were involved in situationships that had fans gasping for some kind of resolution, per Pop Culture. So, when Cinco and Cashay finally admitted that they had feelings for each other and spoke about a future relationship, it seemed as if it was a done deal. However, Trina and Cashay voted to eliminate Cinco from the island so that Will Moncada and Kyra Lizama could stay together.
But jealousy reared its ugly head again when Cashay's partner, Charlie Lynch, overheard her telling Cinco that she would leave with him if he kissed her. Charlie wasn't about to be played like that and a week later, chose Alana Paolucci over Cashay. Entertainment Tonight spoke to Cashay in an explosive exit interview where she got real about her feelings and dished, "My heart wanted Cinco."
Cashay finally fesses up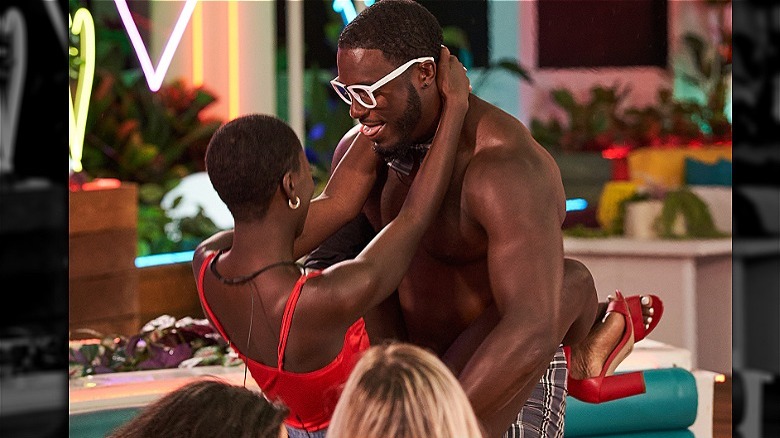 CBS
After Charlie Lynch chose another woman over her, Cashay Proudfoot comforted the crying contestant and told him that she wasn't mad with him, per People. Trina Njoroge also reminded her to "chase the man that said he's waiting" referring to Melvin "Cinco" Holland Jr. Cashay responded, "I just hope it's not too late 'cause that's who I want." Later, in a confessional, Trina admitted, "I think they're meant to be." Cashay then left after making it clear that she wanted to reunite with the former football player.
And it seems as if Cash and Cinco have definitely pursued each other, in whatever form that may be, after "Love Island USA." In fact, she gave her "After the Island" interview from Cinco's phone while he stood next to her during the clip. She revealed that she had arrived in Virginia because she had a layover. However, she didn't leave. "We met at the airport and it was supposed to be this really cute one-hour thing," she divulged. However, one thing led to another, "And then he goes, 'You could just stay.' And I said, 'Yeah, I could." Since then, Cash and Cinco have been updating fans via their social media pages. They have hit the gym, had dinner together, and just hung out together over the last couple of days. At the very least, they're spending a lot of time with each other.
Cashay and Cinco have met each other's parents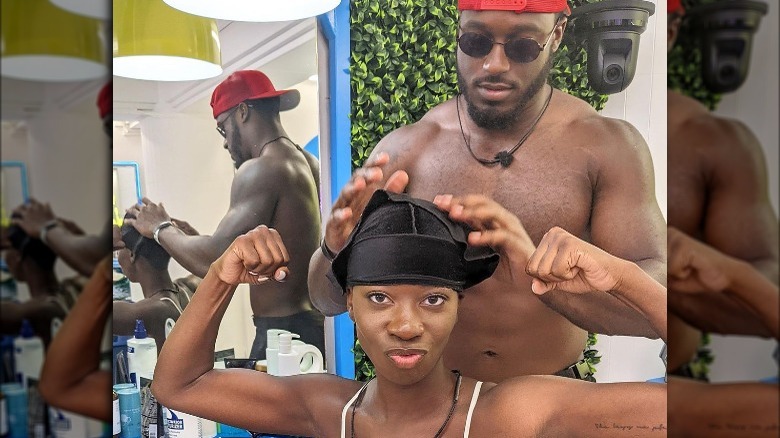 Instagram
Cashay Proudfoot is doing just fine, despite being booted off the CBS reality show. She's been spending some time in Virginia with fellow "Love Island USA" contestant Melvin "Cinco" Holland Jr. She revealed that they're taking things one step at a time when she spoke to Pop Culture. "Yes, the feelings are still there for the both of us, but it's like, now what? And even though the whole world, that's dramatic, but kind of, everyone is like, 'You guys need to be together.'" she said. But Cash seems to have a steady head on her shoulders and said, "I know even if we're not together, we're still going to be like the best of freaking friends and it sucks. And I don't want to think that way because I want this. But, it's being realistic. You never know, you know? We're just kind of figuring it out and I'm really happy."
Cash also revealed what their parents thought of their situationship. "[M]y family loves him. His family loves me. They're ... all of our families are saying what we need to hear. And that's what's most important. They're like, whatever happens, just see," she revealed before adding, "So, as long as we don't start feeling that pressure from our family, I think we'll be good. And we're not feeling that."  However, we're here for the sizzling feels. Everybody needs a little pressure, right? Bring it on.