Are Reba McEntire And Kelly Clarkson Close?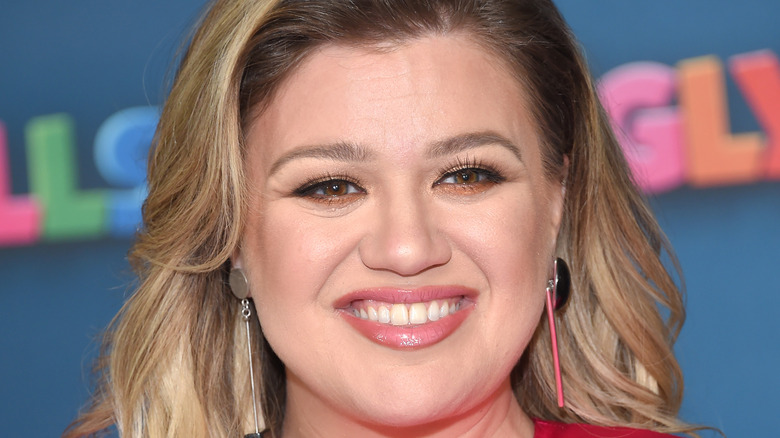 Shutterstock
Kelly Clarkson has a reputation of being one of the nicest celebrities in Hollywood so it's no surprise that she has plenty of friends. She counts Jennifer Garner and Blake Shelton among her closest celebrity friends, per Insider. In fact, Clarkson has leaned on Shelton amid her contentious divorce from Brandon Blackstock, who used to manage both singers. An insider told Us Weekly that Clarkson and Shelton "are extremely close," and "their friendship and bond goes beyond the business." The two, of course, have a working relationship as coaches on NBC's "The Voice."
Another friend who has lent support to Clarkson is Reba McEntire. Clarkson and McEntire became friends after they performed during the Season 1 finale of "American Idol" in 2002, which Clarkson won. Since then, both singers even became family at one point. McEntire was married to Narvel Blackstock — Brandon's father — for 26 years before they divorced in 2015, according to Today, so Clarkson was her daughter-in-law for a few years. However with Clarkson's divorce, many fans wonder if the "Reba" star's relationship with her has become less close. Keep scrolling to find out where they stand now.
Reba McEntire and Kelly Clarkson have a long-lasting friendship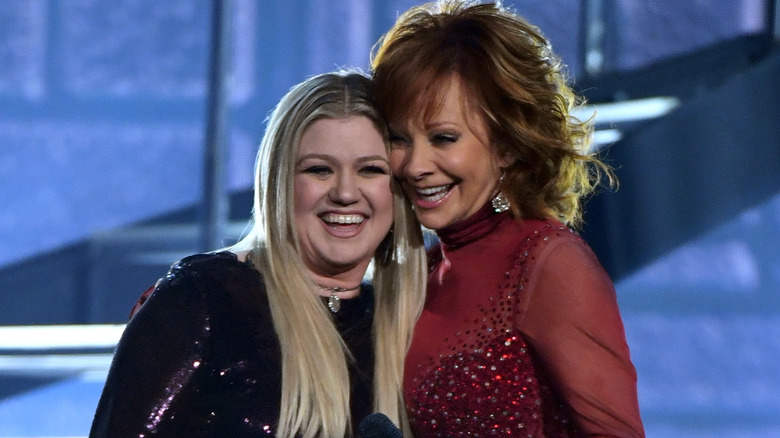 Ethan Miller/Getty Images
Despite fans thinking the worst of Kelly Clarkson's friendship with Reba McEntire, the two are reportedly closer than ever. According to Closer Weekly, the two powerhouse singers "have a bond that cannot be broken." The insider noted that things between them "may get a little awkward at times, but nothing is going to get in the way of Kelly and Reba's relationship." This revelation comes after Reba was "anguished" over Clarkson's divorce with Brandon Blackstock in June 2020, per Us Weekly, but has seemingly picked a side in the bitter divorce.
Clarkson and McEntire's friendship has spanned almost two decades. After the two met on "American Idol" when Clarkson was still a contestant, they went on to perform and collaborate with each other, according to Us Weekly. McEntire was a featured artist on a remixed version of Clarkson's hit song "Because of You," which was released in 2007. They also toured together. Still, McEntire is more than just a friend to Clarkson — she's her idol.
Reba McEntire is an inspiration to Kelly Clarkson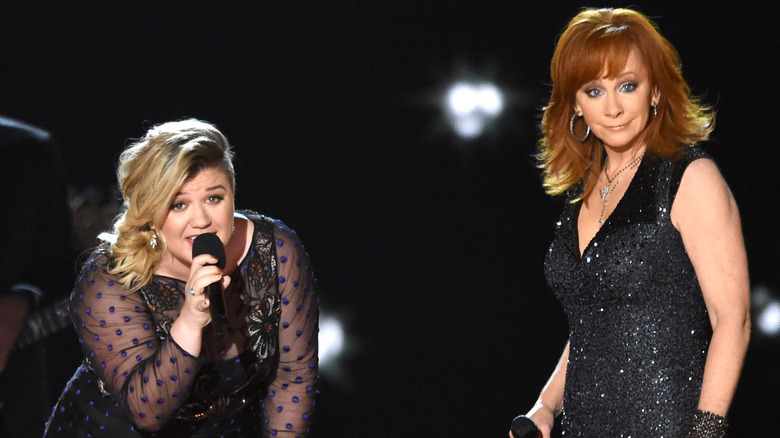 Cooper Neill/Getty Images
Although Reba McEntire and Kelly Clarkson have known each other for years, the latter has always viewed McEntire as an inspiration. During an episode of "I Miss...90s Country Radio with Nick Hoffman" on Apple Music Country in July 2021, Clarkson sang McEntire's praises.
"I've never seen a woman work so much harder than her male counterparts," she said. "She's just not afraid of anything. And she was always just working so hard and she had to work so much harder than a lot of the guys that didn't have to do as much. But man, wasn't it worth it? What an icon."
Clarkson went on to note that her former stepmother-in-law's music rivals any artist. "Her catalog is literally one of the best catalogs like in music, not just country," she added. "Like she has so many, not even that they're number ones, just so many songs that just reach so many people."
For her part, McEntire has also praised Clarkson's live performance skills. "Anytime I can sing with Kelly is a thrill for me," McEntire CMT Crossroads in April 2020 (via Us Weekly). "Just to be on the same stage with her was a blast."