The Truth About Blake Shelton And Kelly Clarkson's Relationship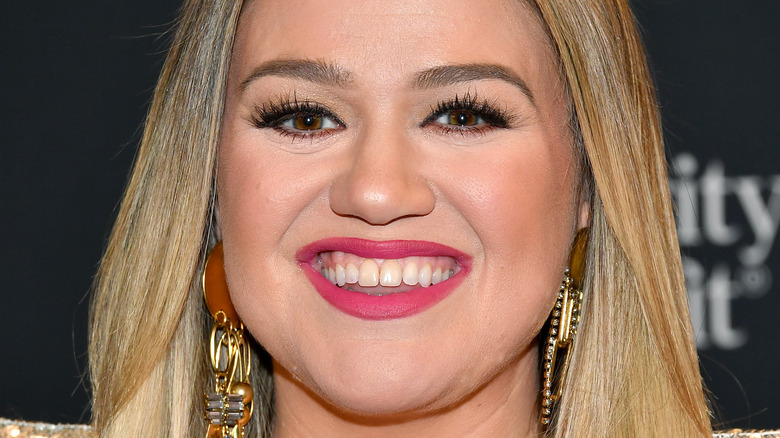 Amy Sussman/bbma2020/Getty Images
Fans of reality singing competition "The Voice" might know that judges Blake Shelton and Kelly Clarkson go way back. In fact, their relationship long predates the show, as they have been friends for years! "I've known Blake for like a decade. We're close enough to where I can really mess with him. He always uses this like, 'you don't know country music,'" the "American Idol" alum teased on her first day judging "The Voice" in 2018. 
It's not uncommon for industry professionals to have longstanding ties with one another, but Shelton and Clarkson are connected on a personal level, too: Clarkson's soon to be ex-husband, Brandon Blackstock, is Shelton's longtime manager, according to Us Weekly. Explaining that he first got to know Clarkson through Blackstock, Shelton told Examiner.com (via Taste of Country) in 2013 that the pop star "hit it off" with his ex-wife, Miranda Lambert. "They had so much in common, they're both from Texas and they both came from reality television shows ... you can't get a word in with them two," he said. Given that Shelton and Clarkson's friendship has now outlasted their respective spouses, their bond seems set in stone. Let's take a closer look at the pair's relationship.
Blake Shelton is helping Kelly Clarkson amid her divorce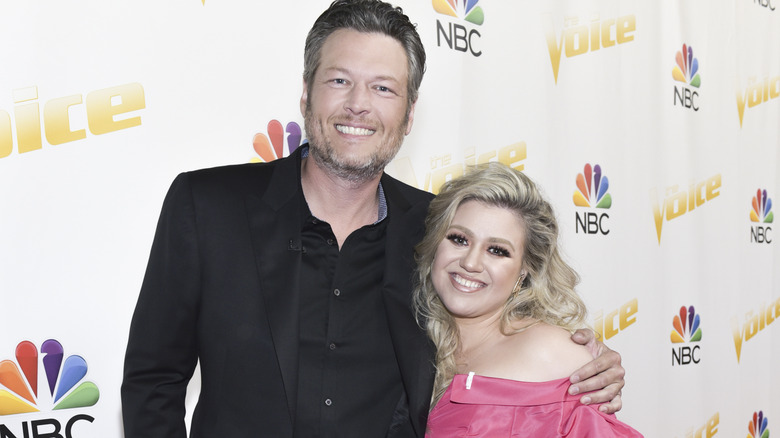 Rodin Eckenroth/Getty Images
In June 2020, news broke that Kelly Clarkson and her husband Brandon Blackstock were divorcing after seven years of marriage. Among the friends Clarkson was leaning on emotionally, Blake Shelton reportedly topped the list, per Us Weekly. (In other words, Blackstock may be his manager, but it seems Shelton is a loyal friend above all else!) "Blake has been supportive and the friend she has needed, as always," a source told the outlet, adding that the two "often joke they are siblings."
This is especially interesting, as Shelton was a catalyzing force in pushing Blackstock to propose to Clarkson in December 2012. "I told Brandon, 'Man, you need to grow up and you figure out that you need to marry this girl,'" the country superstar shared with HuffPost in 2012. He added, "I am going on the record saying, 'I will do the music at the wedding or whatever you want to do, I'll be that guy. I will play for four hours if I have to, 'cause you need to get your head out of your a** and ask that girl to marry you.'" Judging by this comment, it seems that Clarkson's happiness has always been at the forefront of Shelton's mind. No wonder he's standing by her now!
Kelly Clarkson and Blake Shelton support each other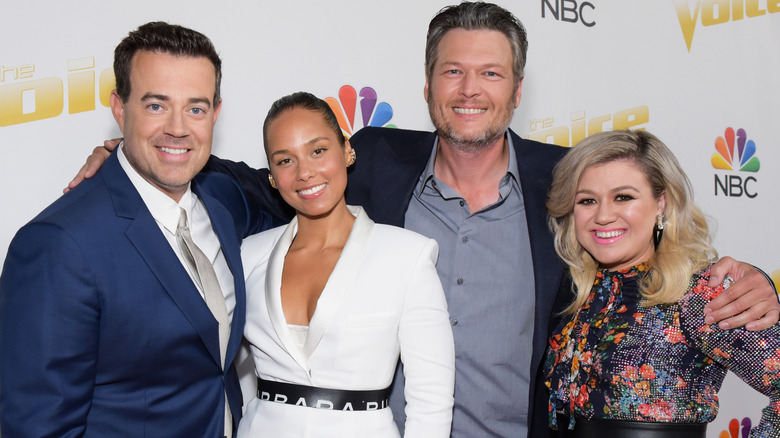 Tara Ziemba/Getty Images
Despite her on-screen banter with Blake Shelton on the set of "The Voice", Kelly Clarkson has nothing but nice things to say about her co-star IRL. As well as supporting her professional career, the "God's Country" singer has stood by her side through personal milestones — case in point, Clarkson's divorce. In 2017, she posted an Instagram thanking Shelton for coming to an event where she spoke. "Thanks @blakeshelton for being there for me today @variety 'Power of Women.' I hate giving speeches and I know you don't like to either so give it up y'all for having great friends that will be there for you!" she wrote in the caption.
Likewise, Shelton is not shy when it comes to singing Clarkson's praises. "She makes everything fun," he told E! Online in March 2018, opening up about why he was so excited to introduce Clarkson to his fiancee, Gwen Stefani. "It's fun to be around Kelly because there's that part of Kelly that I love about her — she's still such a fan of artists," he shared. "One of my favorite times is to see her around Gwen ... it's fun for me to see that fan, freak-out side of Kelly." The outlet also reported that Clarkson — who grew up listening to Stefani's ska band No Doubt — was in a group text with Stefani and Shelton at one point! There's "No Doubt" she will continue to be a staple in the couple's life for years to come.