Inside Angelina Jolie's Struggles With Her Health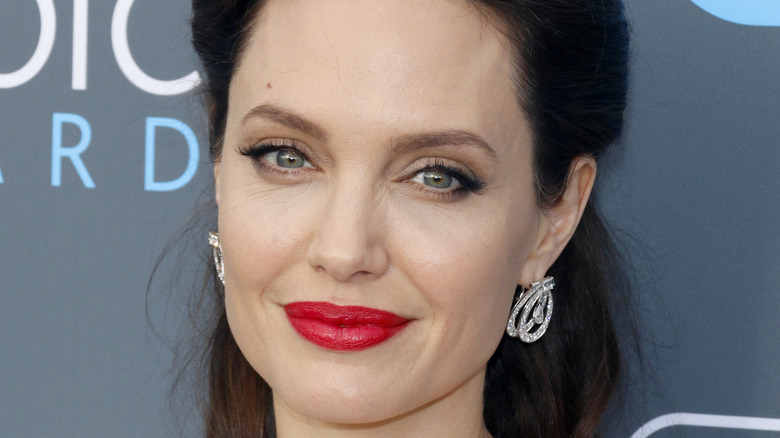 Shutterstock
Angelina Jolie is one of the most famous celebrities in the world, and thanks to her long list of accomplishments, including acting, directing, and humanitarian work, many people wonder how she has the energy to do it all. Though Jolie has seemingly been able to do it all, there have been some behind-the-scenes health scares that have altered the way she lives her life.
While some people, especially those in the public eye, may opt to keep their health struggles private, Jolie opted for a much more candid approach. And, thanks to this approach, Jolie has been able to spread awareness about preventative health measures, especially when it comes to cancer. It makes sense that Jolie has a passion for spreading awareness: her mother, Marcheline Bertrand, died of cancer in 2007. According to People, Bertrand was 56 years old when she died from ovarian cancer, a loss that still haunts Jolie. "I lost my mother in my thirties," Jolie wrote in a 2020 Mother's Day tribute, via The New York Times. "Losing a mother's love and warm, soft embrace is like having someone rip away a protective blanket." 
Because Jolie is a mother herself to six children, her health has especially been a priority over the years. Keep reading to learn about Jolie's health struggles and how she has coped with them.
Angelina Jolie had a couple of cancer scares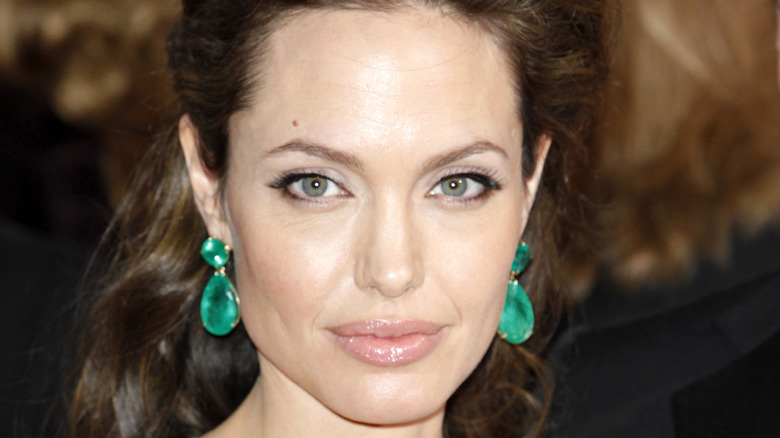 Shutterstock
Angelina Jolie knows the importance of preventative health care, and she's been candid about her story in hopes of helping other people.
In 2013, Jolie wrote an essay for The New York Times in which she revealed that she underwent a double mastectomy as a way to prevent breast cancer. Jolie revealed that she had a "faulty gene" that gave her an 87% chance of developing cancer; after her procedure, her chances dropped to below 5%. "Once I knew that this was my reality, I decided to be proactive and to minimize the risk as much I could," Jolie explained in her essay. "I am writing about it now because I hope that other women can benefit from my experience."
Unfortunately, that wasn't Jolie's only cancer scare. In a 2017 interview with Vanity Fair, Jolie revealed that she got a call from her doctor who was worried about "certain levels in her blood work that potentially suggested cancer." That's when she decided to have another preventative surgery and successfully had her ovaries removed, which helped eliminate the risk of developing ovarian cancer — the very same type of cancer that her mother died from.
Angelina Jolie has also experienced hypertension and Bell's palsy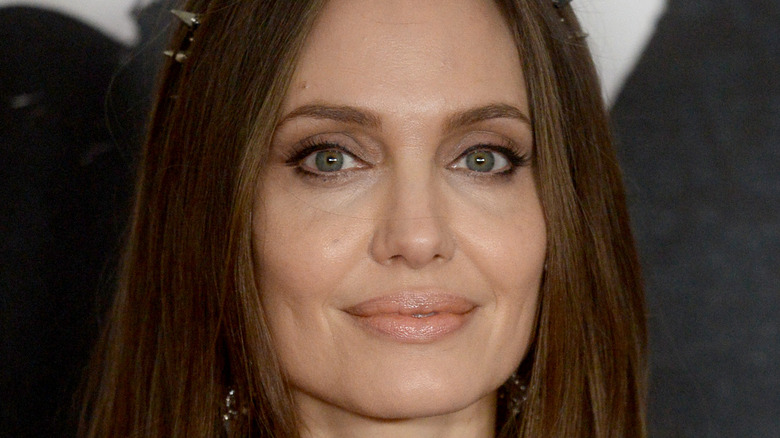 Dave J Hogan/Getty Images
Angelina Jolie has been very candid about her preventative procedures to lower her risk of cancer, but these aren't the only health scares that the actor has faced. 
In her 2017 Vanity Fair interview, Jolie said that she has hypertension, which is high blood pressure, and a brush with Bell's palsy. The condition came as the result of damaged facial nerves and resulted in one side of Jolie's face drooping. Fortunately, Jolie was able to make a full recovery thanks to acupuncture. 
Despite all of her health scares, Jolie is feeling better than ever and confident about her choices. "I actually feel more of a woman because I feel like I'm being smart about my choices, and I'm putting my family first, and I'm in charge of my life and my health," Jolie explained to Vanity Fair. "I think that's what makes a woman complete." Clearly, Jolie has made her health a top priority in her life, and thanks to her preventative procedures, she's been able to spread awareness and help others' health through her advocacy!