Why There Was Once An Assassination Attempt Plotted Against 50 Cent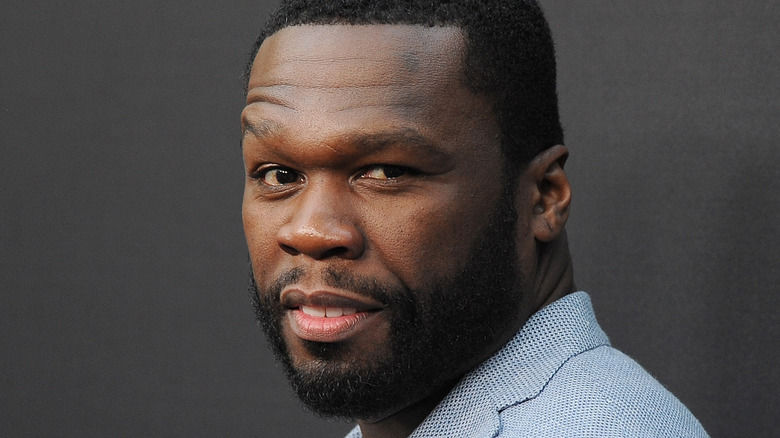 Angela Weiss/Getty Images
Before he became the rap superstar fans know and love today, 50 Cent had a near-fatal attempt on his life. The Queens native survived nine gunshot wounds, specifically in his arm, hand, hip, legs, chest, and face. Per BBC News, the attack happened in 2000, just three years before 50 Cent released his popular song "In Da Club."
In 2003, the rapper detailed the incident in the song "Many Men (Wish Death)," from his debut album "Get Rich or Die Tryin'." In one particular verse, 50 Cent talked about having a hit ordered on him and joked about his nemesis needing a refund because they couldn't finish the job. "Now these p**** n***** putting money on my head / Go on and get your refund motherf*****, I ain't dead" (via Genius). In 2020, Pop Smoke remixed 50's song on "Got It On Me (Many Men)," tragically predicting his own death.
As reported by Billboard in 2005, the attempt on 50 Cent's life was believed to be commissioned by NY drug kingpin Kenneth "Supreme" McGriff, along with employees of rap label Murder Inc. So, what exactly inspired McGriff and his associates to reportedly order a hit on 50 Cent? Scroll on for all the dirt.
50 Cent was shot over his controversial song "Ghetto Qu'Ran"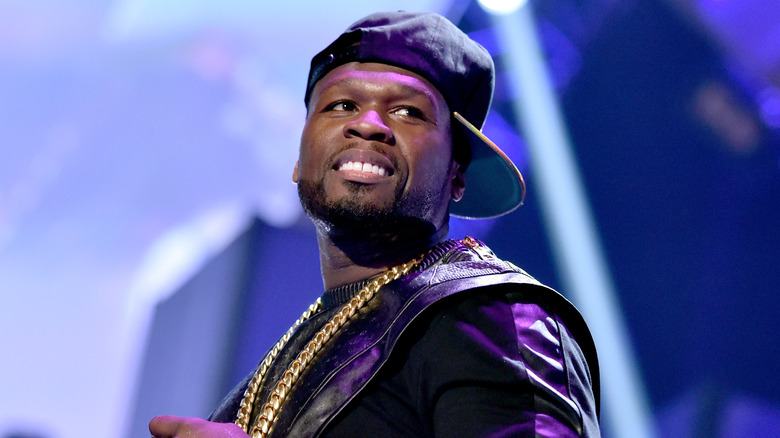 Kevin Winter/Getty Images
In 2000, 50 Cent recorded the song "Ghetto Qu'Ran (Forgive Me)," in which he narrated the illegal activities of drug dealers from Queens, NY. The song was supposed to be included in his debut album, "Power of the Dollar," but his label, Columbia Records, decided to scrap the whole project. However, the song was leaked the same year, exposing all the dirt on "Ghetto Qu'Ran" ... which didn't sit well with drug lords like Kenneth "Supreme" McGriff.
In the first verse, 50 mentioned McGriff and his nephew Gerald "Prince" Miller. "When you hear talk of the Southside, you hear talk of the Team / See, n**** feared Prince and respected Preme" (via Genius). "See, Preme was the business man and Prince was the killer." McGriff reportedly thought Fifty revealed too much about his illicit activities and decided to hire a guy named Jason Mizell to silence him for good. 
"Agents are still trying to determine whether Mizell's homicide has any connection to the ongoing dispute between McGriff and 50 Cent," IRS criminal investigator Francis Mace wrote in a 2003 document (via Billboard). "Law enforcement agents are investigating the possibility that Mizell was murdered for defying the blacklist of 50 Cent." Though Mizell was never charged for said attack, McGriff received a life sentence in 2007 for racketeering, murder-for-hire homicides, drug trafficking, and money laundering. Scroll on to find out exactly what happened the day 50 Cent almost lost his life.
50 Cent recalled the nearly-fatal attack to Oprah Winfrey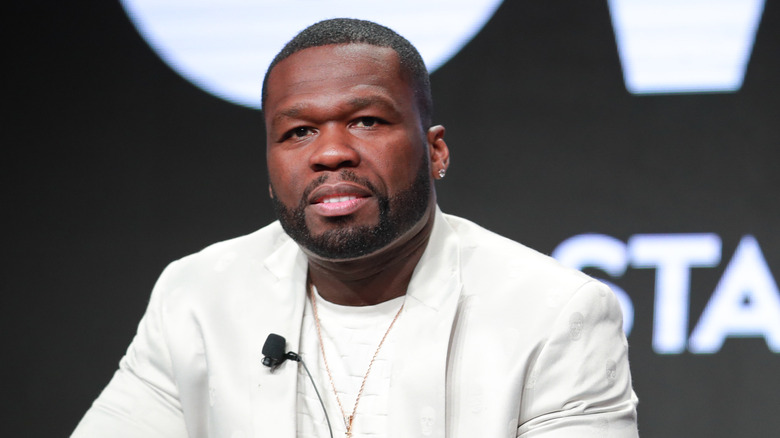 Rich Fury/Getty Images
During a 2012 interview with Oprah Winfrey, 50 Cent detailed what happened the day he was shot, on May 24, 2000. "I came out [of my grandmother's home] at like 12' o clock in the afternoon," he recalled. Then, while sitting inside his friend's car, another vehicle pulled up next to them. "A guy got out the passenger seat of that car, came around behind it and shot through the actual car." 
"I didn't even know my legs were broken. When I tried to get out the car at the hospital, both of my legs were broke," he continued. However, the pain didn't kick in until much later. "It doesn't hurt as much as people imagine because of your adrenaline and the shock of what's actually going on. It only hurts after." Fifty also admitted that, during the recovery process, he was afraid that Kenneth "Supreme" McGriff would come back to finish the job.
"In the recovery process, I got tired of being afraid... the only way to cover those emotions was to get more a little more aggressive and to be angry about the situation," he continued. When Oprah asked who did it, Fifty refused to name any names but gave an update on where they are now. "I knew who did it shortly after," he said. "The guy who actually shot me is dead, and the guy who paid him got life in jail."