How Brandi Passante And Jarrod Schulz First Started Dating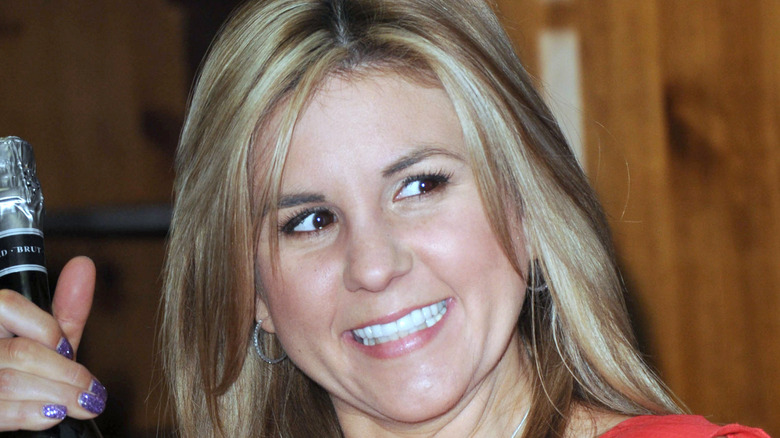 Albert L. Ortega/Getty Images
Brandi Passante and Jarrod Schulz's days of squabbling while sifting through the contents of storage lockers are over. These days, the "Storage Wars" stars formerly known as the "Young Guns" are hunting for their treasures among the trash separately.
On the Season 13 premiere of "Storage Wars," Brandi revealed that she and Jarrod split in 2018 after they finished filming Season 12 (via People). During a June 2020 interview with The Dad Diary host Danny Jordan, she said that he had become an absentee father to their son Cameron and daughter Payton. "Teenagers are tough, especially when you're doing it by yourself," she stated. She didn't elaborate on why Jarrod was no longer involved in his children's lives, but apparently, it had nothing to do with wanting to avoid Brandi, as the exes kept appearing on "Storage Wars" together as competitors.
They kept things fairly civil on the show, other than when Brandi called Jarrod an "idiot" once. However, tensions between the couple reportedly boiled over at a bar in Orange County in April 2021. According to TMZ, Jarrod was accused of shoving Brandi after they exchanged words. He was charged with misdemeanor domestic violence battery, which he later pleaded not guilty to. This marked an ugly end to a relationship that entertained audiences for over a decade. But how did Jarrod and Brandi end up together in the first place?
Brandi Passante and Jarrod Schulz met on the job
Jarrod Schulz has said that he knows Brandi Passante is out of his league, but what he had going for him was persistence. "That was a process. He wore me down," Brandi replied when she was asked if it was "love at first sight" for her during a 2016 interview with The Philippine Daily Inquirer. She elaborated on Jarrod's tactics during an appearance on The Mystery Men Show in 2017. "Jarrod followed me around like a puppy dog," she said.
The year was 1999, and they were co-workers at the same carpet-cleaning business, per The Orange County Register. Jarrod's recollection of how they started dating doesn't quite match up with Brandi's. "I was Brandi's boss. My boss hired her, and then she pretty much stalked me after that," he said in a 2017 Facebook Live video. Jarrod admitted that dating a subordinate was wrong and that he had to be reminded to behave himself around Brandi. "A mutual friend put notes on my truck, reminding me to be nice to Brandi because I could be abrasive," he told the Inquirer. However, he also claimed that all he had at his disposal to win her over was his personality. "Obviously, I don't get by on my looks! So I gotta be witty. I have to do things to compensate," he said. 
According to Brandi, he also "relentlessly hit on" her, which she found "embarrassing." 
Brandi Passante and Jarrod Schulz's dysfunctional relationship dynamic was explored on another reality show
In 2014, A&E seemingly decided that its viewers weren't getting enough of Brandi Passante and Jarrod Schultz's bickering, so it invited "Storage Wars" fans into their home on the spinoff series "Brandi & Jarrod: Married to the Job." One major plot point was the couple's disastrous wedding planning (Spoiler alert: They never made it to the altar). Jarrod was pretty checked out during the entire process and even suggested that Brandi get a stand-in groom. "He'll wear the tuxedo, he'll do what you want," he told her. "You'll get the wedding that you want, and then I'll just be the guy at home to consummate it."
There were more warning signs that their planned marriage was doomed before it started. When they went wedding dress shopping, Jarrod annoyed Brandi by telling her to purchase a gown from the sale rack. "He's just giving me negative feedback about everything I choose," she complained to a friend. "So I'm just going to plan it, and he can show up — or not." In one episode, Jarrod irritated Brandi by teaching their kids how to gamble playing pool, and she hated his plan to build a bar inside their home. 
"In relationships, you just have to suck it up and suffer through life just like every other married couple does," she said in the episode. "And your miserable, married existence is how it is until you die."