Why Ariana Grande Wasn't A Fan Of Her Red Hair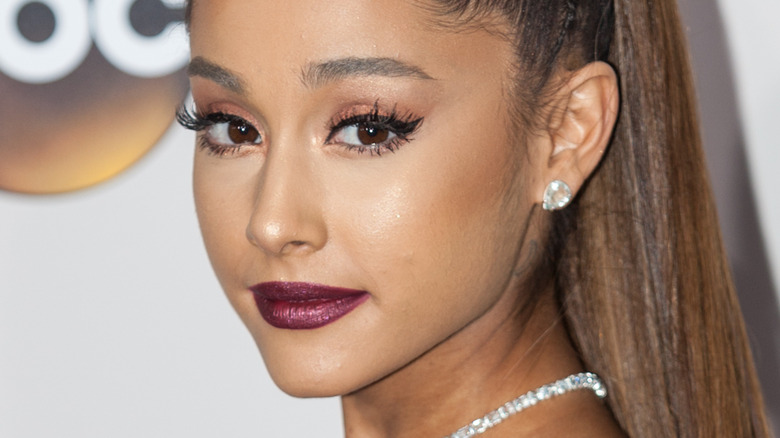 Shutterstock
Ariana Grande is one of the few megastars who has managed to transition from teen actor to successful pop singer effortlessly. Although, it comes as no surprise, as the "No Tears Left To Cry" hitmaker is one powerhouse vocalist. Like a lot of musicians, Grande has reinvented her image throughout her career. While she hasn't gone through a major transformation, she has managed to switch things up while staying true to her brand.
As noted on her IMDb page, Grande first rose to fame in her teens as Cat Valentine in 2010 in the Nickelodeon sitcom "Victorious." The success of the show led the Grammy award-winner to star in its spin-off show, "Sam & Cat," for another two years. While portraying the role of Cat, Grande was made to dye her hair red in order to play the character. Even though many fell in love with Grande and her portrayal of Cat, she admitted she wasn't a fan of her fiery red locks during that time. Keep reading to find out why.
Ariana Grande's hair was 'completely destroyed' after dying her hair red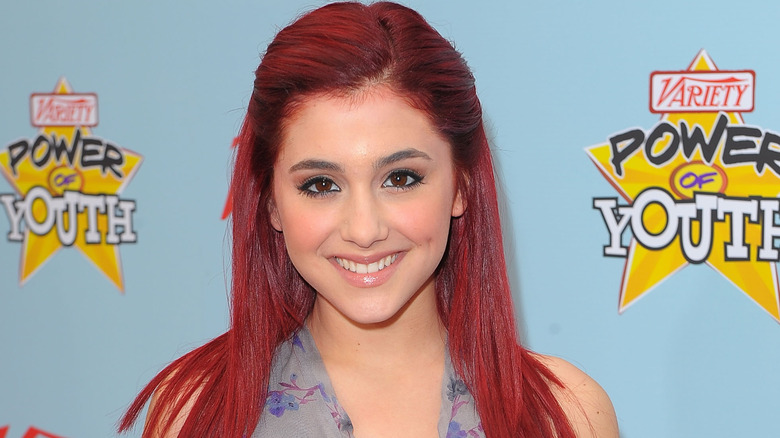 Jason Merritt/term/Getty Images
Since morphing into a chart-topping singer, Ariana Grande has been known for her signature ponytail. While Grande might love the hairstyle and has made it a staple of hers, she revealed it first came about after her hair got damaged while playing the role of Cat Valentine. When fans started to question why she only rocked that one style, she came clean about the repetitive look.
As previously reported by Insider, the singer took to her Facebook page to explain how her locks got ruined and why she adopted the ponytail. "I had to bleach my hair and dye it red every other week for the first 4 years of playing Cat... as one would assume, that completely destroyed my hair. I now wear a wig on Sam & Cat," she wrote, adding, "My real hair is back to brown and I wear extensions but I wear it in a pony tail because my actual hair is so broken that it looks absolutely ratchet and absurd when I let it down."
"So as annoying as it is for y'all to have to look at the same hair style all the time, it's all that works for now (AND I'm comfortable for the first time in years)...." the "God Is A Woman" hitmaker continued. "And trust me, it's even more difficult for me to have to wait forever for my natural hair to grow back and to have to wear more fake hair than every drag queen on earth combined." 
Ariana Grande ended up falling in love with her signature ponytail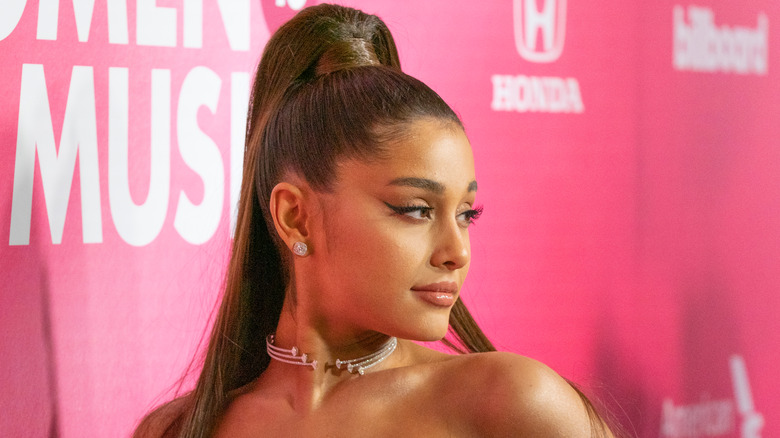 Shutterstock
Even though it may have taken some time for Ariana Grande's hair to grow back healthily, she ended up falling in love with the ponytail style she adopted in the process. In 2016, she told Byrdie about how it feels like "true love" wearing her locks in that particular style. "I had no idea that it was going to become, like, a thing," she said, adding, "It's how I like my hair. It's how I've always liked my hair."
"It brings me so much joy, honestly," she continued. "Every time I put my hair up, it's like a surprise. Like, I forget how much I love it, and then I tie it back and I'm like, 'I love this look! Ooh, girl!' Every time I tie it up is like the first time. It's like true love."
In a 2018 cover story with Fader, Grande continued to talk about her ponytail — in the third person. "The pony has also gone through an evolution, and I'm proud of that. Old pony? I don't know if she's that girl. But new pony? I like her," the award-winner expressed. "I mean, it's like a Victoria Secret angel without angel wings. It's still her without them, but when she's with them it's like, 'Ohh, I get it, she's an angel.'"