The Truth About Ariana Grande And Jim Carrey's Relationship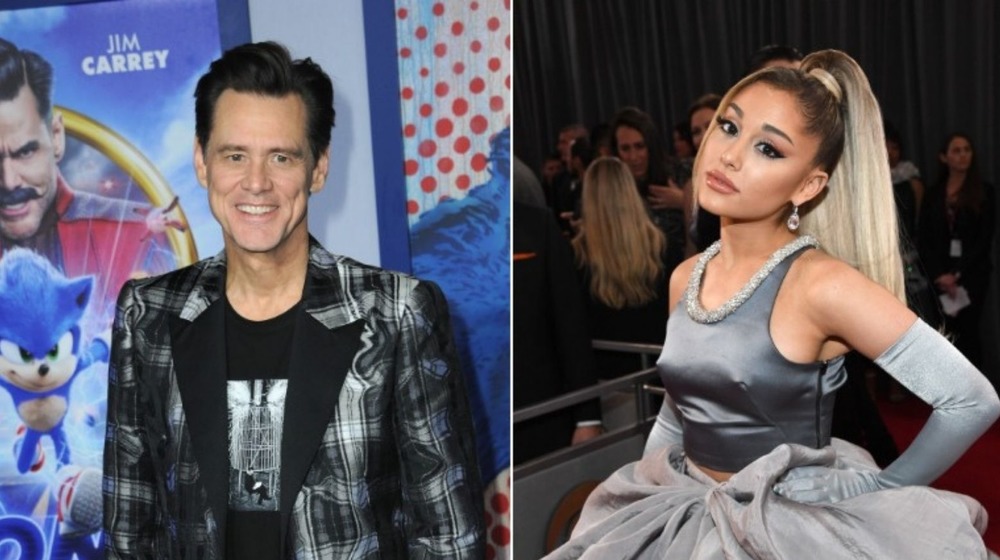 Albert L. Ortega, Kevin Mazur/Getty Images
Ariana Grande and Jim Carrey's friendship is actually a pretty cute story. It started as a childhood crush that blossomed into an unlikely friendship between the "Positions" singer and the comedian. 
Grande has been very open about her crush on the Ace Venture: Pet Detective star since childhood. She confessed her crush during a 2015 interview on Live With Kelly and Michael, saying, "My childhood crush, my lifelong crush, it kind of all goes together. It's Jim Carrey."
When asked by hosts Kelly Ripa and Michael Strahan if she'd met the comedian, she said she had, adding, "I was kind of nervous to meet him, you know, he's been my crush forever. What if he's not as nice as I'm expecting? He was so over-the-top nice, and perfect, and just as I hoped he'd be. He told me in his Jim Carrey way ... 'Remember, be nice.' I was like, oh my god, you're so cute."
The newly engaged Grande was so excited to meet Carrey in 2014 that she posted an Instagram video of it. The singer gushed about her lifelong crush in her Instagram caption: "me meeting Jim Carrey 😭😭😭😭😭😭 (but why is Alexa laughing at me behind the camera)."
Ariana Grande guest-starred on Jim Carrey's Showtime series 'Kidding'
It was in 2019 that the relationship between grew Ariana Grande and Jim Carrey grew into a friendship. In February 2019, Grande appeared on Carrey's Showtime series Kidding. According to Billboard, the queen of pop posted a picture of the two friends on set a few days before her episode aired (a photo she has since deleted or archived). She captioned the photo, "Sunday @shokidding." In her appearance on Kidding, Grande played Piccola Grande, the Pickle Fairy of Hope.
In April 2019, Grande posted one of Carrey's quotes about depression on her Instagram Stories (via CNN). After she posted about her struggles with depression, the Dumb and Dumber star responded on Twitter: ".@ArianaGrande I read your lovely mention of me and things I've said about depression. A brilliant teacher and friend, Jeff Foster was OG on the "Deep Rest" concept. I admire your openness. I wish you freedom and peace. I feel blessed to have such a gifted admirer. Happy Easter!"
In July 2019, Billboard reported that Grande's appearance on Kidding was a big success for the singer and that she would be making a "tiny appearance" on the Showtime series in 2020. Grande said, "There aren't words. i've been staring at my screen and no words do this moment justice."