The Truth About Ariana Grande's Engagement Ring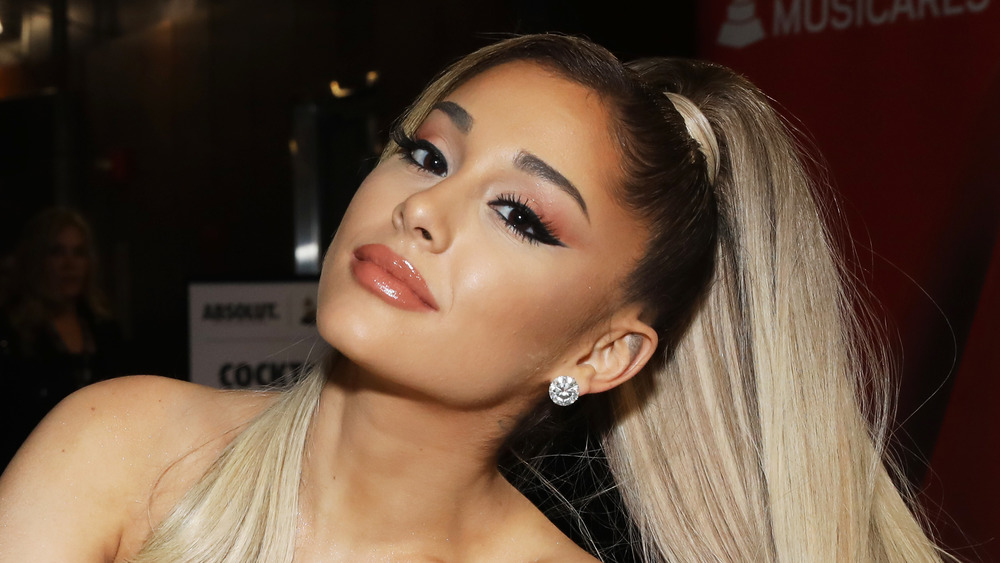 Robin Marchant/Getty Images
Pop superstar Ariana Grande announced she was engaged on Dec. 20, 2020 to her boyfriend of about one year, Dalton Gomez. "[F]orever n then some," she wrote in an Instagram post that showed a series of photos of the singer cuddled up alongside her fiancé.
Grande and Gomez were linked as early as January 2020, per TMZ, which first reported the relationship in March 2020. They met when Grande was on a "seemingly endless" hunt for a new home outside of Los Angeles, which Gomez, a high-end real estate agent, helped her find. US Weekly reported in August 2020 that the "34+35" singer "fell very hard for Dalton shortly after they met," and the rest, as they say, is history. 
One part of the engagement announcement that is hard to ignore, of course, is Grande's stunning ring, which she showed off in a mirror selfie and a photo of it on her left hand. While her previous engagement ring — worth approximately $93,000 — from Saturday Night Live comedian Pete Davidson was a sparkling beauty, as well, there is something extra special about this one. Keep scrolling to learn the truth about Ariana Grande's engagement ring.
Ariana Grande's engagement ring is super sentimental
Fans were quick to notice that Ariana Grande's engagement ring from Dalton Gomez most likely holds great sentimental value. The ring features an oval-cut diamond offset by a beautiful white pearl. Fans believe the pearl belonged to Grande's grandfather — the same one Grande's grandmother gave her in the form of a ring in 2014. "[N]onna had a ring made for me w/ the pearl from grandpa's tie pin. she says he told her in a dream it'd protect me," she tweeted at the time. If the pearl is indeed from Nonna, the engagement ring is quite a meaningful and well-planned gift by Gomez.
The real estate agent is said to have paid $150,000 to $300,000 for the sparkling ring, per Page Six. "This beautiful engagement ring looks to be an elongated 5-carat oval diamond, set at an angle and accented with a pearl," the CEO of WP Diamonds, Andrew Brown, told the outlet, adding that the assumed "high color and clarity combination" helped to drive up its value.
Grande and Gomez are elated to take this next step in their relationship, and according to a source for People, everyone close to the couple is super delighted, too. "They couldn't be happier, they're just so excited," the source disclosed. "This is a happy time for them, both sets of parents are thrilled."