Jada Pinkett Smith's Tattoos Explained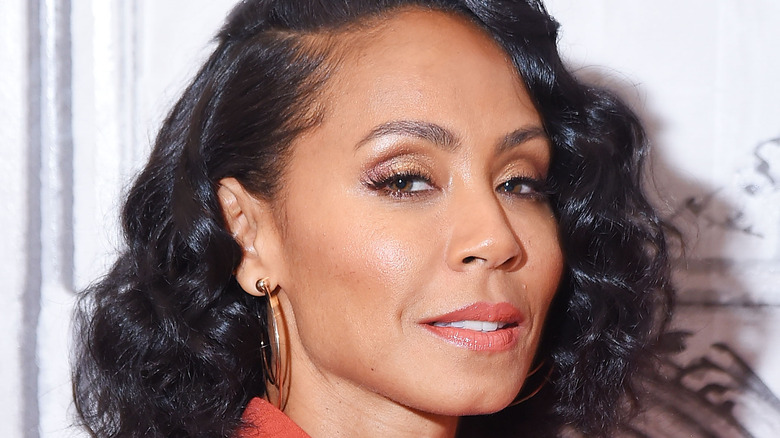 Michael Loccisano/Getty Images
Jada Pinkett Smith has never shied away from embracing new styles and looks. In July, for example, the actor took to Instagram to show off her new look: a shaved head. As she explained in the caption, the new hairstyle was inspired by her own daughter, Willow Smith. "Willow made me do it because it was time to let go," Jada revealed. "BUT ... my 50's are bout to be Divinely lit with this shed."
Then, Willow went on social media to congratulate her mother on her bold move. "a gift is pure when it is given from the heart to the right person at the right time and at the right place, and when we expect nothing in return," Willow wrote in the Instagram caption. Despite being inspired by Willow, Jada's new shaved look may also have been caused by her own struggles with alopecia, which she candidly discussed during a 2018 episode of "Red Table Talk." 
"It was terrifying when it first started," she recalled. "And I was just like, 'Oh my God, am I going bald?' It was one of those times in my life when I was literally shaking with fear." For a while, Jada resorted to wearing turbans to conceal her hair loss. "When my hair is wrapped, I feel like a queen," she admitted. After recently deciding to let her hair go, Jada has now shown off another body mod: tattoos. Find out more about Jada's new ink below.
Jada Pinkett Smith wants to get a full sleeve
Taking to Instagram on August 15, Jada Pinkett Smith gave followers a look at her brand new arm tattoo, which seems to be a feminine goddess sitting in a yoga prayer position (the lotus flowers seen below are pre-existing tattoos). In the post's caption, Jada also revealed that she plans to get a full sleeve very soon. "I always said I would get a sleeve at 60 but tomorrow is not promised," she wrote. "Soooo ... I'm starting to build my sleeve now! Repp'n the Divine Feminine journey within and without. Jai Ma #MataSita #Allat #Oshun #QuanYin." 
Jada's peers and fans seem to be loving Jada's new ink and can't wait to see what her full sleeve will look like. "Oh wow. So so so so beautiful Jada!!! I can't wait to see her in person!!" musician Jahnavi Harrison wrote under Jada's post. "So Dope and divine [fire emoji]," author Jay Shetty said in the comments. "Allat is the one who did it for me. So many of us need to know about HEr!" a fan commented, referencing Allat, the pre-Islamic goddess mentioned in Jada's caption. Meanwhile, others are sharing their own tattoo stories in the comments. "Yeeeessssss!! I've started my leg sleeve at 51 and I love it!!" 
As mentioned earlier, Jada's lotus flower tattoos were done earlier this year, and the whole thing was taped for an episode of "Red Table Talk." Read more below.
Jada Pinkett Smith, Willow Smith, and Adrienne Banfield-Norris got matching tats
In May, Jada Pinkett Smith, her daughter Willow Smith, and her mother Adrienne Banfield-Norris decided to get matching tattoos together, and documented it all on "Red Table Talk" (via People). For the occasion, the trio tapped popular artist Dr. Woo, who gave each three blooming lotus flowers to symbolize their three-generational bond. In a short clip from "Red Table Talk," Willow explained why they went with this specific flower.
"The lotus represents spiritual enlightenment," Willow said. "And we hear the saying, 'Through the mud grows the lotus' ... I think all of us, from different perspectives in life, have had that journey." Willow continued, "The bud to the little blossom to the bloom also, I feel like expresses the spiritual journey, but also the three of us." She also added that while she's the bud, Jada is the blossom, and her grandmother is the bloom.
Not long after getting said tattoos, Jada took to social media to show off their matching ink. "Look what we did!!!! Thank you @_dr_woo_ for your patience and generosity of your craft and spirit," she wrote in the caption. As it turns out, this may have been the exact moment Jada set her mind on getting her whole arm tatted. "Now I want a sleeve!!!!" We can't wait to see what Jada's next tattoo will be!