The Truth About Eminem's Acting Career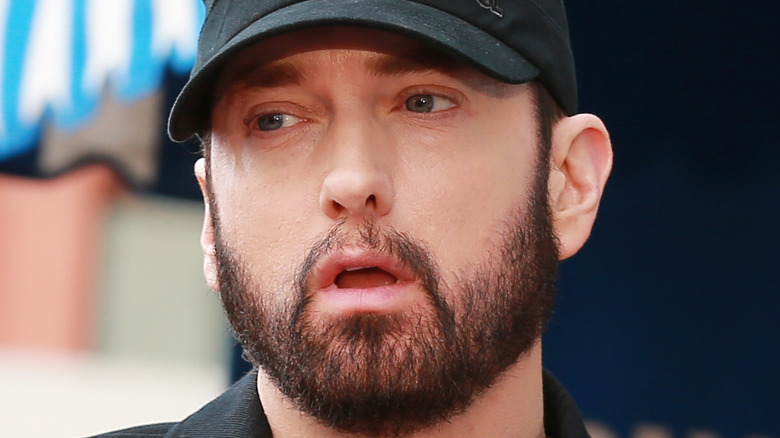 Leon Bennett/Getty Images
Although he was born as Marshall Mathers in Detroit, the famous rapper is best known under his stage name Eminem. Over his decades-long career, Eminem has released chart-topping hits, including "Rap God" and "The Real Slim Shady." Although he got his big break through creatively collaborating with Dr. Dre, Eminem has also maintained relationships with fellow hometown rappers through participating in groups like Bad Meets Evil and D12.
However, in addition to Eminem's large success as the fast-rapping emcee, including earning a Guinness World Record for the most words in a hit single, he has also branched his career into other artistic mediums. Recently, it was announced by Deadline that Eminem is set to play an undercover FBI informant called "White Boy Rick" in 50 Cent's Starz show "BMF" — based on a true story. Although the casting choice might come as a surprise to many, it isn't Eminem's first time crossing over to the silver screen. Here is a breakdown of the rapper's acting career.
Eminem found success with his lead role in 8 Mile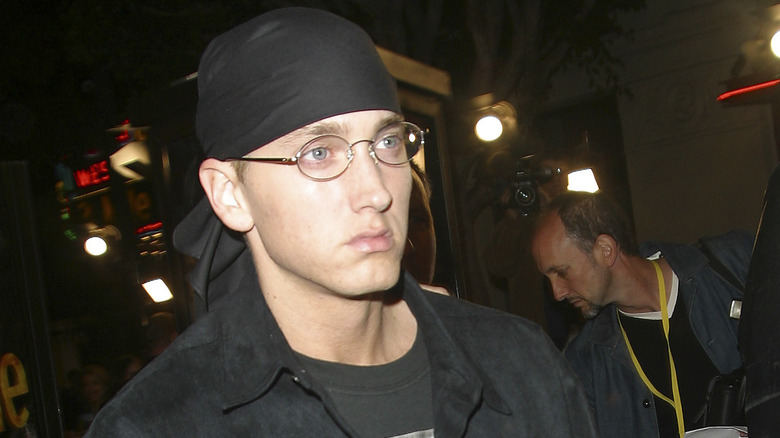 Joe Seer/Shutterstock
During the winter of 2002, Eminem appeared as the lead character "B-Rabbit" in his first feature film "8 Mile" — alongside actors Anthony Mackie and the late Brittany Murphy. The movie is partially based on the rapper's own experiences participating in Detroit emcee battles, which made him perfect for the role. Following the film's release, it garnered $51.2 million during opening weekend and eventually won the Best Original Song for Eminem's hit "Lose Yourself."
"There's a lot of similarities between me and this guy. Maybe Marshall would've handled this situation a little different," Eminem said in an interview uploaded to YouTube. "I had to strip myself of ego and everything, go back, put myself in that position where I was reserved and I was shy. I had it in me, but I wasn't quite sure how to bring it out yet in a positive way. I really felt like I wanted people to hear me so bad."
Eminem also showed off his comedic side in The Interview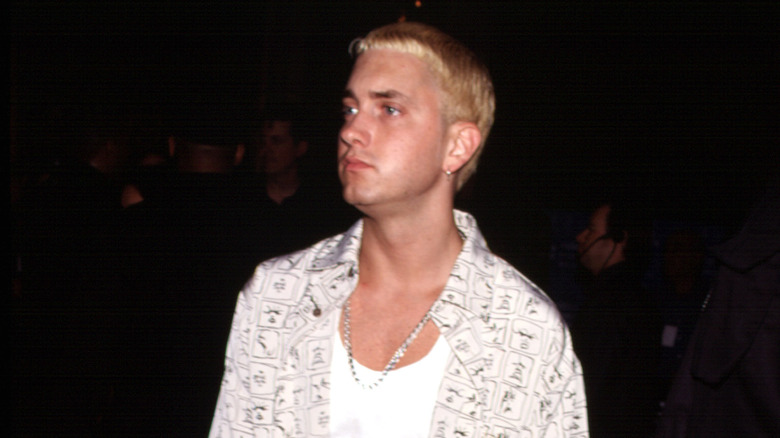 Everett Collection/Shutterstock
Over a decade after his appearance in "8 Mile," Eminem decided to give acting another shot, this time in the 2014 comedy "The Interview." Taking on a much different role, Eminem appeared as a heightened version of himself doing an interview with James Franco's tabloid-host character. During the scene, Franco reads a parodied version of his lyrics, to which Eminem's character comes out while answering a question. His comedic chops rely on his straight-faced nature, as Franco and Seth Rogen's characters attempt to backtrack.
According to MTV, Eminem appeared on the radio show "Sway in the Morning" in 2015, where he explained his movie scene. "Yo, I gotta tell you, man: James Franco was so f–king funny. I couldn't — it was very hard. There was a few takes where we had to stop, like, I couldn't stop laughing," he said. "He was so animated and it was like, damn, I wanna be the funny one here. And he was killin' it."