Rob Kardashian Steps Out With His Family, Eyes New Mansion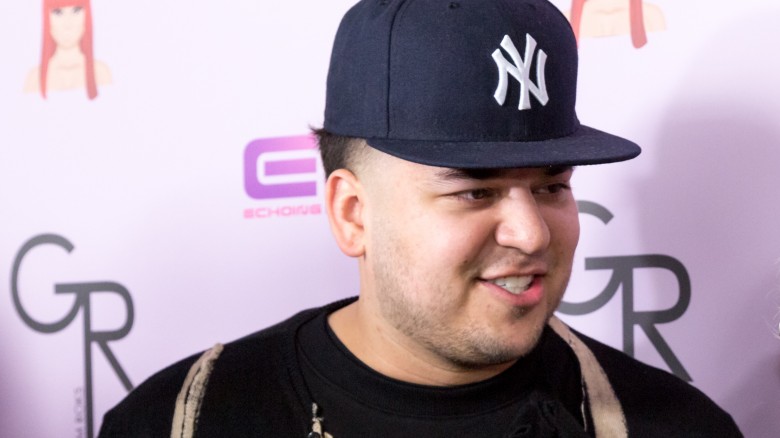 Rob Kardashian took a break from living as a recluse to step out with the rest of the Kardashian clan this week.
E! News reported that Kardashian, 29, went with sisters Kourtney and Kim, brother-in-law Kanye West, stepmother Caitlyn Jenner, half-sister Kylie Jenner, and Kylie's beau, Tyga, to see The Shack (2017) in Los Angeles on March 13, 2017. A source told the site that Rob has been getting healthier, working out with celebrity trainer Gunnar Peterson, drinking green juices, and "focusing on himself, the baby, and work" since his split from Blac Chyna.
Still, perhaps the reason he kept close to his brood is because he's on a tight leash. Radar Online reports that momager Kris Jenner discovered that his finances may be a mess.
"Kris was horrified when Rob hit her up for another loan and that's when she instructed her money managers to find out what the hell's going on," a source close to the family said. "The big red flag was the countless cash withdrawals that he has no explanation for. [Jenner] is really worried the family money is being funneled to Chyna via Rob so she put a freeze on his account until they've worked out why he's so broke," the insider said. "It's a financial disaster!"
Some of Rob's money may be going into real estate. TMZ reports that he's eyeing his own $6.9 million mansion in Encino, Calif., after renting from Kylie for years. The home boasts 8 bedrooms, 5 baths, a 2,600 square-foot guest house, a large pool, and a hot tub—and it's only minutes away from his on-again-off-again fiancee and their daughter, Dream.
Just weeks ago, sources said Rob was struggling post-breakup. "He is spending time with Dream, but never alone," a source noted. "He is not in a state to care for her by himself...[he is] very unhealthy—both physically and emotionally. He isn't taking care of himself. He eats junk and doesn't exercise. He has had a very difficult time since splitting from Chyna. As much as they fought, Chyna has been the only one to keep him in check. Rob's family hasn't been able to get through to him and get him to change. Without Chyna in his life, things are not going well for Rob."
It's good to see him taking positive steps to a better life. Let's just all hope they stick.
[Getty Images]