Is Joe Amabile And Serena P.'s Chemistry On BIP Real? An Expert Tells All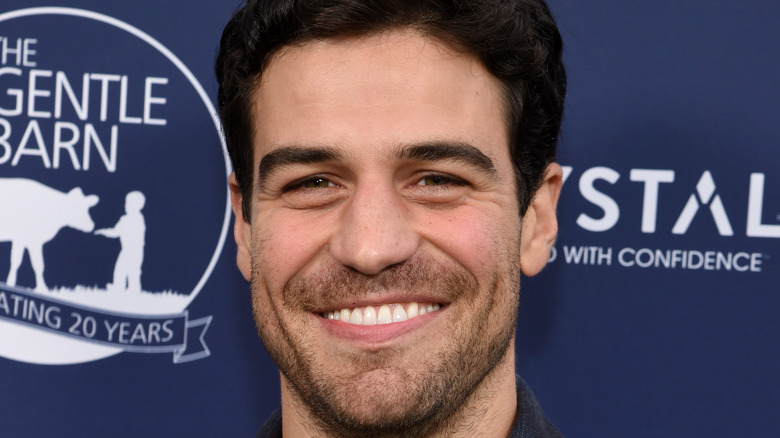 Michael Kovac/Getty Images
Katie Thurston's season of "The Bachelorette" may have just wrapped, but there's already a fresh installment of "Bachelor in Paradise" to look forward to. For the uninitiated, "BIP" gives former contestants a second chance at love as they explore new relationships coming out of "The Bachelor" and "The Bachelorette." Filmed in an exotic tropical locale (hence, "paradise"), it's often a little bit of a no-holds-barred look at love, featuring barely there bikinis, abs, and copious amounts of alcohol.
Season 7 of the show premiered on August 16, and it's already promising to be a doozy. Bachelor Nation may recognize faces like Connor Brennan, Tre Cooper, Abigail Heringer, Victoria Larson, and Serena Pitt — but one of the franchise's most familiar characters returns in the form of Joe Amabile (aka Grocery Store Joe). This is Joe's third go-around on the "Bachelor" franchise. He initially won over America with his boy-next-door charm and thick Chicago accent when he appeared on Season 14 of "The Bachelorette," though he failed to impress Becca Kufrin and was sent packing on night one. Next up, Joe landed in Paradise where he caught the eye of Kendall Long and the two went on to date for two years, before eventually splitting in 2018. As Joe said of his return to "BIP" in 2021 (via People), "It worked the first time, I'm hoping it works again." So, does it? Below, we analyze Joe's steamy connection with contestant Serena Pitt — keep reading for all the details!
Are Joe Amabile and Serena Pitt the real deal?
Joe Amabile's time on "Bachelor in Paradise" hasn't come without its own set of challenges. As Refinery29 reports, "it was clear that being back was tough for him, and he spent much of the first night brooding on his own." Thankfully, Joe forged a connection with Serena Pitt, who seemed to help him forget about his ex, Kendall Long. We spoke with body language expert, media coach, international personal branding expert, and author of "A.W.E.S.O.M.E" Jess Ponce III to help us dissect the pair's chemistry ... which seems promising.
"Overall, they had a nervous energy reminiscent of Jr. High School crushes," Ponce revealed, pointing out the way "Serena is playing with her necklace" and how Joe's legs sway back and forth. After some light conversation, the two got down to business. "When asked if the previous breakup [with Kendall] was a mutual decision, Joe grasped his hands together," Ponce told us, explaining that Joe "needed to compose himself" for the "serious question." Throughout their flirty interaction, their "body language is totally open to one another" and they both "touch their own legs/bodies ... an indication of body awareness and sexual tension," Ponce shared. Furthermore, Joe seemed "giddy when Serena asked if he was still contemplating his life," showing that "he felt seen and validated." Joe and Serena are clearly feeling the romance, but with the trailer teasing lots of drama still to come, will their connection last?