Amy Roloff Shares Sad News About Her Dad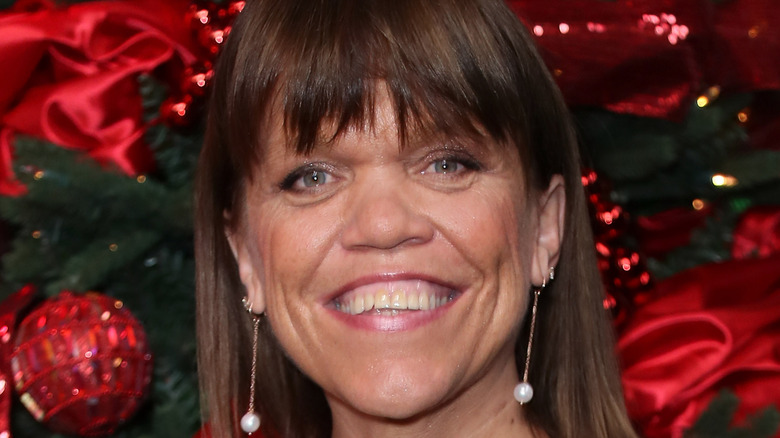 David Livingston/Getty Images
It's getting close to Amy Roloff's wedding, but the "Little People, Big World'' star may not be able to have her dad walk her down the aisle. Amy has been sharing details about her upcoming nuptials to Chris Marek on both the hit TLC show and social media. She gave fans a sneak peek of her bridal shower, which included a hilarious cardboard cutout of Chris and a few gifts to spice up the marriage. "Had a good time at the bridal shower Lisa and Debi [gave] to me. And oh some of the gifts will definitely add a little spice, if you know what I mean, and inspire me in the kitchen," Amy wrote to Instagram. In a separate post, she also revealed she and Chris were working on a wood project for their wedding — although her contribution may have been minimal. "Chris is really doing all of it," she quipped. But the pair are quite the hands-on couple, having gone on their first date at a Paint and Sip class, per Screen Rant.
Amy and Chris met back in 2016 at a singles mixer and then announced their engagement in September 2019. The reality show star was previously married to Matt Roloff for almost 30 years, with whom she shares four adult children, per People. Despite Matt also moving on with girlfriend Caryn Chandler, Amy announced they wouldn't be invited to the wedding — even though it's being held at his farm. Now, another family member may not be in attendance.
Amy Roloff reveals her dad has been in the hospital
It's the news no bride wants to hear: their father may not be there for them on their big day. Like most couples navigating wedding planning during the pandemic, Amy Roloff and Chris Marek have compromised when it comes to location, as "other places just kind of eroded away and plan B became plan A," but also the absence of family or friends. Per People, Amy's currently grappling with the idea that her 92-year-old father "may not make it."
The "Little People, Big World" star shared an emotional Instagram Story on August 17, opening up about her dad's recent ill health, writing, "My Dad. He's 92. He's been in the hospital for the last two weeks. Not sure if he'll make it to our wedding." While it's unclear why her father was hospitalized, Amy intimated he's on the road to recovery and that she's "just happy" to see him in Michigan again. "I'm glad he's now getting better/stronger. But God knows and so I keep giving it up to him." The caption covered an adorable father/daughter selfie.
Meanwhile, Amy has bestowed some other special honors on other family members. During a recent episode, Amy asked her four-year-old grandson Jackson to be their ring bearer, per US Weekly. "I don't really expect Jackson to understand what a ring bearer is, but I'm hoping he'll not be intimidated by all the people," Amy said. But grandma (or "Mimi" as she's called) and grandson have been practicing, so hopefully it'll go smoothly!