Is Joel Osteen An Atheist?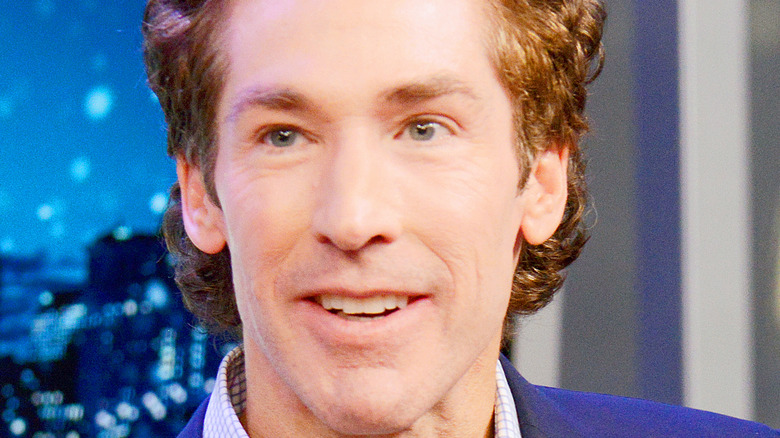 Bonnie Biess/Getty Images
Look, we know how it sounds. Joel Osteen? The massively popular TV preacher who has made Christianity into his whole brand Joel Osteen? An atheist? Yes, we do mean that Joel Osteen, and it's true that some people don't think he's actually Christian at all. And it turns out that once you break it down, it's not as wild a theory as you might think.
For a little background, Osteen rose to fame and (ginormous) fortune as a televangelist and well-known proponent of what's known as the "prosperity gospel," the idea that God wants you to be rich. He's the lead pastor of Lakewood Church in Houston, reportedly the biggest megachurch in the United States, per The Christian Post, with 4.51 followers who stream the sermons online, via The Wrap. And that's before we've counted the millions of others who tune in to watch him on TV and in person.
He has his critics, of course, and that includes from within his own religion.
Matt Walsh excoriated Joel Osteen's faith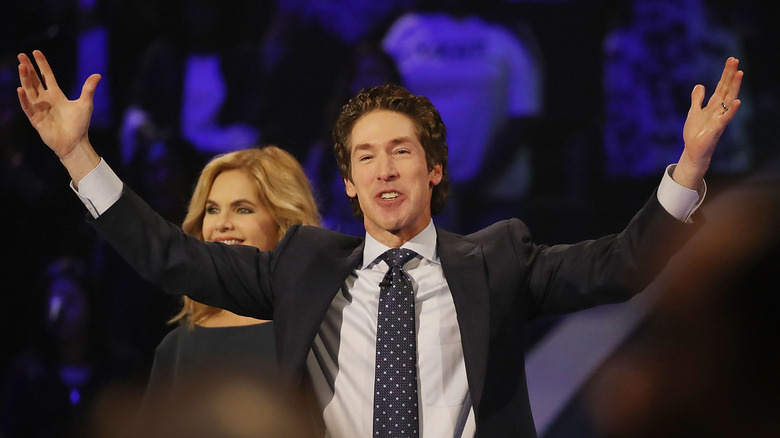 Joe Raedle/Getty Images
Despite his massive reach among Evangelical Christians, Joel Osteen's "prosperity gospel" teachings have been called atheistic, anti-gospel, and even heretical by other Christian leaders. One of the most prominent critics, conservative pundit Matt Walsh, decried Osteen in a lengthy blog post on the conservative site The Blaze, calling his ministry "no better than atheism."
"Basically, a Joel Osteen tweet — and a Joel Osteen sermon, which is just a collection of Joel Osteen tweets — is exactly what you'd get if [Scientology founder] L. Ron Hubbard wrote fortune cookies," Walsh wrote. Arguing that the prosperity gospel, which equates personal wealth with moral good, is a "perverted" form of Christianity, Walsh continues, "Jesus asked, 'What does it profit a man to gain the whole world, yet forfeit his soul?' Joel Osteen asks, 'What does it profit a man to gain his soul, yet forfeit the world?'" 
But Walsh is hardly the only self-proclaimed Christian and commentator who has made a similar point about Osteen and the "prosperity gospel."
Joel Osteen has lots of Christian critics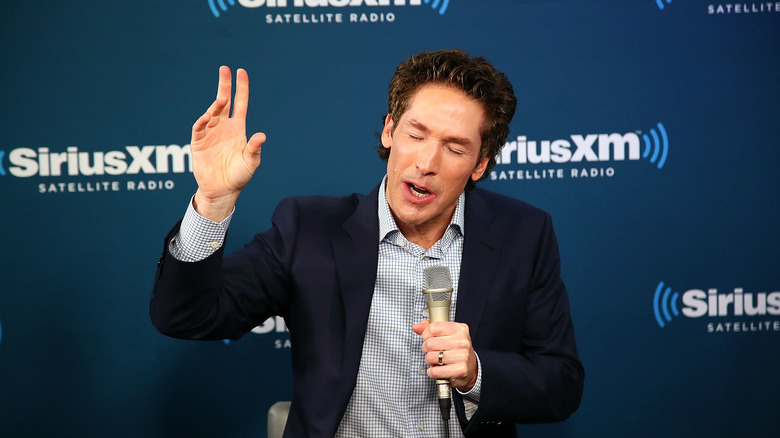 Astrid Stawiarz/Getty Images
While many people may think Joel Osteen is preaching atheism, others do call him a straight-up heretic. "Osteen preaches a positive message of hope without repentance which is something the unbeliever would rather have in lieu of hearing the whole counsel of God," wrote one commentator on the Reforming American Ministries blog in a post titled, "Joel Osteen: Mouthpiece for Satan" — a page which has since been deleted. Another Christian blogger, Kevin Halloran, appears to feel similarly, writing in one post, "While Osteen's narcissistic words sound good to itching ears, they have more in common with the words of Satan than the Word of God." He has also been called a "false prophet" by the likes of rapper Shai Linne, pastor and blogger Rick Henderson in The Huffington Post, and scores of social media users.
There was also the time that Osteen was the subject of an elaborate hoax in 2013, in which tricksters set up a fake website, YouTube video, and Twitter account all announcing that Osteen was about to leave the Christian faith, per NPR. What does the man himself think of these criticisms? As he told The Christian Post, "That doesn't bother me because I want to motivate people to know God."