Why Rosie O'Donnell Can't Stand Kelly Ripa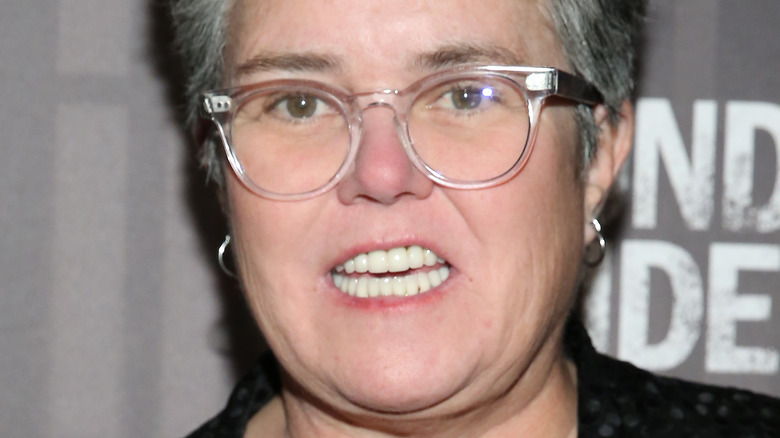 Monica Schipper/Getty Images
Rosie O'Donnell may once have been known as the "Queen of Nice," but she's had her fair share of daytime television controversies. Famously, there was the time she and her "The View" co-host Elisabeth Hasselback had a 10-minute fight about the Iraq war back in 2007. The argument got so heated that O'Donnell left the set — and the series — one month before her scheduled departure. The New York Post called it a celebrity "battle royale," but for O'Donnell, she took it very personally. 
The former talk show host also sparred with former President Donald Trump and another well-known daytime television personality: Kelly Ripa. In fact, at one point there was so much bad blood between them that O'Donnell alleged that each time she publicly ran into Ripa, Ripa would turn her head as if to signal that she didn't want to talk to her. According to the book "Ladies Who Punch: The Explosive Inside Story of the View," O'Donnell put it this way, "She's the girl from Pine Valley. She and her husband met on ['All My Children']. That's my f***ing sweet spot. I would have loved her my whole life. I see her at concerts sometimes. She just looks away."
So, what exactly happened between O'Donnell and Ripa that led to their feud? Well, it had to do with an incident that O'Donnell had no part of, but decided to comment on anyway. Keep scrolling below to find out what was said!
Rosie O'Donnell's beef with Kelly Ripa stems from a brief interaction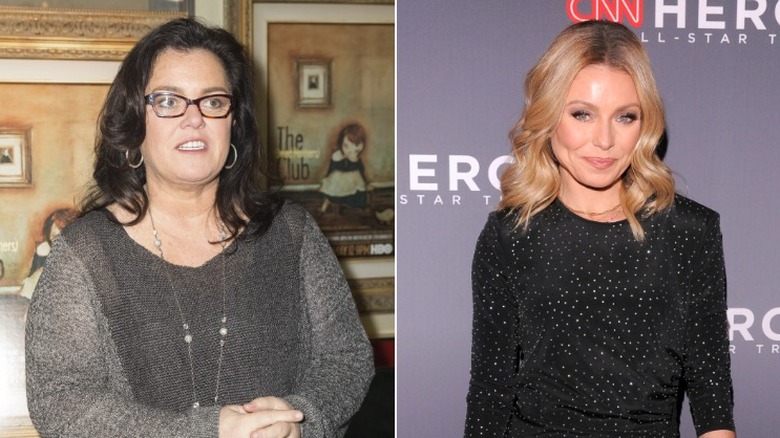 Shutterstock, Shutterstock
Rosie O'Donnell and Kelly Ripa's bad blood dates back to 2006, when "American Idol" alum Clay Aiken was a guest co-host of "Live With Regis and Kelly" when Regis Philbin was out. During the episode, it appeared as though Aiken was teasing Ripa when he put his hand over her mouth. Ripa immediately pulled his hand away, looked at the audience, and then told him, "Oh that's a no, no. I don't know where that's been, honey."
Even though O'Donnell was not on the show herself, she took offense to how Ripa responded to Aiken and on the next day on "The View" she called the move "homophobic." O'Donnell put it this way, "If that was a straight man, if that was a cute man, if that was a guy that she didn't question his sexuality, she would've said a different thing." Sherri Shepherd, one of O'Donnell's co-hosts at the time, disagreed, saying she would want anyone's hand in her face, but O'Donnell stood by her remark. "I guarantee, if that was Mario Lopez, she would not have said the same thing," O'Donnell claimed. 
O'Donnell's comments made a messy situation even messier at the time, as she left Aiken caught right smack in the middle of their feud and very personal dilemma on his part.
Rosie O'Donnell's comments may have helped in the long run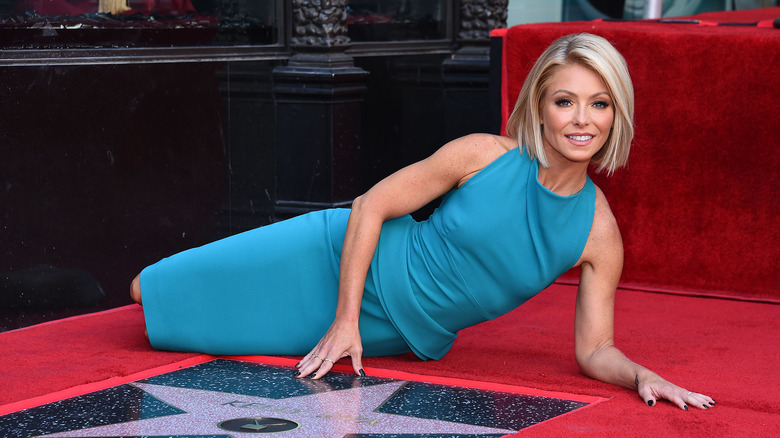 Shutterstock
To complicate the feud between the two women even more, there was speculation that Rosie O'Donnell might have inadvertently outed Clay Aiken while also trying to defend him, reported the Today Show. (Aiken didn't officially publicly come out as gay until a 2008 interview with People.) However, Aiken had actually reached out to O'Donnell and thanked her for defending him and helping him tell his truth to the world. Even though this was not the way he had planned things, the timing worked out to Aiken's benefit. "I didn't know how to come out, so you just did it," he said, per the book "Ladies Who Punch."
As far as O'Donnell's feud with Kelly Ripa, she did reach out to her to apologize, but a source told Us Weekly that Ripa has allegedly "kept up with this alternate reality for public consumption" in her supposed feud with the former talk show host. Ripa, meanwhile, has remained silent about the matter. Sometimes the drama for the daytime television world really does continue when the cameras stop rolling.