Inside The Death Of Artist Chuck Close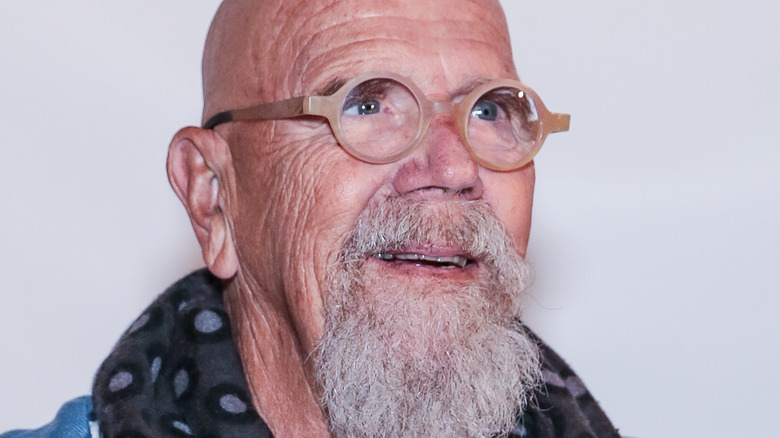 Cj Rivera/Getty Images
Acclaimed artist Chuck Close, who was previously awarded a National Medal of Arts by former President Bill Clinton, has died at age 81. Close was known for his laborious and emotive photorealist portraits of actors, musicians, models, and politicians — notably, his presidential portrait of Clinton. Close's lawyer, John Silberman, confirmed to The Washington Post that he died at a hospital in Oceanside, New York on August 19. Pace Gallery in New York, which has held exhibitions of his work since the 1970s, also revealed to the publication he died of congestive heart failure as a result of frontal lobe dementia. Arne Glimcher, the founder of Pace, said he was "honored" to represent him.  "He was one of my dearest friends for over 40 years. I was honored to know him and to show his work, which I believe is inextricable from the greatest achievements of 20th-century art."
Close's unique style included a grid structure, in which he would replicate "pixelated images" based on photographs. While he wasn't the first to make large-scale photorealist paintings, The New York Times opined that "no one else had transformed photographs into paintings of such aggressive visual and psychological impact." Close was also "severely disabled" and wheelchair-bound due to a spinal artery collapse in 1988. But he continued to work in spite of it, even producing some of the "best work of his career," per the Times. 
However, despite Vanity Fair calling him "one of America's best-known and most-acclaimed painters" (he shot celebs in their 20th-anniversary issue), he wasn't without controversy.
Chuck Close faced sexual harassment allegations by multiple models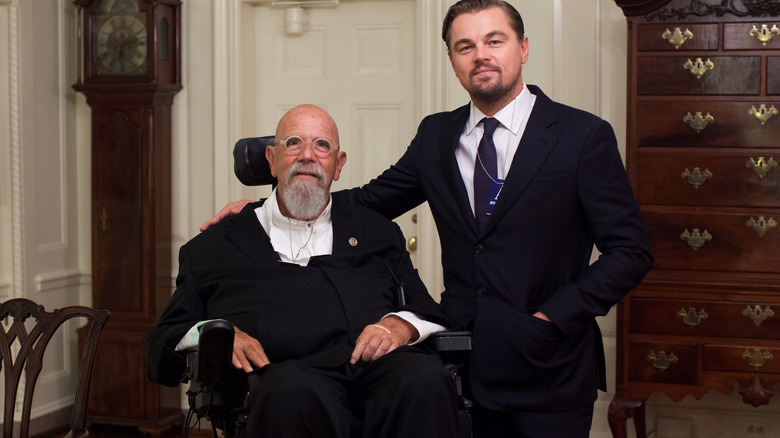 Myrna M. Suarez/Getty Images
Chuck Close not only suffered a serious reputation blow — but sparked debate as to whether we can truly separate the art from the artist after he was accused of sexual harassment in 2017, per The Guardian. Several women, whom Close had invited to pose for photographs, alleged he was sexually inappropriate between 2005 and 2013, per The New York Times. They claimed he would invite them to his studio alone and then ask them to undress. In one instance, he made sexually explicit comments about a woman's genitals. Following the charges, Close publicly apologized but explained it was only in his artistic interests. "If I embarrassed anyone or made them feel uncomfortable, I am truly sorry, I didn't mean to," he told The Times. However, he also said, "I acknowledge having a dirty mouth, but we're all adults. ... Given my extreme physical limitations, I have found that utter frankness is the only way to have a personal life."
His neurologist, Dr. Thomas M. Wisniewski, seemed to confirm this, saying his "sexual inappropriateness" is a result of his "underlying medical condition." In 2015, he was diagnosed with frontal lobe dementia, which "destroys that part of the brain that governs behavior and inhibits base instincts." Regardless of personal opinion on the man behind the brush, Close certainly didn't sugarcoat his subjects. "There'll be people who say, 'Thank God, somebody shows people as real people, the way they are, and their humanity shows through'," he said during his Vanity Fair shoot in 2014.
If you or anyone you know has been a victim of sexual assault, help is available. Visit the Rape, Abuse & Incest National Network website or contact RAINN's National Helpline at 1-800-656-HOPE (4673).