Where Does Carrie Underwood Live And How Big Is Her House?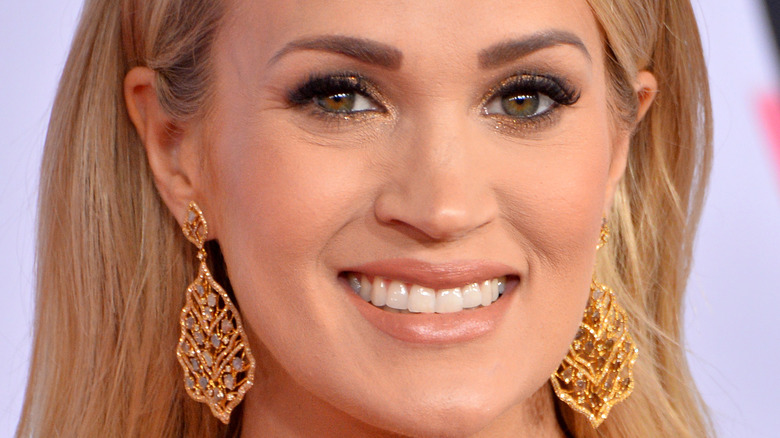 Featureflash Photo Agency/Shutterstock
Carrie Underwood has come a long way since she first made a splash on TV screens back in 2005. We first met her as the shy but insanely talented country girl who auditioned for "American Idol" in front of the show's original judging panel, Simon Cowell, Randy Jackson, and Paula Abdul.
At the time, Underwood had never even been on a plane before and made her first trip in the skies after being handed a golden ticket by the panel following her rendition of "I Can't Make You Love Me" by Bonnie Raitt. Of course, Underwood went on to win the whole thing and become one of the most successful contestants in the show's history — and it's safe to say what's happened to her since has been a total whirlwind.
The star has gone on to sell more than 65 million records sold worldwide, achieved seven platinum and multi-platinum albums, and had a whopping 27 of her singles hit the top spot on the charts. And that's just in her work life. Personally, she's married hockey star Mike Fisher, with the couple welcoming two children.
All that success has seen Underwood amass a net worth of a staggering $140 million according to Celebrity Net Worth, and it sounds like the country superstar has made the most of that fortune when it comes to her home. Read on for everything you need to know about where the star lives now.
Carrie Underwood and Mike Fisher reportedly spent $2.9 million just on the land for the Tennessee paradise
Carrie Underwood made the permanent move from Oklahoma to Tennessee after winning "American Idol," initially moving into a more modest 3,099-square-foot home in Franklin, which she purchased for $384,000 (per Taste of Country). After marrying her husband Mike Fisher, they moved into a more lavish 7,083-square-foot home in nearby Brentwood, listing that for $1.45 million in 2019 (via Variety).
The two have very much upgraded their digs again since. In 2011, Variety reported the couple scooped 400 acres of land to build their dream home, paying $2.9 million for 354 acres "in the foothills south of Nashville," as well as another $350,000 for 50 acres next to it.
The two spent a few years building and photos obtained by Radar Online prove it was all worth it. Their huge mansion has pillars and two balconies, plus a pool in the backyard with an adjoining property that looks like a barn. There's also plenty of space around, so much that Underwood revealed she has two cows — which Fisher bought for Christmas — as well as horses.
As for inside, the two have kept things a little more private, but Underwood gave a peek inside her massive closet with an Instagram selfie in June 2020. A month before, she showed off their floor to ceiling windows in a since-deleted TikTok video (via Taste of Country) and has also given a peak at her home gym.
Carrie Underwood and Mike Fisher spent years building their 'forever home'
After buying the land in 2011, it took Carrie Underwood and Mike Fisher a few years to get everything the way they wanted. In 2016, Underwood opened up about the process to Country Living, explaining that she and her husband were "designing [their] forever home" which would have "a wood-burning fireplace, a porch swing, and rocking chairs."
The two didn't move until at least late 2018, by which time they'd welcomed their first son, Isaiah, into the world, and had their second, Isaiah, on the way. "We're fixing to move. I haven't bought anything yet," Underwood told Entertainment Tonight in December 2018. "We're about to move so I'll start buying stuff once we're there."
One of the first people to get a look at the couple's sprawling estate was none other that Oprah Winfrey, as the twosome showed off the plot to the talk show legend when Underwood was the subject of OWN's "Oprah's Next Chapter" in 2012. Fisher shared that they'd built an orchard on the land, while Underwood told Winfrey they'd also set up a cute little "picnic area" and planned to plant many more trees while putting one in the ground with the superstar.
Their sprawling estate appears to be in addition to at least one other property the couple own. They showed Winfrey around their country retreat during the episode, a rustic cabin in the woods of Tennessee.