How Hannah Einbinder Really Got Her Role On Hacks
They say Hollywood is the place of dreams where anything can happen, and some version of that cliché must have popped up in Hannah Einbinder's mind when she got the call for landing the lead role on "Hacks." This latest gem of a dark comedy drama from HBO follows the quippy, unlikely friendship of a Las Vegas comedian (Jean Smart) and comedy writer Ava, whose career had just come to a sudden halt after being canceled on Twitter. For her charismatic portrayal of Ava, Einbinder has snagged her very first Emmy nomination this July for Outstanding Supporting Actress in a Comedy Series. Between her blossoming acting career and her vastly successful, sold-out gigs, it's safe to say that Einbinder is a burst of fresh comedic energy that definitely won't disappoint in the coming years.
But how did the rising star find her way to "Hacks"? And how did she impress the talented showrunners who were looking far and wide for the perfect match? Read on to find out more!
Hannah Einbinder relied on her improv background during "Hacks" audition
Hannah Einbinder confessed to Glamour that "Hacks" was the first acting gig that caught her eye last year, just before the pandemic took off. "I read the script immediately and was so excited in a way I didn't know was possible outside of stand-up. I felt connected to it pretty quickly, but my view on it was 'I can't wait to watch this show when it comes out and I'm not in it.'"
Einbinder initially thought she had no chance next to the "gorgeous actresses" waiting alongside her at the auditions, but her background in improv came in handy when she replaced a forgotten line with one of her own jokes (which actually ended up in the show). "My strategy going forward was just to add in lines because the creators are comedians themselves, and they were so welcoming to that collaboration," the California native said.
During the last audition, Einbinder read in a screen test alongside Jean Smart, who was cast as the leading role opposing Einbinder. The two were acting out the scene where their characters met, but Smart actually reached out to Einbinder before the audition. "I think Jean calling me the night before really eased any sort of... it eased a percentage of the nerves," the actor recalled to Variety. Luckily, she was able to impress both Smart and the showrunners to bag the role of Ava!
Jean Smart has nothing but praise for Hannah Einbinder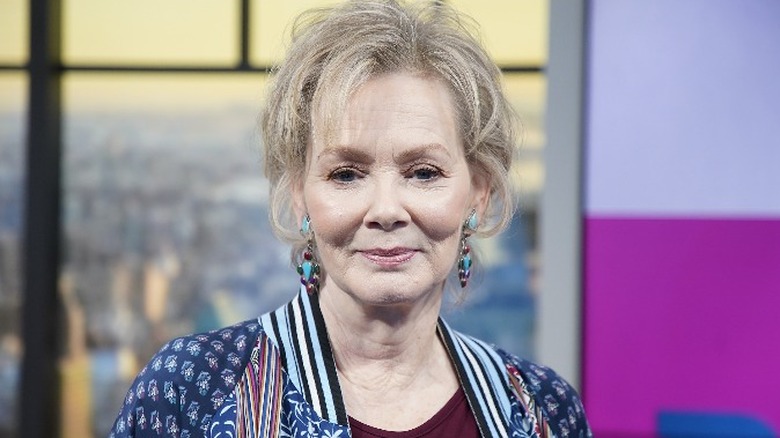 John Lamparski/Getty Images
A good part of "Hacks" relies on the back-and-forth synergy between the characters of Ava and diva Deborah, so it's not a surprise that the two actors behind those roles have nothing but praise for each other. Jean Smart actually took the time to dig into Hannah Einbinder's past passion projects. "Well, I saw some of her stand-up which I thought was incredibly unique and clever and just really special. I mean, she just stood out to me as someone who was not just sort of your typical starlet," the "Designing Women" alum said to Variety in an interview.
The feeling seemed mutual, since Einbinder didn't hold back in her appreciation for Smart during a "CBS This Morning" segment. The comedian revealed that she got the call for her Emmy nom and immediately reported the happy news to Smart, who offered up some killer advice on how Einbinder should celebrate this meaningful accomplishment. "She just said, 'I don't know, go to the grocery store? Just live your life. Just get out there. Do what you gotta do,'" Einbinder recalled.
Talk about an amazing support who's not afraid to humble you in the right moment!