What Is NCIS Star Michael Weatherly's Connection To Bill Cosby?
Monica Schipper/Getty Images
With more than three decades of acting experience in Hollywood, Michael Weatherly has become a staple in showbiz, having picked up credits in TV classics like "Guiding Light," "Star Trek," "Charmed," and "Ally McBeal," among others, per IMDb. The New York native is best known for his starring role on the CBS series "Bull," however, as well as "NCIS," "NCIS: New Orleans" and "NCIS: Los Angeles." Weatherly portrayed "Very" Special Agent Tony DiNozzo for 13 seasons until 2016.
Appearing on the Emmy-nominated crime show since it first debuted in September 2003, fans were understandably heartbroken when Weatherly's exit from "NCIS" was annuonced after 13 years. "Michael Weatherly is leaving the show at the end of this season," CBS said in a statement in January 2016, per TV Line. "The immense charm and talent he brings to the screen as 'Very' Special Agent Tony DiNozzo has helped make NCIS what it is today — the No. 1 drama in the world."
Upon his exit from "NCIS," Weatherly landed the lead role in "Bull," which premiered in September 2016. Since then, he has played the part of Dr. Jason Bull throughout the show's five seasons, with Season 6 set to release in October 2021, according to TV Series Finale. But long before Weatherly was a household name, he was working his way up alongside the likes of former A-list stars, like Bill Cosby, for example. For details on Weatherly's unexpected connection to "The Cosby Show" alum, keep scrolling.
Michael Weatherly didn't give the best first impression when meeting Bill Cosby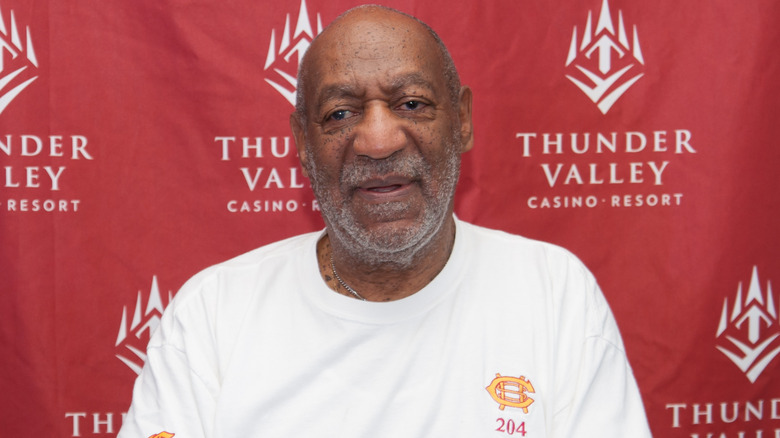 Randy Miramontez/Shutterstock
More than 20 years ago, Michael Weatherly was trying to get his acting career off the ground when he was approached about an opportunity on "The Cosby Show." According to the actor, his work on the January 1991 episode, entitled "Theo's Final Final," in which he portrayed Theo Huxtable's roommate, was a memorable experience. Not necessarily for the best of reasons, however, as he was pretty much fired after his first day.
"[My manager] called me and said, 'Get out to Queens, you're gonna meet Bill Cosby and if he signs off on you, you're gonna be working this afternoon, they're taping,'" the star shared on "CBS This Morning" in 2012. Without divulging too much, aside from pointing out Cosby "had a rubber chicken nailed to his dressing room door" and was "smoking a cigar" in a tracksuit, Weatherly said his performance was not the most impressive. "I did OK, but they never invited me back ... It was a one shot deal."
Weatherly opened up even fmore about the gig during an interview with the New York Post in 2017, revealing why he believes his character was booted from the series. "It was my very first acting job. I didn't know my a** from my elbow," he quipped. "I taped a subway token on my forehead during rehearsals and Cosby said, 'What's that?' I said, 'I'm the token white guy.' They did not invite me back."
Does Michael Weatherly see a return to NCIS in his future?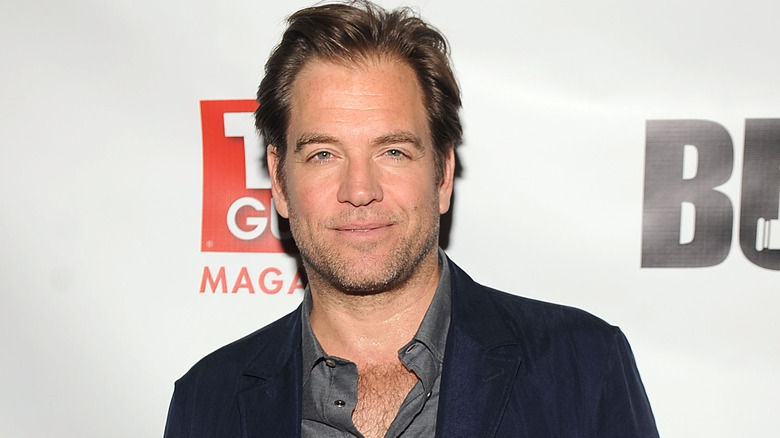 Brad Barket/Getty Images
Despite his less-than-stellar role in the classic sitcom "The Cosby Show," Michael Weatherly went on to establish an impressive career in Hollywood. Not only has he appeared in nearly 50 different films and television shows throughout the years, per IMDb, but he has even been nominated for other prestigious accolades, including an Academy of Science Fiction Award and a Soap Opera Digest Award. These days, he's busy as the star of CBS' "Bull."
Though he's gearing up to premiere the show's sixth season this fall, fans can't help but wonder if Weatherly is planning to squeeze some extra time in his schedule for a return to "NCIS." On countless occasions in the past, the actor has expressed interest in coming back to the series. "[DiNozzo] will live on in the hearts and minds of the viewers and is embedded in the show. I would absolutely be open to anything and everything including things that no one's even thought of yet," Weatherly stated in 2016, per CheatSheet.
Years later in 2018, Weatherly addressed the possibility of reprising his role when he took to Twitter. "I will always be ready to play DiNozzo when the time is right," he said. Though CBS has yet to sound off on an official return to "NCIS," Weatherly hinted now may be perfect timing when he tweeted a photo of himself seemingly on set in July 2021. "#ncis Camera is King," he wrote. Stayed tuned, "NCIS" fans!