The Bizarre Beef Kid Rock Has With Oprah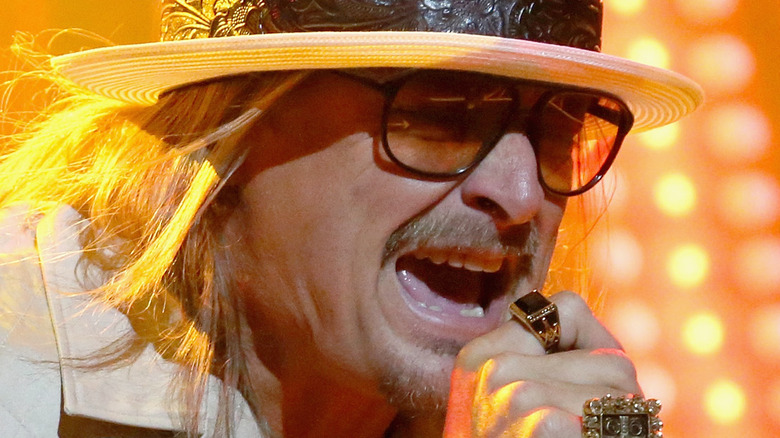 Gary Miller/Getty Images
Infamous country rocker-slash-rapper Kid Rock has been notorious for stirring the pot everywhere he goes. From his verbal tirades against Joy Behar to his controversial political stances, Kid Rock has often drawn the ire of the public — including some celebrities — with his unapologetic, no-nonsense attitude over the course of nearly three decades.
Rising to fame with 1998's "Devil Without a Cause," Kid Rock (real name Robert James Ritchie) introduced a timely blend of country, rock, and the rap-infused nu-metal that took his artistry to the top of the charts. With tracks like "Bawitdaba" and "Cowboy," Kid Rock's career seemingly took off overnight (despite being an active musician for eight years at that point), and led to international success for the rockstar.
Since then, Kid Rock has released 11 studio albums and two extended plays. However, as his musical popularity began to taper off, the rocker maintained relevance through his contentious relationship with the public — even sparking a feud with talk show host Oprah Winfrey in late 2019. And while Kid Rock has battled through bad publicity from time and time again, many have to wonder — what exactly is his beef with Oprah?
Lucky for you, we've got the scoop — keep on reading to find out!
Kid Rock cursed at Oprah while onstage
In November 2019, per TMZ, Kid Rock took to the stage at the Big Ass Honky Tonk Rock N' Roll Steakhouse — the musician's own restaurant in Nashville, Tennessee — where he voiced his frustrations against Joy Behar (once again), Kathie Lee Gifford, and most notably, Oprah Winfrey. The country rocker began a profanity-laced tirade against Oprah for reasons unknown at the time — shouting, "F*** Oprah!" and lambasting Behar and Gifford amidst a slur of unintelligible words. TMZ noted that he appeared to be drunk and had to be removed from the stage.
The rocker made sure to cover all of his bases, operating under the assumption that his Oprah-fueled rage may lead to accusations of racism in his diatribe against the talk show host. And for anyone that is "pretty sure Kid Rock's a racist"? He wants you to "f*** off," per his rant. 
Kid Rock clarified his comments hours after the incident on Twitter, citing a terrible experience he had with "The Oprah Winfrey Show" team. "​​My people tried to get me to do The Oprah Winfrey show years ago," Rock revealed, before noting, "Her people wanted me to write down five reasons why I loved her and her show." In typical Kid Rock fashion, however, he "said f*** that and her. End of story."
Kid Rock's restaurant closed after his onstage rant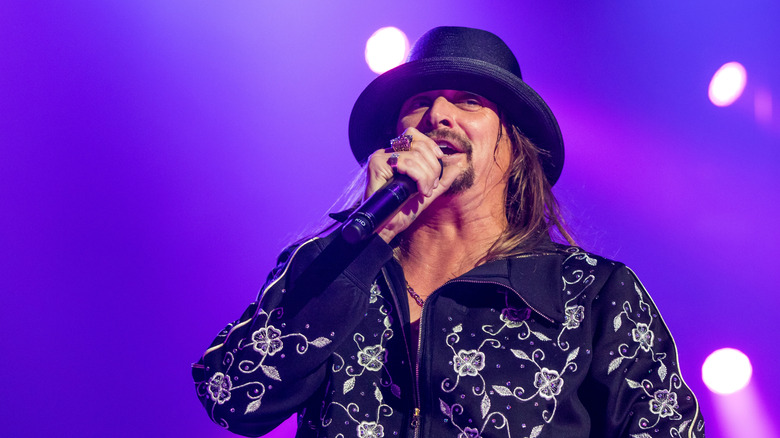 Scott Legato/Getty Images
Following Kid Rock's verbal tirade, the musician had to be escorted offstage. And after his Twitter clarification hours later, there were real-life consequences that ensued for the country star.
Just several days after the incident, it was revealed that Kid Rock had foregone renewing his license for his Michigan-based restaurant, Made in Detroit. Per Detroit Free Press, Chris Granger, president of sports and entertainment at Ilitch Holdings (the company who Kid Rock signed the licensing agreement with), announced that the rocker opted not to renew his contract and that they were looking to fill the space with a license that "aligns with our community and company values." The company did not cite Kid Rock's rant specifically.
Kid Rock took to Facebook to address the Made in Detroit situation soon after. Upon expressing gratitude to those who have "patronized" the restaurant over the years, the singer backhandedly noted, "I guess the millions of dollars I pumped into that town was not enough" and that he "will let the NAN network and others go ahead and take the wheel now." In his post, he also addressed accusations of racism, stating, "I may be guilty of being a loud mouth jerk at times," and that labeling him as a "racist is a joke, and actually only does a disservice to the Black community." He added: "I have supported [the Black community] my entire life."