Amanda Seyfried, Thomas Sadoski Secretly Eloped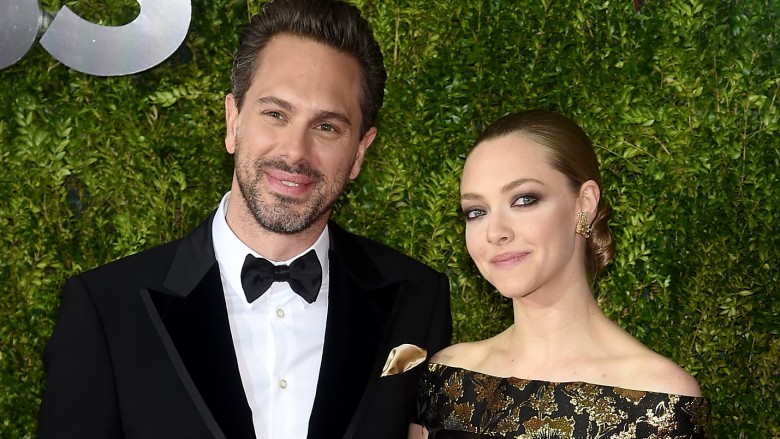 Congratulations to actors Amanda Seyfried and Thomas Sadoski! The pair revealed that they secretly got married.
Thomas Sadoski announced the news during an appearance on The Late Late Show With James Corden on March 16, 2017. When host James Corden asked him a question about Seyfried, the funnyman noticed a gold band on Sadoski's finger. The John Wick (2014) actor then held up his hand and stated that Seyfried was now his wife.
"When did you get married?" Corden asked his guest.
"Sunday," Sadoski replied, eliciting applause from the audience.
"We eloped," Sadoski added. "We just took off into the country with an officiant and just the two of us, and we did our thing."
He also called Seyfried, who had hinted about her husband's big announcement on Instagram earlier that day, "the person who I love, admire, respect most in the world."
Seyfried, 31, and Sadoski, 40, reportedly met while working on the off-broadway show The Way We Get By in 2015. The two later became engaged in Sept. 2016. During a press launch for Givenchy's Live Irrésistible fragrance in Nov. 2016, the Mean Girls (2004) actress, who had previously been connected to actors Justin Long and Dominic Cooper, revealed that she was expecting a child with Sadoski.
Prompted by Corden to elaborate on the couple's "I Dos," Sadoski, who was previously married to casting director Kimberly Hope, said, "It was beautiful. It was everything that it should be. It was just the two of us talking to each other."
As for what the couple did after the ceremony, it was hardly as R-rated as you might expect. The two simply took their dog for a walk, headed home, and enjoyed a nice dinner together.
Sadoski also admitted that he's not fully prepared for the birth of his child–who may just be a baby boy, if Seyfried's use of pronouns in a Dec. 2016 interview is any indication.
He told Corden, "I'm more excited about this than I've ever been about anything in my life. And I'm also more terrified about it than anything I've ever been in my entire life. If I'm too confident then I'm just kidding myself."
Sadoski better get ready soon. By the looks of things, Seyfried is due any day now.