Drake Admits To Drunk Texting Jennifer Lopez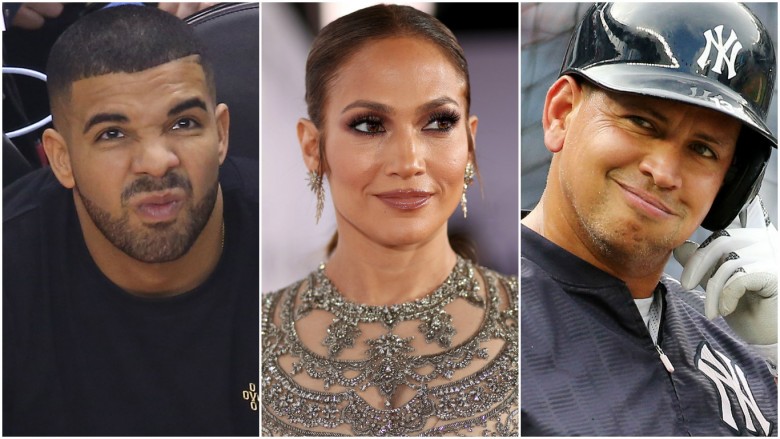 Getty Images
Close your eyes, Drake. Jennifer Lopez and Alex Rodriguez are getting more serious than the world expected—and pretty quickly, too.
The "Waiting for Tonight" singer, 47, was snapped on Instagram with Rodriguez's sister, Miami real estate agent Susy Dunand. Dunand captioned a snap with J.Lo and another stunning blonde, "Any given Friday! #miscuñis! #jlo." "Cuñis" is slang for "sister-in-law" in Spanish, and it's led many to speculate that the romance is blossoming into a full-on relationship. However, it could easily also be referencing the other woman in the photo, because it's not specified who she is!
The pair has been together for about two months, Us Weekly reported, though Page Six noted that they've known each other for years. They didn't connect romantically until recently, when Rodriguez, 41, came to see Lopez perform in her "All I Have" Las Vegas residency.
"Alex and Jennifer ran into each other in LA around four or five weeks ago, rekindled their friendship, then things escalated over the last few weeks," a source told Page Six when the pair first went public. "Alex went to the show a couple of weeks ago, with his friends, and he was blown away." An industry insider explained to People, "[They] have known each other for years, but the timing wasn't right. Things are different now. He loves family and so does she. For Jennifer, family comes first."
Lopez joined the former Bronx Bomber at a New York Yankees spring training game against the Baltimore Orioles this weekend in Tampa, Fla., E! News reported. Though A-Rod is retired from the sport, he aids his former team as a special instructor, and the couple rode to the game together on a golf cart after spending the bulk of the past week in Miami together. An insider dished, "[Lopez] likes the idea of dating a man closer to her age ... Jennifer and Alex are heating up big time. They went from zero to 100 really quick."
A source told Us Weekly that the family meeting is significant, adding, "They see a future together." Yet another insider (La Lopez seems to have quite the chatty brood!) told People, "Jennifer loves Miami. She is having a great time with her kids and A-Rod—she's very giggly when she talks about him. It actually seems like they're getting more serious by the minute. Jennifer thinks the world of A-Rod. She is very impressed and gushes about what a gentleman he is. She's trying to take things slowly, but she is very excited."
One person J.Lo doesn't see a future with? Drake, whom she dated briefly earlier this year. The rapper opened up about drunk-texting the Shades Of Blue star on his new OVO playlist, More Life (via Entertainment Weekly). He laments on the opening track "Free Smoke," " "I drunk text J.Lo / Old number, so it bounce back." On his song "Teenage Fever," about a failed relationship, he sings the hook to Lopez's first hit, "If You Had My Love." Perhaps that was to make up for scrapping her from their collaboration on the track "Get It Together" and replacing her vocals with those of Jorja Smith for the hook.