Joshua Jackson, Diane Kruger Moving On After Split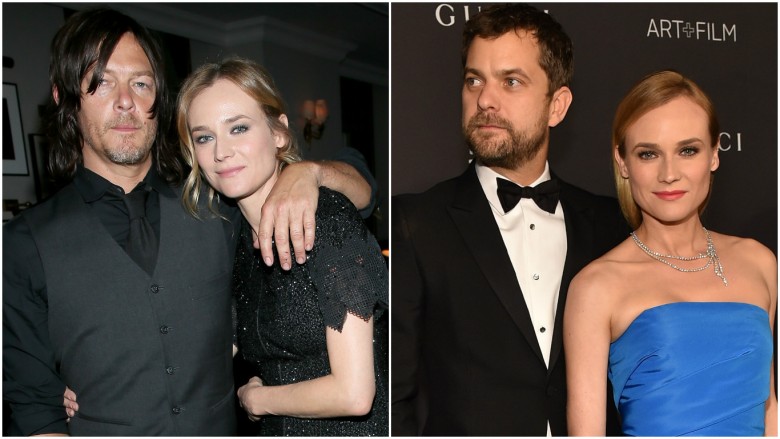 Getty Images
After over a year of affair rumors, Diane Kruger and The Walking Dead (2010—) star Norman Reedus have finally gone public with their romance.
The Daily Mail reports that the pair were holding hands and making out on a marathon bar crawl in New York City's East Village on Tuesday, March 21, 2017. The duo started their night at a bar called Mexican Radio, where they stayed for four hours before strolling to a second locale. A spy said that the pair "exited the bar happy, smiling and holding hands [and were] speaking to random people on the street. They looked like they had a great time!"
Spies said that while the couple walked hand-in-hand, they periodically stopped to smooch — for half an hour in the cold!
Kruger, 40, and Reedus, 48, were first linked in December 2015 when witnesses saw them making out in an East Village bar.
"They were laughing and having fun and then she just literally got out of her chair and straddled him and we were all like, 'What the hell?!'" one spy told The New York Daily News. "They were all over each other. She was a lot more aggressive than him."
Another witness said, "They were making out on top of each other, holding hands."
At the time, Kruger and ex Joshua Jackson were still together; Jackson was filming a documentary in the Philippines when the incident reportedly went down. Jackson, 38, and Kruger were together for a decade until their July 2016 breakup. Jackson, Kruger, and Reedus all starred in the independent film Sky (2015) together. At the April 2016 premiere of the film, Reedus and Kruger cozied up together on the red carpet, but weren't overly affectionate.
"Diane swore up and down that nothing happened with Norman, but the damage was done," a source told Star in August 2016 (via Radar Online). "Joshua couldn't get past the betrayal."
Thankfully, Jackson seems to be moving on himself: He was spotted lunching with Teen Wolf starlet Crystal Reed before the split announcement, and was seen with a mystery brunette on Wednesday, March 22, 2017.