Meghan Markle's Sister Shopping Tell-All Book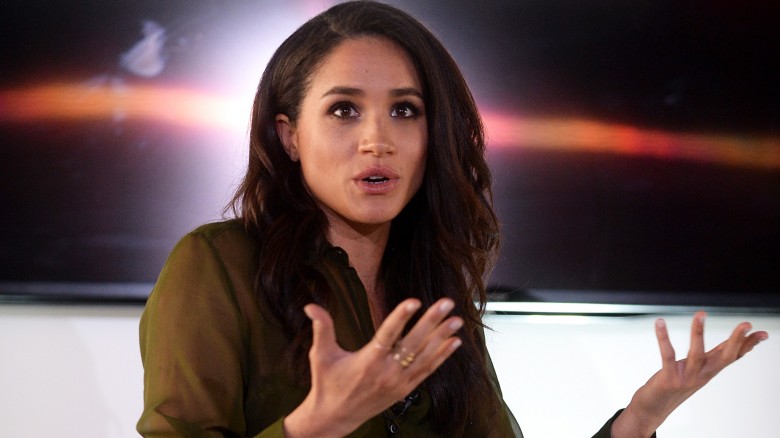 Meghan Markle's estranged half-sister, Samantha Grant, is shopping around a tell-all book about the Suits (2011-) star (and potential future royal)—and rumor has it, Markle and her camp are not happy about it.
Grant, 52, is allegedly trying to market The Diary Of Princess Pushy's Sister about Markle, 35, with whom she shares a father. She told The Daily Star, "My book deals with my bi-racial family in a candid, warm, personal and socially important way. Maybe when Meghan is more mature and reads the book she'll understand. Some of it she won't like, some of it she might."
Still, you may want to take Grant's rants with a huge grain of salt, because Grant's own mother told the publication, "Samantha has been dogging [Markle] for years. Everything she has said about her is a lie."
A source close to Markle told The Daily Star that the tome attempt isn't hurting her relationship with Prince Harry. "They are madly in love and want to be together all the time," the insider said. "Meghan is thinking of giving up her role in Suits so that she can move to London. She is obviously concerned about this book but you can't choose your family and there is nothing she can do about it."
Sources close to Markle told E! News that Grant has inexplicably had issues with Markle pretty much forever, even though they barely even know one another.
"Samantha Grant doesn't have a relationship with Meghan Markle and she never has," the source told E!. "As they were 17 years apart, they were never raised in the same house. Meghan was raised an only child by her loving parents ... This woman who she hardly knows, who has had a lifelong history of lying and manipulation is setting her sights on her for no reason," the source added. "In their very limited contact, Meghan has never been anything but nice to her and for the majority of those interactions, Meghan was just a little girl. This is an old, jealous woman ... doing anything she can to take advantage of the situation to sell lies for money and fame. Meghan has never done anything to her and continues to take the high road."
The source also revealed that Grant recently changed her last named to Markle, noting, "If she hates Meghan so much, why is she suddenly trying to share an identity with her? Meghan was raised as an only child and split her time between her parents' homes. Her parents were divorced when she was 1-and-a-half years old and she largely lived with her mom though her parents had an extremely amicable relationship and co-parented often ... Samantha was not a part of that life and in no way shape or form did Samantha raise Meghan until she was 12," the source scoffed. "Meghan saw her on occasionally at family functions but never on a regular basis. For about two weeks when Meghan was 12, Samantha moved in with her dad (and Meghan was still splitting time between homes). She has seen her once since then. It's been 23 years."