Mel B Accuses Stephen Belafonte Of Domestic Abuse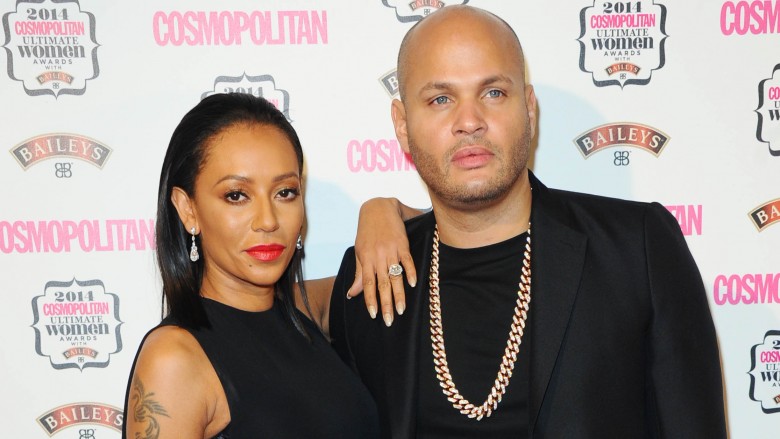 Getty Images
Melanie "Mel B" Brown's divorce from Stephen Belafonte is getting really ugly, if not downright terrifying.
The former Spice Girl alleged in a restraining order filed by her attorneys on Monday, April 3, 2017, that Belafonte was so abusive that Brown and her three children are fearful for their lives. TMZ reports that Brown's restraining order requires Belafonte to not just stay away from Brown and her children but also to remove himself from their family home.
According to Brown's statements in the filing, the alleged abuse has gone on for almost a decade and follows a distinct pattern: Whenever she had any degree of success, Belafonte would allegedly "beat [her] down to let [her] know he was in charge."
Brown cites several specific incidents in the protective order filing.
She claimed that Belafonte allegedly choked her the same night of her Dancing With The Stars finale in November 2007. Next, she alleged that in July 2012, when she was scheduled to film a segment of The X Factor with Usher, Belafonte grew so jealous of her and the "Burn" singer being together that he allegedly punched her in the face with a closed fist and split her lip. Brown also accused Belafonte of punching her and pushing her into carpeting in August 2012, leaving her with rug burns and scabs on her face—and that he allegedly forced her to tweet that her injuries were from running in 7-inch heels.
Brown also claims that the marital issues don't end at just physical abuse. Brown alleged in the filing that Belafonte has numerous sex tapes of her that he frequently threatened to release in an effort destroy her career—and she also maintains that many of the videos were recorded with neither her knowledge nor her consent.
For all his reported jealousy, Brown claims that Belafonte wasn't faithful to her and that he got the couple's nanny pregnant. She then asserts that Belafonte "forced" the nanny to get an abortion and paid her $300,000 of Brown's hard-earned cash for "alleged nanny services."
The most harrowing part of the filing may be Brown's allegation that in 2014 she was "overcome with emotional and physical exhaustion" and took an entire bottle of aspirin. She claimed that when she attempted to call 999 (the U.K. version of 911) that Belafonte locked her in their bedroom screaming at her to die.
Brown stated in her filing that she tried to leave Belafonte numerous times and that each time he "threatened [her] with violence and threatened to destroy [her] life in every possible way ... destroy [her] career and take [her] kids from [her]."