Samira Wiley And Lauren Morelli Kick Off Their Honeymoon At Disneyland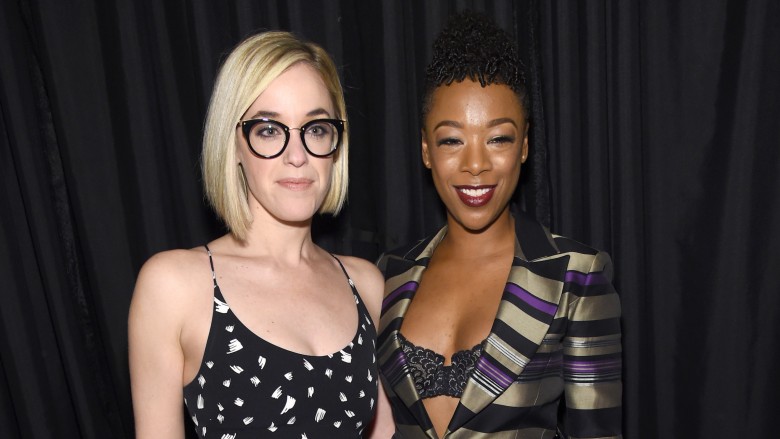 Getty Images
After tying the knot on March 25, 2017, Samira Wiley and Lauren Morelli celebrated their nuptials at Disneyland!
Yes, according to Entertainment Tonight, the Orange Is the New Black (2013-) star and the series writer rang in their pre-honeymoon festivities at the happiest place on Earth. And, lucky for us, the newlyweds took to social media to document their incredible trip with adorable photos and emoji-filled, honeymoon-themed captions.
Wiley, 29, was the first to post a picture on Instagram. All smiles, she posed with her new wife in front of Sleeping Beauty's castle. The caption read: "Thank you @disneyland for helping us continue to have the best week ever!"
The actress also shared a snapshot of a gift she received from the park—a pair of Mickey Mouse ears, embroidered with "Mrs. Morelli."
For her part, Morelli, 34, posted a photo of the her and her wife with a group of close friends. She perfectly summed up the pair's trip, captioning the picture, "Magic."
Wiley and Morelli reportedly said their "I dos" in what ET called a "confetti-themed ceremony." Martha Stewart Weddings was on standby to document their fun-filled big day, which took place at a special location in Southern California—the place where they got engaged last year.
The honeymoon photos continued as the happy couple boarded a flight to their actual honeymoon destination—location currently undisclosed—with Wiley sharing a photo after they excitedly took their seats on the plane. Morelli later showed the world exactly how to fly in style, as she enjoyed a glass of bubbly mid-flight with the love of her life.
Honestly, could these two be any more perfect together?