Things You Never Knew About Pauley Perrette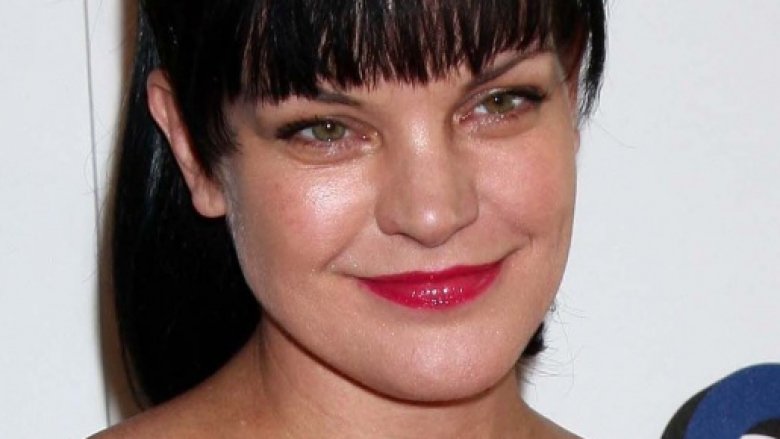 Getty Images
She starred in one of the biggest shows on network television, but how well do you really know Pauley Perrette, the actress who played forensic specialist Abby Sciuto on NCIS for 15 seasons?
There's a lot more than you probably realize to the actress behind those tattoos and spiked dog collars. In fact, Perrette even has real-life training that probably comes in handy in her role as a brilliant, intrepid crimefighter. Intrigued? You should be. Read on to uncover more things you never knew about Pauley Perrette.
People kinda like her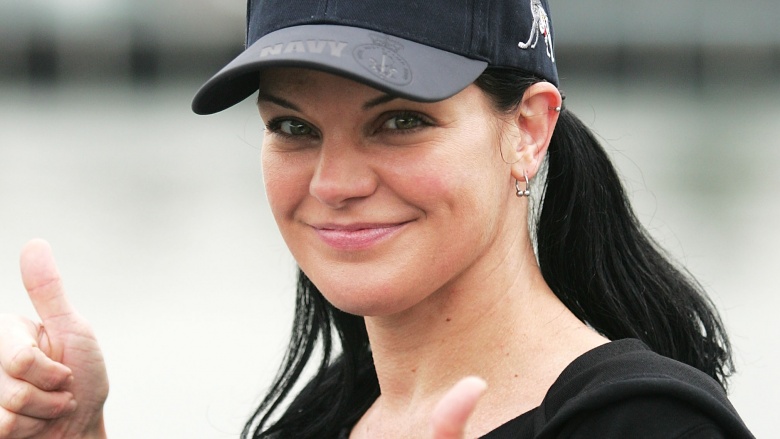 Along with co-star Mark Harmon, Pauley Perrette appeared in every single episode of NCIS since its premiere in 2003 through her departure in Season 15. For those keeping score at home: that's 352 episodes. Her work ethic did not go unnoticed by her bosses, NCIS executive producers George Schenck and Frank Cardea, who told CBS News, "From day one, she has brought incredible passion and specificity to the role. Abby is a character that inspires millions of fans around the world, and all of us at NCIS are appreciative of Pauley for portraying her."
TV audiences apparently agree because Perrette has developed a massive fan base. She's consistently been the top-rated female actress on television, according to the ever-popular Q Score. According to The Wrap, Perrette retired from NCIS in the top spot, far ahead of her peers. At one point, she was even rated as high as Tom Hanks and Morgan Freeman in terms of popularity. And that's not to say that a woman couldn't or wouldn't ever be as popular as a male actor, but we feel like standing shoulder to shoulder with Forrest Gump and/or God is an achievement worth mentioning.
Her punk rock aesthetic makes perfect sense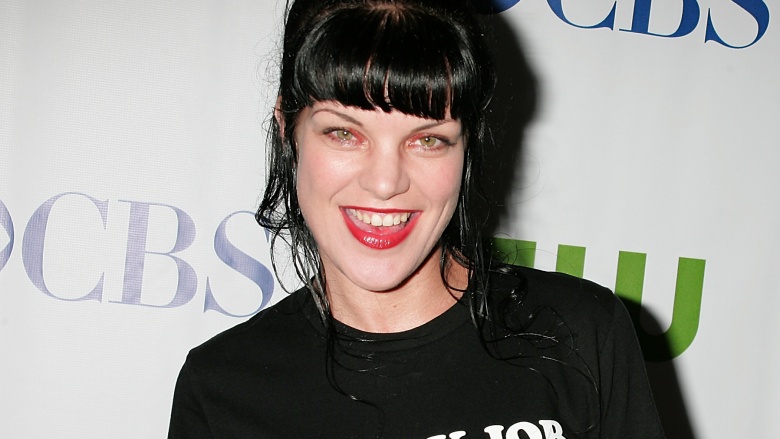 Pauley Perrette used to be the lead singer of the Los Angeles grunge rock band Lo-Ball, which was sort of like Hole meets Orgy. A quick search of the band on YouTube kicks up fascinating songs such as "Lipstick & Aspirin" and "Uncomplicated." The band's song "Can't Get Me Down" was also featured on the soundtrack to the 2001 hit movie Legally Blonde.
Perrette subsequently recorded other songs as well, including "FEAR,"  which was featured on an episode of NCIS. "I wrote this song as a love letter to myself when I was scared," Perrette said. "It has helped thousands of people around the world."
In 2012, she talked to Parade about her musical ambitions, saying, "I was into music before I was an actor." She also told the magazine about a collaboration she was working on, called Stop Making Friends, with D.M.C. from the legendary hip-hop group, Run D.M.C. As if that wasn't impressive enough, she also revealed that she's a photographer and a writer to boot. Does that make her a quadruple threat? We've already lost count.
Music videos were her gateway to stardom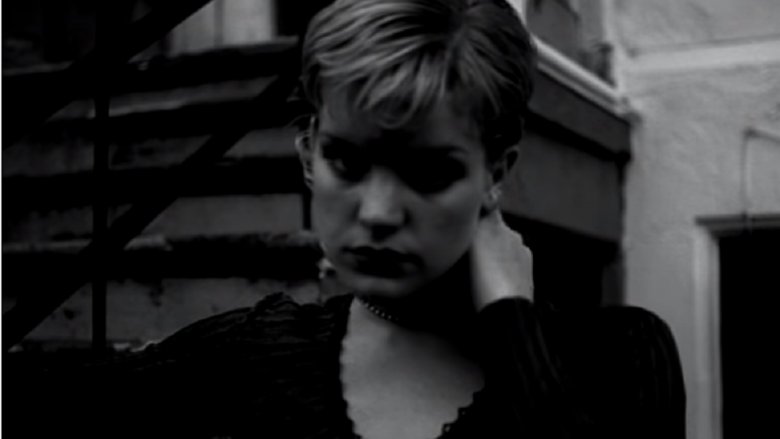 YouTube
Pauley Perrette's big break in the acting business came through the world of music videos. In an interview with Punk Globe, Perrette said that while working as a bartender, she "overheard a girl say she made $3000 doing a commercial." That sounded like a good deal to Perrette, who eventually found "a director that took a liking to me and put me in a bunch of music videos and commercials."
Although she kind of glosses over that whole "getting a director to take a liking to you" aspect of her career (which is probably the more interesting part of the story,) Perrette did name drop some famous artists that hired her for their videos. "I was in Madonna, George Michael, Salt-n-Pepa — it goes on and on," she told Parade. "Back in the day, they would give us $50 for 12 hours. ... I was in so many music videos. It's just hilarious."  
You can catch Perrette delivering a baleful glare and anguished neck rub in the above video for Madonna's "Secret." Sure, it's only a 2-second performance, but she absolutely nails whatever it is she's supposed to be emoting. 
She's lost count of her tattoos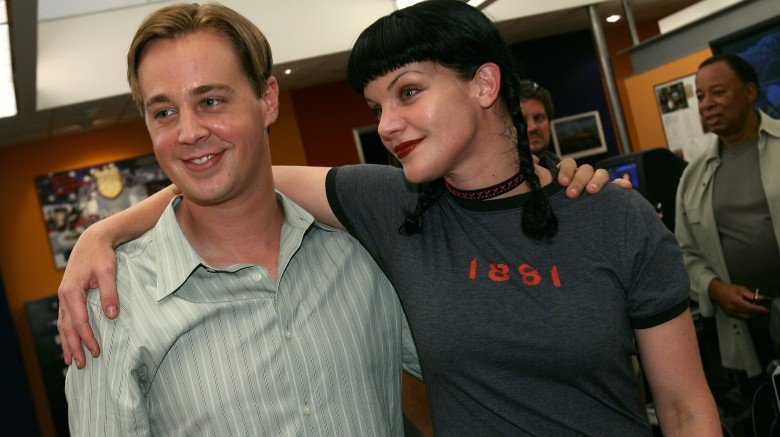 Part of Abby's on-screen persona isn't just her black hair. It's her very visible tattoos. According to Parade Magazine, the distinctive spiderweb on her neck is fake, as is the cross on her back. However, some of Pauley Perrette's real tattoos do make it into the show. In fact, she has so much ink that she's lost track of her total number of tats. 
Her favorite? Something simple on the ring finger of her left hand. "I have the numbers 12:21. That's my favorite Bible verse, Romans 12:21, which is, 'Don't be overcome by evil, but overcome evil with good.' That's my favorite one and I look at it every day. That's my mantra."
One tattoo she no longer has? A heart shape that used to match a tattoo she got with her then-husband. Though she may regret that one, Perrette is still adding to her body art collection. In 2015, she tweeted her thoughts on a new addition — the words "RIGHT NOW" inked onto her wrist. "To remind me that past and future fears don't matter," she said. "Just Right Now matters.
Giving it up to God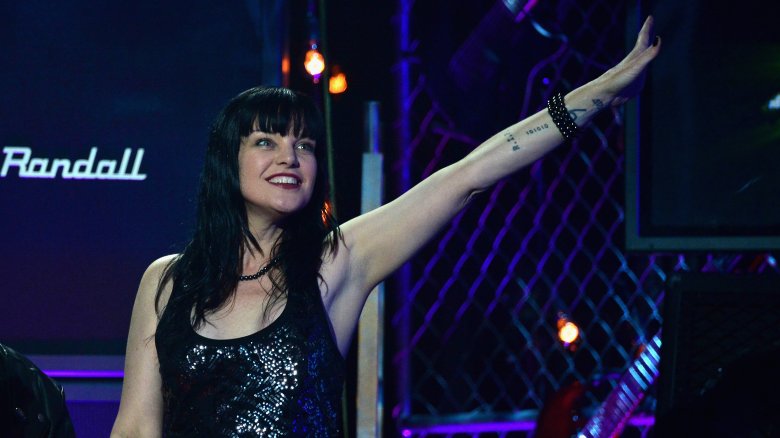 Getty Images
Pauley Perrette credits her faith with getting her through a lot in life — including that aforementioned attack in 2015. A few days after the incident, E! Online reported that she sought comfort in her congregation at the Hollywood United Methodist Church. 
In 2011, the actress talked to the United Methodist Church, a place she described as "what God wants Heaven to look like," about her developing faith. She that talking to God is "like a conversation," and that even though there were times when she didn't go to church, her faith had always been strong enough to get her through the toughest times. 
Perrette blended her faith with her activism when she spearheaded a movement to revive the Red AIDS Ribbons that hung on the outside of the church as a symbol of solidarity with people suffering from HIV and AIDS. She also "co-preached a sermon about civil rights" with her pastor to champion LGBTQ rights.
When art imitates life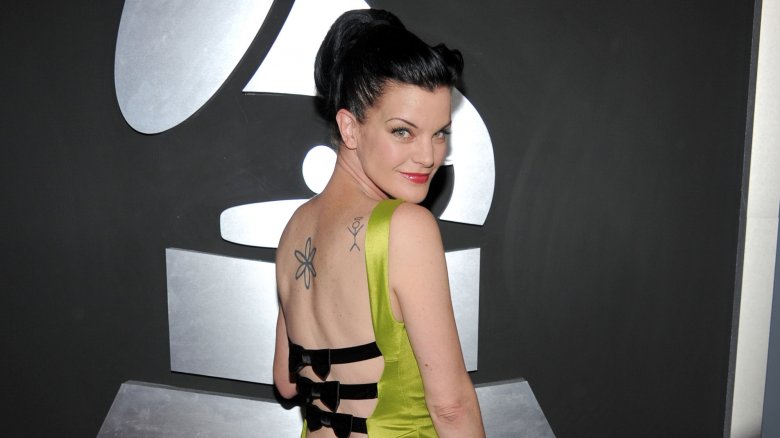 Getty Images
As a child, Pauley Perrette's interest in law enforcement came via "the notorious Atlanta child murder cases in the early 1980s," according to AJC. That interest translated to her consuming "science textbooks" in her free time, and dreaming of becoming a cop. Perhaps unsurprisingly, Perrette then chose "sociology and psychology and criminal science" for her post-secondary studies, even going as far as working on a master's degree in criminology... until Hollywood came calling. Alas, she never got the chance to impart her knowledge in the real world police setting.   
Asked whether she felt her studies had any kind of meaningful impact on her role as a brilliant scientist, Perrette told Wane that her education "helped [her] with all the big words." It also mean that she didn't have to "fake" her "interest" in the topic. "I've always been obsessed with crime," she said, adding, "Not committing them but solving them."
And yet, the actress told Wane she has no regrets about choosing a life of "fighting fake crime," as she phrases it. "Because I love my job and I am really grateful, but I am still kind of like, 'What? Me?' It's so weird." 
We're guessing the pay to fight "fake crime" is far better by comparison, too.
She's been an LGBTQ+ ally for years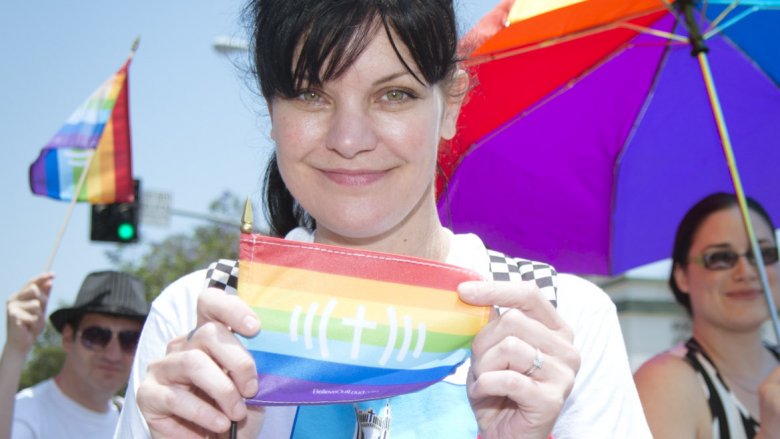 Getty Images
Pauley Perrette has been a longtime ally of the LGBTQ+ community, and only a few months before the aforementioned Supreme Court ruling, the actress was on the blue carpet for the 2015 GLAAD Media Awards. When she stopped to chat with After Ellen, she was asked if she had been the target of any hate for her activism. "Absolutely," Perrette said, adding, "I'm proud of it ... When I get hit up on Twitter by extremely bigoted people, or extremely bigoted organizations, I'm so proud of myself because I know that I'm doing the right thing. And then I think, who would I be if they liked me? I would be someone I couldn't, shouldn't be around."
Perrette's LGBTQ+ activism has continued. In 2016, the actress spoke in support of the Los Angeles LGBT Center, noting that its presence in the community creates a safe haven for youth. In a May 2017 tweet, she declared herself "a loud #LGBT activist" who fights "for ALL being discriminated against." It doesn't get any more clear than that, huh?  
She's a vocal advocate for the homeless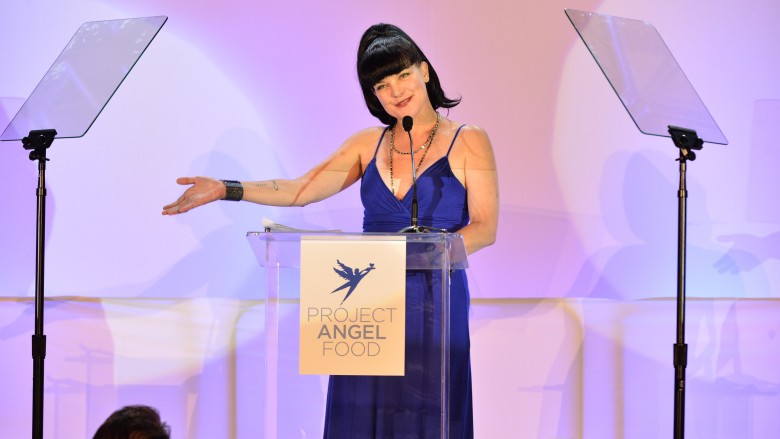 In November 2015, Pauley Perrette tweeted about a frightening encounter with a "very psychotic homeless man," who she alleged repeatedly "punched" her and threatened to kill her. Thankfully, Perrette wasn't badly injured, and the man was arrested the same night of the attack. 
Two months later, Pauley Perrette returned to her volunteer work with the LAPD. The goal? Counting the city's homeless to help create a plan that would allow for the construction of affordable housing for those who are in need. CNN reported that Perrette's efforts go beyond that, noting that she walked the streets to reassure people they were trying to get funding and made a point to visit those she came to know. "They are our brothers and sisters," the actress told CNN. "They all are."
Perrette also expressed compassion toward the man who was charged for attacking her. "My heart broke for him," she wrote (via E! Online). "My tears that night were for him. I had looked into his eyes. There was nothing there. It seemed like his soul and his humanity were gone. He was out on the street without resources. It was a consequence of our failure as a society to take care of our mentally ill and impaired homeless community."
The Abby Effect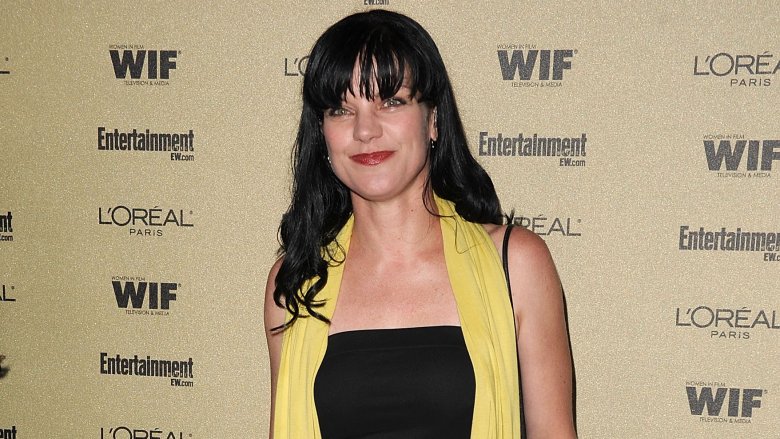 Getty Images
During an appearance on The Talk to discuss her departure from NCIS after 15 years, Perrette spoke about how important it was to her that the show had a direct impact on the lives of so many young people, particularly girls. This influence has been dubbed "The Abby Effect," and it describes how female fans of Perrette's character have been inspired to pursue degrees in math and science. Perrette said it's been "enormous and overwhelming" to have inspired such a positive trend. 
To help keep it going, the actress set up scholarships at two different colleges where she studied: Valdosta State University in Georgia and New York's John Jay College of Criminal Science. According to the CUNY scholarship page, Perrette's endowment will award students who "demonstrate continued financial need, are majoring in Forensic Science, and remain in good standing" a yearly amount of $7,500 for up to four years. "I hope this scholarship provides an opportunity for a deserving young person to accomplish their dream of acquiring an education in Forensic Science," Perrette said.  
She cherishes her Southern roots
Getty Images
Pauley Perette is a Southern girl at heart. Speaking with Wane, Perrette, who was born in New Orleans, she said her family moved 13 times, with her father's piece of Alabama property being the only real, regular "solid home base that we've ever had."
But even with her penchant for traveling, heading to California for a life in front of the camera was not part of Perrette's original plan. "My dad is a firefighter and as are all my cousins, and I am incredibly proud of that. But this is all me being out here, and it's a total accident and it's really strange. I am the only person in my family that's in the entertainment industry. And I studied sociology, psychology and criminal science in school, so this was just a complete accident."
She credits (at least, in part) her Southern upbringing for her interest in civil and human rights. Growing up in an area on the front lines of the civil rights movement, Perrette said she was deeply impacted by the words and work of Dr. Martin Luther King Jr.
From the forensics lab to the makeup counter?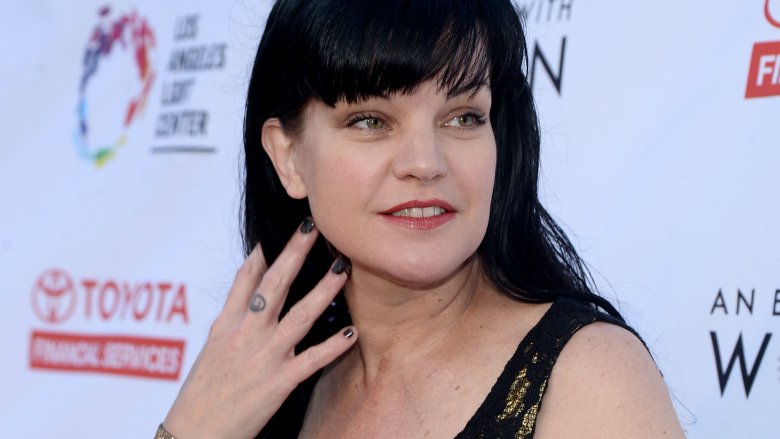 Getty Images
When Perrette announced that the 15th season of NCIS would be her last, fans understandably freaked out. With their despair over the loss of a beloved character came a swirl of rumors about Perrette's exit, including that the show was somehow "mad" at her, or that she was leaving to run a skin care line.
Perrette denied both rumors via Twitter, and even appeared on an episode of Inside Edition to further clear up the whole skin care line thing. According to the segment, shady internet companies have been using Perrette's name and likeness to dupe customers into unwittingly signing up for subscriptions to skin care products. "It's a fake company. It's a scam," Perrette said, which the show confirmed by ordering what they thought was a free sample of the product being marketed using Perrette's likeness, only to find out that it had automatically been enrolled in an $89 monthly subscription.
Perrette, for the record, said that she only uses "soap and baby oil" to wash her face. "People are getting scammed, they actually are, and no one can catch these people!" 
Hmm...If only she knew some sort of crime-fighting super genius who could figure this whole thing out...