Meghan Trainor Dishes About Her Romance With Boyfriend Daryl Sabara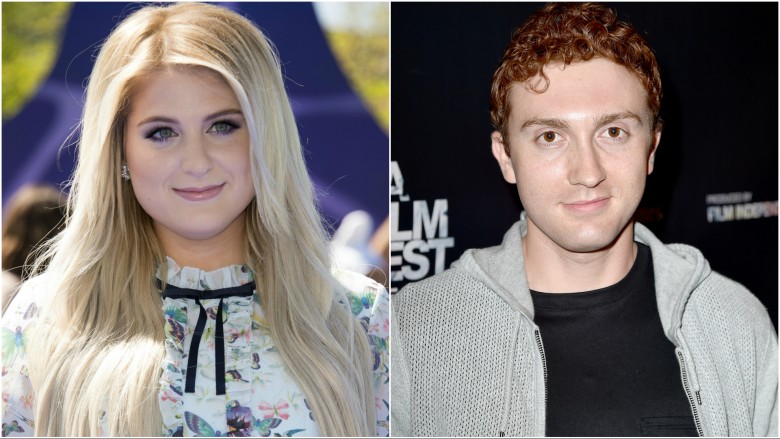 Getty Images
The "Me Too" singer just revealed a whole lot of intimate details about her relationship with Spy Kids (2001) actor Daryl Sabara.
In her cover story interview with Cosmopolitan, Meghan Trainor, 23, opened up about dating Sabara, 24, and shined some light onto the early days of their relationship.
"We went on a double date — bowling and karaoke. He kissed me at the bowling alley," Trainor said, admitting that Sabara wowed her with his kissing skills. "I told my security to step outside 'cause I didn't want to be watched. LOL. He was the best kisser ever. I know I'm really good at kissing, but I was shocked when he was."
Trainor also shared that, due to her boyfriend's appreciation of her curvy physique, she's been feeling better than ever. "I never really felt sexy with guys before. No one expressed how they liked my body out loud in the bedroom until I met Daryl," Trainor explained, adding, "He is obsessed with it — every inch. And that has improved my confidence more than even "Bass" did. He's a champion, so we're in heaven."
The Grammy Award winner confirmed her relationship with Sabara in Oct. 2016 with a post to Instagram. In early April 2017, she told Entertainment Tonight just why Sabara loves her—and, no doubt, why she loves him too. "He says he likes my kind heart, he likes that I care about people," she said. "I was like, 'Stop it, you're so cute, I care about you.' He's around here somewhere [and] he just keeps walking by me going, 'You're beautiful!'"
Too cute!
The couple, who were introduced by friend Chloë Grace Moretz, seem to be getting even more serious. To Cosmo, Trainor also revealed that she's written six songs about Sabara for her next album, including one called "Marry Me."
Cosmo's May 2017 issue hits newsstands on April, 6, 2017.