Cuba Gooding Jr. Responds To Backlash Over Lifting Sarah Paulson's Skirt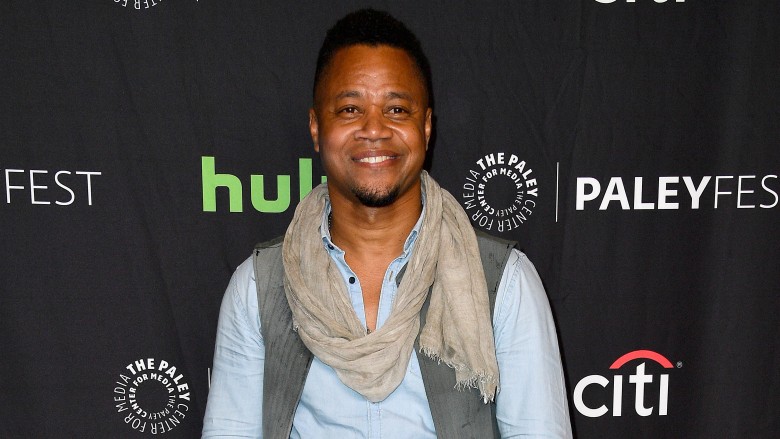 Getty Images
After Cuba Gooding Jr. lifted co-star Sarah Paulson's skirt last week during a PaleyFest panel for American Horror Story: Roanoke, the internet went crazy. Social media users were quick to pile on, labeling Gooding Jr. "unacceptable, gross, and blatantly disrespectful."
While Paulson has yet to speak out on the incident, Gooding Jr. has responded to People, calling the incident "a teachable moment."
"I have two sons in college ... and I say to them, 'Guys, the internet, it's a beast. It's an information highway without regulation. Any image you put on there can be interpreted any way it wants to," Gooding Jr. said.
So, not exactly an apology.
"I love the lady that is Sarah Paulson. We have a banter like brother and sister, which is how the spirit of that whole panel was," he continued, arguably making this whole thing weirder by the second.
"Yet that image was taken out to represent some kind of sexual misconduct, and that wasn't my intent. The first person, when I heard about the fervor, I called Sarah, I said, 'I love you, I see you as my sister,' and she said, 'I feel the same way about you.' And so I let it go," Gooding Jr. also said.
Again, no apology there—just more "siblings goofing around" comparisons that don't make a lot of sense considering most women presumably wouldn't want their brother lifting their skirt up at a public event either. Gooding Jr. finished his remarks by circling back to the lesson he taught his sons from this whole experience.
"I said to my sons again, I said, 'The only thing you can do is represent your moral compass and who you are. Because images are going to be out there without your control, so continue standing in your integrity," he stated.
Could that "moral integrity" maybe include not lifting up a woman's skirt in the first place? Just asking.