Eva Longoria Retraces Her Spanish Roots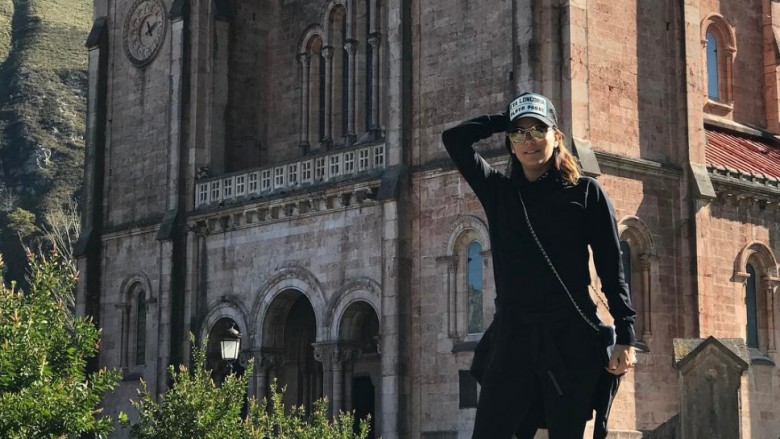 Instagram
is on the trip of a lifetime!
The former Desperate Housewives (2004-12) star has been keeping busy while embracing her Spanish roots. She's been documenting her amazing holiday on Instagram as she retraces and connects with her family's ancestry in Asturias, Spain.
On April 7, 2017, the 42-year-old shared a
photo
of herself, all smiles, while standing next to a sign for the village of Longoria. In her caption, she proudly wrote of the surreal moment.
"Yep. This happened today! Got to finally discover my roots!" Longoria revealed. "I have been wanting to visit the small village where my ancestors came from and where my last name was born for years!!"
"And today I got to meet all the amazing people in this small town who were beaming with pride!" she exclaimed. "Thank you to everyone who helped welcome me today, I felt the love and energy of each of you!"
Longoria continued to keep her fans in the loop about her visit to Spain with amazing snapshots of everything from boarding
the jet to Asturias
to seeing beautiful landmarks in
Covadonga
and
San Sebastián
. And on April 10, 2017, she posted a
gorgeous photo
of her morning hike.
But this is not the first time that the former Telenovela (2015-16) star eagerly discussed her heritage. In the summer of 2016, she made headlines when she opened up about her Mexican roots and spoke out against then-presidential candidate Trump's disparaging remarks about Mexico. As the Daily Mail reported, after endorsing Hillary Clinton in her appearance at the Democratic National Convention, Longoria passionately stated, "I'm from a small town in South Texas. And if you know your history, Texas used to be part of Mexico."
She continued, "Now, I'm ninth-generation American. My family never crossed a border, the border crossed us. So when Donald Trump calls us criminals or rapists, he's insulting American families."