Is A Britney Spears, Justin Timberlake Song Be Headed Our Way?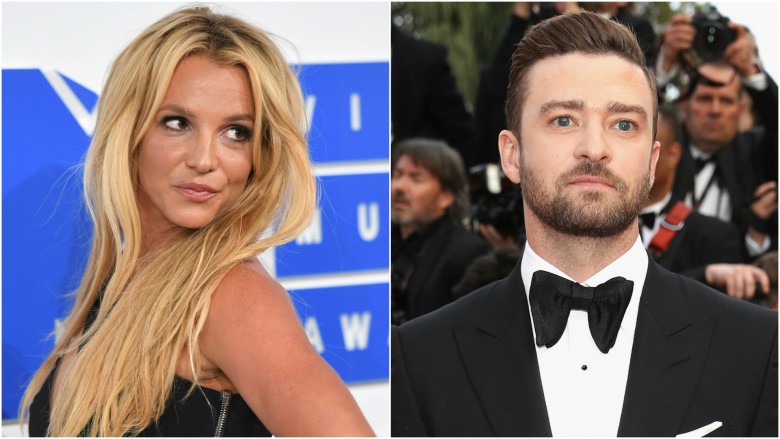 Getty Images
Amateur detectives—i.e., the celebrity-obsessed—may have just uncovered clues that former It couple Britney Spears and Justin Timberlake are working together on new music.
Rumors of a potential collaboration first started after Spears, 35, admitted to wanting a duet with ex-boyfriend Timberlake in a fan Q&A session in Aug. 2016. Timberlake, 36, learned about her desire to make music together a month later. When asked if he'd like to work with his former flame, Timberlake responded in disbelief.
"She did?" Timberlake asked the E! News correspondent. "Sure! Absolutely, absolutely."
He added, "I apologize for not being in the know...I'm accessible, give us a call!"
Well, it seems like Spears' reps may have done just that.
News of a potential collaboration between the two artists had died down until recently when some internet sleuths discovered some suspicious activity on social media. According to Us Weekly, music producer Timbaland liked several photos of Spears and Timberlake on Instagram. Later that night, he spent some time in a recording studio with Timberlake and producers Pharrell Williams, Danja, and Chad Hugo—all of whom, the publication reports, have worked with both Spears and Timberlake in the past.
Timberlake, Timbaland, and Williams each shared photos of themselves in the studio on March 28, 2017 with the same exact caption: an ellipses. Sounds like the group's working on something super secret—like a collaboration with Spears?
Us Weekly also noted that Timberlake's mother, Lynn Harless, also followed Spears on social media—not to mention Spears' mother, sister, ex-husband Kevin Federline, and assistant. Harless also apparently liked a series of old pictures of her son and Spears.
So are the two former Mickey Mouse Club members working together again? We'll just have to wait to find out.