Mama June Accuses Sugar Bear Of Abuse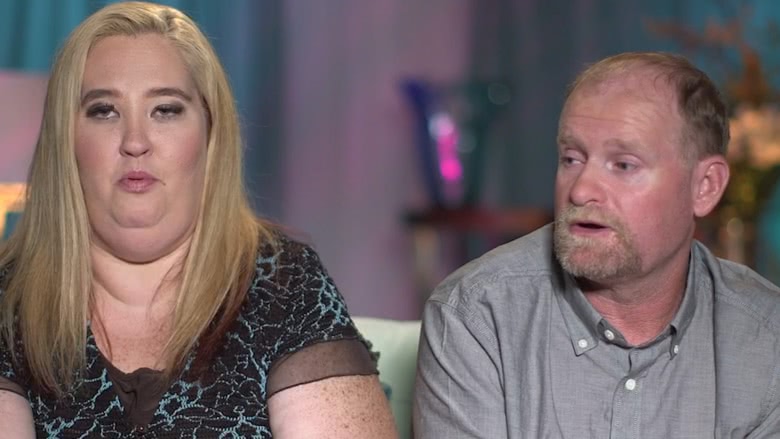 June "Mama June" Shannon claims that her ex-husband, Mike "Sugar Bear" Thompson, was emotionally and physically abusive to her and her children.
Shannon, 37, recently chronicled her incredible weight loss transformation on Mama June: From Not To Hot, with the catalyst for her new svelte lifestyle being Thompson's wedding to another woman.
"It's time the world sees him for what he really is," Shannon told Page Six on April 10, 2017. "I'm tired of hiding. I'm tired of brushing his a** underneath the rug. [Daughter Lauryn] Pumpkin's eye buckle was caused by him because he got mad. There's so many emotional scars and physical scars with the kids, that anything else—after the incident that happened I'd say about a month ago, when we tried doing the [Mama June: From Not To Hot] reunion special ... it didn't turn out good and I'm not going to put my kids through that ever again.
Shannon and Thompson's daughter, Alana—famously known as "Honey Boo Boo"—echoed her mother's claims and also told Entertainment Tonight that Thompson, 45, hasn't been in touch with her, and that when he is, he makes disparaging remarks about her weight and appearance.
"He calls me every once in a blue moon, so if there's a blue moon outside, he's going to call me," Alana, 11, said. "The other day we were on the phone ... and we were talking about something, and he was like, 'I need to cut my grass,' so I was like, 'Yeah, I'll come do it. I'm [going to] need a riding mower,' and he said, 'You're gonna need a push mower, 'cause it wouldn't hurt.'"
However, Thompson claims that Shannon's child abuse allegations are suspiciously timed close to his new marriage to a woman named Jennifer, with whom Shannon traded barbs on the WE TV series.
"The abuse allegations are not true ... I have text messages where I text June and try to talk to Alana, but no response back from her," a furious Thompson told Entertainment Tonight on April 11, 2017. "The last time I saw Alana was at mine and Jennifer's wedding. I've tried to stay in touch with my daughter but June won't let me."
He added, "I have never told Alana to lose weight or said anything to Alana about her weight. June's a damn liar. I would never hurt Alana in any way. Everything I've said is the truth. I'm just tired of being put down for it. June is saying these things because she's pissed at me. I never hurt any kid."